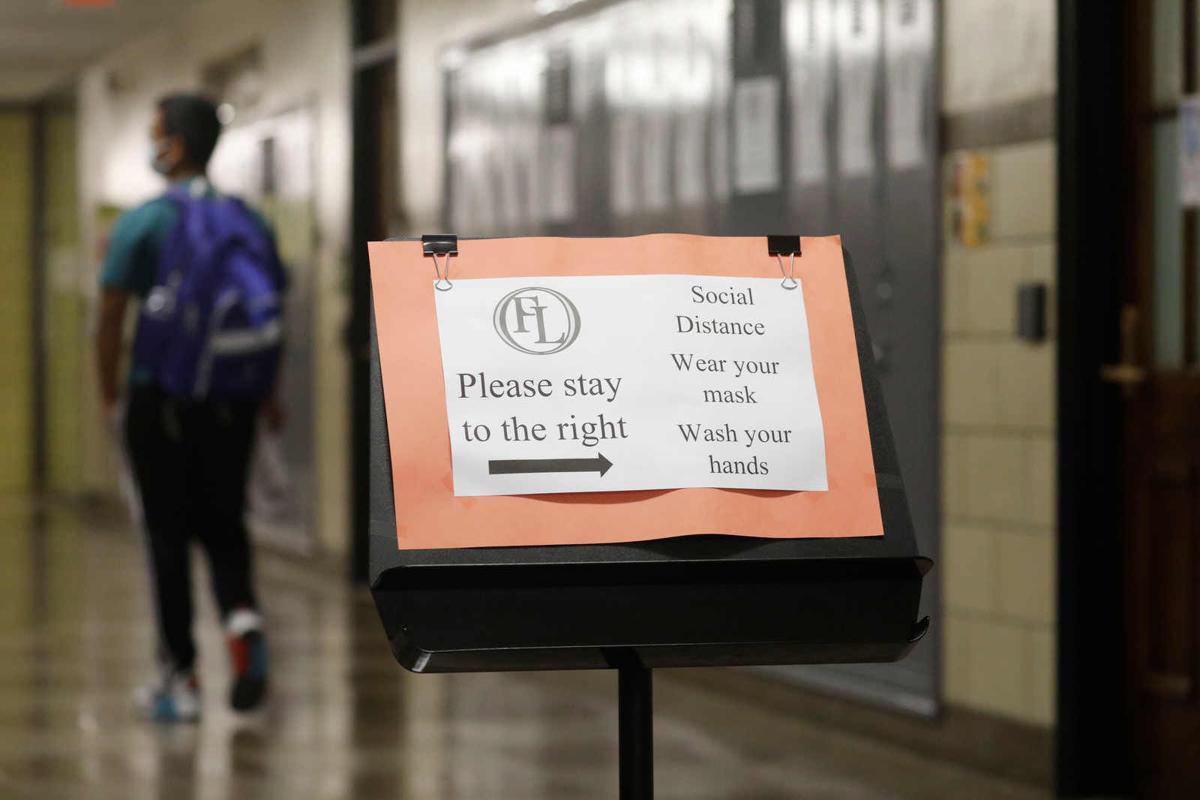 Notes sent home every day about Covid-19 cases and quarantines in schools.
Social media cracking with rumors that schools will be shut down again.
"One of the many things that frustrates people is you have inconsistent application of rules, or you have the enforcement of rules that defy logic," said Hamburg Superintendent Michael Cornell.
At least three rural schools in Western New York closed temporarily due to Covid-19.
Twenty-one months after schools first shut their doors for what was hoped would be only a few weeks, parents are shuddering that the unthinkable might happen again: That schools might close for weeks at a time.
"Parents are concerned, with rising rates, that there will be another return to remote, and teachers are worried, too," said Rachel Fix Dominguez, co-chairwoman of Buffalo Parent Teacher Organization. "There's a lot of buzz among kids, as well. It's a rumor, and rumor that spreads quickly."
Buffalo Schools tried to tamp down those rumors, tweeting Friday: "There is no truth whatsoever to the rumor that the District will close from Thanksgiving to Christmas. It is our intention to continue to keep children in school, safe, and engaged in in-person learning, five days per week."
Plans by fans and family members to attend weekend Section VI football finals at Highmark Stadium were thrown into confusion Wednesday over whether they had to be vaccinated.
Western New York has one of the highest rates of infection in the state. Hospitals are filling up with pandemic patients. And Gov. Kathy Hochul gave an ominous warning Tuesday: 
"At some point, if the numbers don't start on a downward trend, we're going to have to talk about larger protocols, which we all know are available to us," she said. "They're all available to us. So this is the warning. The warning is going out loud and clear today."
While concern is rising in Western New York, it is more a concern about the strain on hospital capacity than school closures, said Robert Lowry, deputy director of New York State Council of School Superintendents. 
Covid-19 already has forced three schools to close for a few days. Ellicottville Central had a rising number of people in school testing positive, resulting in a large number of people being quarantined. The district switched to remote learning Monday and extended it for the entire week.
"Another mitigating problem we are running into is that we know we are short substitutes every day for the remainder of the week," Superintendent Robert Miller said in a message to families.
Oishei Children's Hospital and the Erie County Health Department teamed up to offer a vaccination clinic for 5- to 11-year-olds who became eligible for the vaccine Wednesday.
Gowanda Central pivoted to fully remote learning instruction Wednesday because of "critical staff shortages in key departments," according to Superintendent Robert B. Anderson. Students will remain working from home through Tuesday, when their Thanksgiving break starts. In-person school is to resume Nov. 29. And Portville Central will be fully remote Monday and Tuesday. 
While schools saw encouraging news about the reduction in quarantines from 10 to seven days for close contacts of people who tested positive, and there is support from parents and superintendents for a test-to-stay program, there also are mixed messages about the pandemic and schools.
Hochul said counties are allowed to opt-in to the test-to-stay initiative to keep healthy children in school. Under the program, students who are considered close contacts of someone who tested positive could take a rapid antigen test daily, and if the test is negative and they have no symptoms, they could go to school.
But the state Health Department does not recommend the protocol, and will not provide the tests for it. That's enough to give counties reason to think hard about the program.
Health departments in Erie and Niagara counties were reviewing the program, and representatives of both departments said nothing has changed.
"Right now, we are busy collecting information to make sure that if we do decide to impart on a test-to-stay that we will have the best plan possible," said Erie County Health Commissioner Dr. Gale Burstein.
"The state said they don't support it in writing, regardless of the fact the governor encouraged school districts to do it," Niagara County Public Health Director Daniel J. Stapleton said.
Hochul also told counties she has their backs "when they need to take steps to move forward and have more protocols in place as they do in some other parts of the state."
Parents and school leaders want to keep children in school buildings, if at all possible. 
"We feel that children, in particular, have borne a lot of the burden of the pandemic by being mostly remote for school," Dominguez said. "We don't want to see that again." 
She said she also is concerned that kids are hearing rumors about possible closings and may be focusing on it.
More superintendents are pushing for the "test to stay" model, being used successfully in several other states.
"I know how hard last year was for kids. I don't want them to carry that worry and have it looming over them," she said.
While schools have seen an uptick in cases, transmission, for the most part, is not happening in schools, superintendents say.
"This transmission is happening outside of the school walls," Niagara Falls Superintendent Mark Laurrie said. "I don't believe transmission is happening in schools."
He said of 249 students quarantined in the city school district since September, "none of them have been Covid positive."
But if a class, school or district has to pivot to remote learning, it's bound to be better than March 2020, when schools shut abruptly with little chance to plan. 
"Schools have learned a lot in the last 20 months about what works," Lowry said.