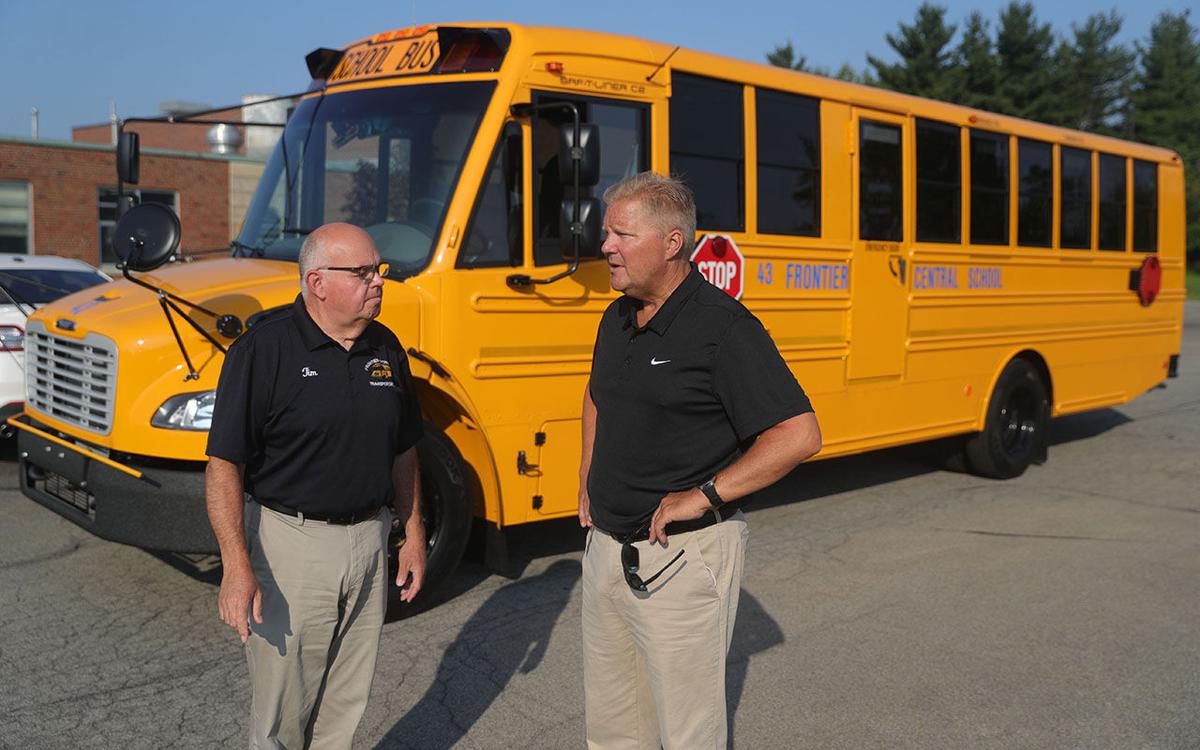 Christopher J. Swiatek had just started his new job as Frontier Central School superintendent in July when he had to attack one of his first problems: getting kids to school in September.
"What we quickly recognized is, unfortunately, we didn't have enough operational bus drivers to function within a three-tier bus system," he said.
Frontier wasn't alone, and that was part of the problem.
"Just drive down Route 5 from Buffalo to Silver Creek, and everybody's got a help wanted bus driver sign," Swiatek said.
There's a national shortage of bus drivers. It prompted one charter school in Delaware to pay parents who drive their children to school, according to the Washington Post. And Pittsburgh public schools are starting more than a week late while the district implements new transportation strategies because of the shortage.
With the state having already held back millions in other payments to schools since the summer, the latest news compounds an already rattled school system.
School districts and private contractors in New York State are reporting a 15% to 20% shortage in the driver force, according to David Christopher, executive director of the New York Association for Pupil Transportation, a professional group with more than 600 members of public and private transportation organizations.
"We've experienced a severe shortage for many years," Christopher said. "It's worse today than it was pre-pandemic."
The Covid-19 pandemic prompted many drivers to choose not to come back because of concerns over their health, he said.
The shortage is being felt in Buffalo, where Buffalo Public Schools Superintendent Kriner Cash said children will be picked up earlier in the morning and dropped off later in the afternoon because there is a shortage of 150 bus drivers for First Student, which buses Buffalo students.
The district is postponing after school programs until mid-October, until it straightens out the "bus challenges," Cash said.
The cost to transport nearly 29,000 children to and from school each day will go up for the Buffalo Public Schools under a new five-year contract worth nearly a quarter of a billion
In a normal year, there are 667 routes, but this year that has been cut to 510 routes, he said. Routes have been cut, redesigned and condensed, and there will be more children on buses, Cash added.
"We have to wait and see how this settles out in the first month of September," Cash said. "It will be a little bumpy at first."
In Frontier, the district was 10 to 12 drivers short. Part of the solution was changing the start time of schools this fall.
"We had to be creative with the drivers we had," Swiatek said.
Buffalo Public Schools has agreed to pay $3.7 million to a private bus company for the month of September – even though the district's students are not riding any buses this month. But it's a different story in Maryvale School District.
The district, like many other suburban districts, usually has three bus runs, one for high school students, one for middle schoolers and one for elementary children. Frontier is keeping the high school and middle school tiers, but decided to split the elementary run.
On the elementary bus run, students in the northernmost and southernmost parts of the district will be picked up first and dropped at Blasdell Elementary in the north and Pinehurst Elementary in the south. Then drivers will pick up elementary students in the middle of the district and bring them to the remaining two schools.
And there's another change. Students will get off buses as soon as they get to school, instead of waiting for all buses to arrive at a school and unloading students at the same time.
"We couldn't do that anymore because we had to get our buses in circulation. Every minute really counted for us," Swiatek said. "It's tight, but we're pretty sure we're able to do it."
In the Williamsville Central School District, it "kind of feels like 'Groundhog Day,' " transportation supervisor Graham Violino said.
"I kind of feel like we were having the same conversations on Aug. 25 of last year," he said. "During last school year we had a number of drivers that either resigned or opted out for a number of reasons. Some were due to Covid, some were due to child care issues."
Many parents drove their children to school last year because of the pandemic, and the district asked parents to let them know if they would do the same this year. 
The district contracts with Student Transportation of America, and Violino said they could use 10 to 15 more drivers to have good coverage for all the runs, as well as substitutes.
"We're kind of hoping that when the extra unemployment benefits end ... it kind of gives that push where maybe we get a handful of applicants throughout the month of September," Violino said.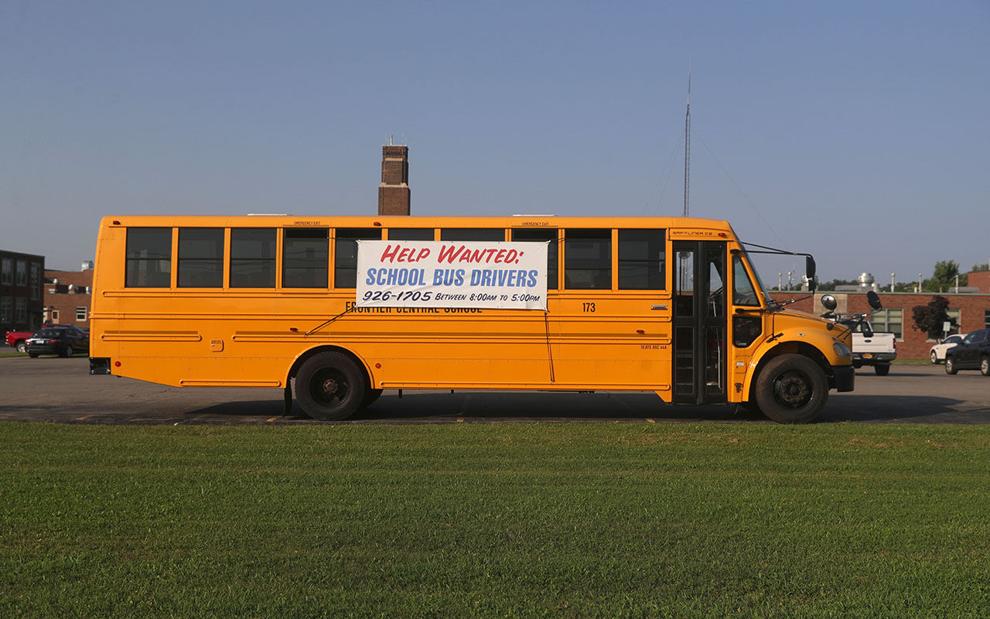 Transportation directors advertised in newspapers and online, and Lake Shore Central produced a YouTube video to recruit new drivers.
Kenmore-Town of Tonawanda School District held a "Drive and Sign" event in mid-August, giving potential drivers the opportunity to drive a bus. 
Ken-Ton also is giving a $1,000 signing bonus to new drivers.
First Student, the area's largest school bus transportation provider, also offers signing bonuses of $1,500 for drivers without experience, and $3,000 bonuses for drivers with experience, said Sean McCabe, Buffalo area general manager.
The average pay for a bus driver nationwide was $18.82 an hour this year, according to schoolbusfleet.com. Bus driver pay can range from about $16 to $21 in some Western New York districts to $19.55 for new drivers and more than $25 for experienced drivers at First Student.
But even with higher pay, First Student still is looking for drivers.
"We're on the phone all day, every day, to potential drivers," McCabe said. "We're hiring and we're not going to stop hiring."
First Student is seeing a gradual uptick in new candidate applications, McCabe said.
"I think as the high level of enhanced unemployment benefits are starting to end, we are seeing many more folks interested in joining the workforce," he said. 
"There is some sun on the horizon," Swiatek said. "We did run a pretty aggressive bus recruiting program."
The district picked up about a dozen new applications.
There's significant training required, and drivers have to pass a Department of Motor Vehicles road test. It takes 90 to 100 hours of training, plus ongoing training, including topics such as student management and anti-bullying, Christopher said.
"The driving of a bus is really the easy part," he said. 
Recruitment is a continual process, Christopher added. 
"This is a niche job for people who are looking for part-time work, or supplemental work," he said.
It's a split shift, Christopher said, with the morning and afternoon bus runs, but appeals to some retirees or parents who want to be home when their children are off school. 
But more importantly, he said bus drivers provide a valuable service to their communities. 
"It's so important that we provide this service. Many, many schoolchildren would not be able to get to school, they wouldn't be in the classroom if it wasn't for that yellow bus," Christopher said. "People who do this work and retire tell us it's the best job they ever had."