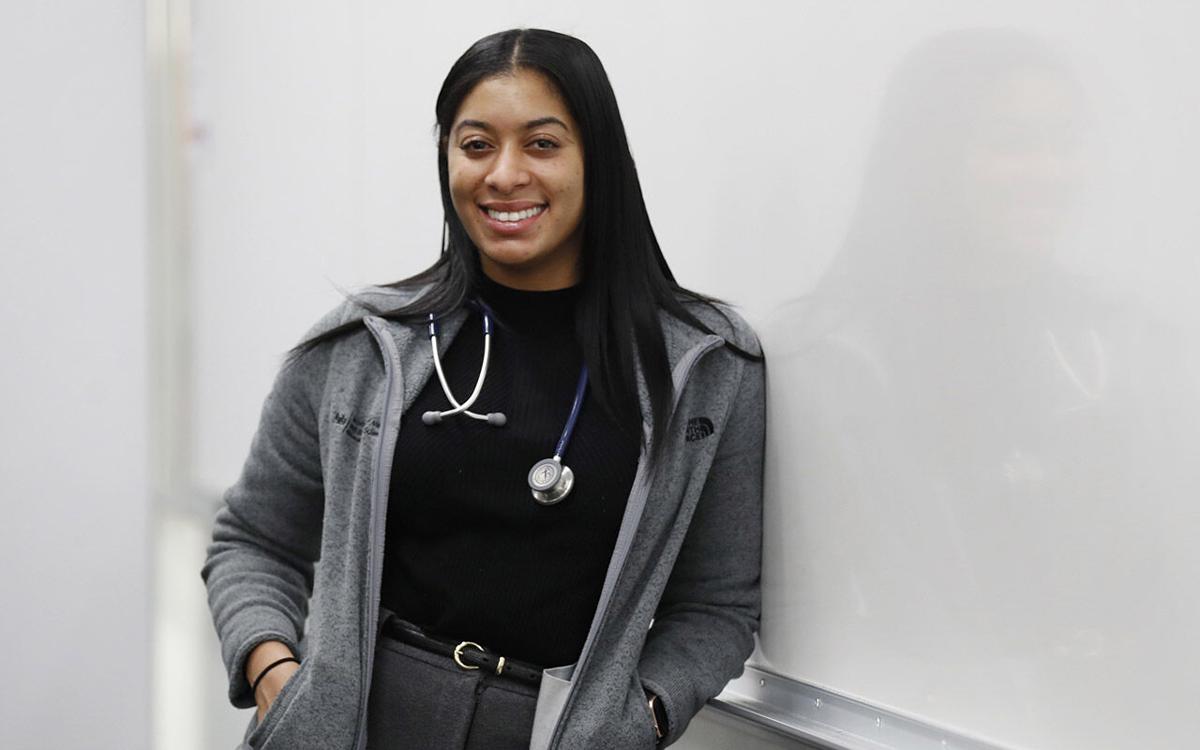 When Harvard University scholar and activist Cornel West addressed a University at Buffalo forum on race and health inequities last month, he talked about the necessity of having committed justice fighters working "inside institutions" as well as sometimes "against institutions."
He didn't mention Karole Collier by name. But he could have.
The fourth-year medical student is not afraid to push boundaries in pursuit of the health equity that remains elusive long after a 1985 federal Health and Human Services report spotlighted the problem.
Four decades after that warning, the pandemic is the most dramatic illustration of the triple whammy Black, Hispanic and other patients of color still face. Covid-19 hits them disproportionately hard because of underlying health conditions exacerbated by racism. Yet the history of health care makes them more hesitant to trust the vaccine – or the medical establishment. And the doctors of color who could help establish that trust remain grossly underrepresented in the profession.
The answer to that deadly conundrum is more physicians like Collier, not only for what they can bring to interactions with individual patients, but for what they can bring to medicine as a whole with their willingness to challenge the profession to move beyond what West called "wonderful words on paper."
Finding a way to get past the rhetoric is one reason the Department of Surgery at UB's Jacobs School of Medicine and Biomedical Sciences sponsored "Beyond the Knife: Anti-Racism and Health Equity," a virtual forum that included Collier on a panel with West.
Department Chair Steven D. Schwaitzberg credits her with transforming the face of the medical school with initiatives like the Second Look Weekend she spearheaded to bring accepted students of color to Buffalo to show them what the region offers and get them to commit to UB.
Not buying the usual recruiters' lament that Blacks and other minorities don't want to come to Buffalo, she instead wondered what was being done to attract them. So she launched the effort to bring them here for a weekend and show them everything from where to eat and worship to who the players are who might come to their aid if necessary.
UB called the effort a critical component in almost doubling the number of underrepresented medical students the first year, from 18 to 33. The effort has continued since, attracting 42 in the class of 2023, and 43 in the class of 2024.
"It's been consistently successful," said Collier, who also helped build the medical school's Diversity, Inclusion, and Learning Environment (DIALE) Committee to create a welcoming and nurturing culture, so students of color don't just come, but stay.
She also was instrumental in creating the lectureship program and bringing in West as its inaugural speaker, according to Michael Lamb, director of surgical education. And she helped get research funding to relieve the financial pressure on first-year students so that they can pursue their passions and get a leg up instead of having to work odd jobs just to pay bills.
It's little wonder Schwaitzberg calls Collier "a force to be reckoned with."
But what happens when that "force" – a Philadelphia native and graduate of Columbia University's Barnard College – finishes at UB and perhaps moves on?
Collier, 27, is hopeful the institutional changes she has pushed for – such as the funding mechanisms now in place – shift the burden from individual students to the medical school to keep up the equity efforts so that others get to follow in her footsteps.
Collier's interest in medicine began as a child when her mother volunteered as an EMT and told young Karole that the Black coroner she admired on the TV show "CSI" was a doctor. In elementary school, she did a project on phlebotomy because a friend had sickle cell anemia, and she eventually began working with the Sickle Cell Disease Association.
Years of education later, the aspiring surgeon is awaiting her residency fully cognizant of "how health disparities have living, breathing consequences" on people of color who get the short end of the medical stick.
In large measure, that is because so few doctors look like them, share their backgrounds or make the effort to really understand and value their lives. According to the Association of American Medical Colleges, only about 5% of physicians in 2018 identified as Black, and only 5.8% as Hispanic.
Against that backdrop, Collier credits the medical school's interdisciplinary Health in the Neighborhood course taught by instructors including Henry L. Taylor Jr., director of UB's Center for Urban Studies, and the Rev. Kinzer M. Pointer of the African American Health Equity Task Force. The class takes students into the Martin Luther King Jr. Park neighborhood and Collier said it prompts them to think about what health care looks like on Buffalo's East Side, and the living conditions and challenges patients there face "outside the four walls of your clinic."
She ticked off a number of such social and economic issues that can impact health: redlining, older homes with lead paint, transportation inequities that make it hard to seek care, living in a food desert or a neighborhood that makes it impractical to exercise.
"You can't say to a person, 'Go run outside' if they don't have sidewalks," Collier said.
That kind of insight is invaluable for medical students of all backgrounds and helps answer the question a non-Black physician posed to West during the forum: how to be a better ally and normalize "uncomfortable" questions of race and disparity to really get at the roots of health care inequity.
His answer: Whites need not ask permission; they just need to demonstrate a genuine solidarity over time and prove they're not "just passing through, one of these little superficial allies, just wanting to feel good about themselves." That doesn't mean there won't be occasional tensions because of cultural differences. But he said that kind of solidarity and human connection runs deeper than differences of race or gender or sexual identity.
West is right. Given the numbers, Blacks, Hispanics and others of color need all of the genuine allies they can find to combat the disparities in health and health care, where the stakes literally are life and death.
But that doesn't relieve medical schools – or other professions, for that matter – of the responsibility to follow the Department of Surgery's example to recruit and retain more members of color. That means taking steps to be not just neutrally nonracist, but aggressively anti-racist by acknowledging and confronting issues of equity head on.
Taylor, never one to mince words about inequity in Western New York, was equally quick to laud Collier, black surgeons and the Department of Surgery for imagining what a health equity initiative should look like. Equally important, he said, was the decision not to bring in the usual medical expert to speak, but to invite someone like West who could tie the issue to the struggles that Blacks face in other aspects of life.
He pointed to funding commitments as well as follow-up meetings that already have taken place since the Feb. 18 event – which drew about 1,000 online viewers – to commend the medical school's effort as "a beginning, not an end."
"This effort is part of a broader effort that's coming out of the UB Jacobs School," said Taylor, who noted he might be biased because the medical school reached out to him in putting the effort together.
But the fact that program leaders recognize the interconnections between health and other aspects of Black and Hispanic life, and reached out to nonmedical experts like West and Taylor to tackle the issue in a comprehensive fashion is significant.
It's also noteworthy that some of these efforts started before Covid-19 did for health care what George Floyd's killing did for police reform. The fact that the Jacobs School was moving in this direction even before the pandemic put medicine in a national spotlight speaks to the sincerity of the effort.
That doesn't mean continued progress at UB is guaranteed. Taylor opened the Q&A with West by pointing to the 1985 study and the fact that we're still dealing with the issue.
The key now, as Collier notes, is that continued progress must not depend solely on the energy and passion of advocates like her.