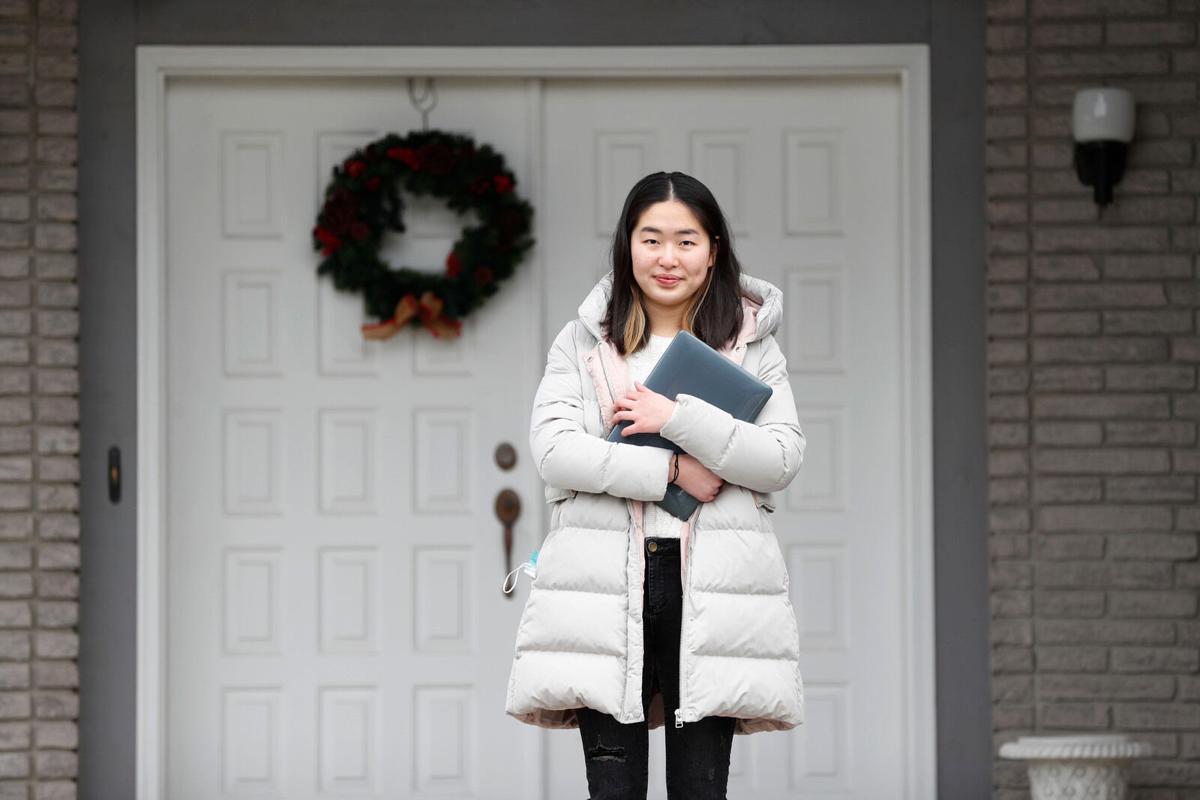 The concept occurred to Flora Chen while tutoring her little sister.
As you might expect with siblings, their tutoring session involved some dissent and arguing. So Flora, 16, asked a friend to help her kid sister, instead.
That's when the idea came to Flora: Why not start a virtual tutoring service?
And so began More to Learn WNY.
The free, online service conceived by the Amherst teenager in the wake of the Covid-19 pandemic relies on high school students to tutor their younger counterparts in grades kindergarten through eight.
"It's completely remote," said Flora, a junior at Williamsville North High School. "It's completely free for anyone."
It was late spring when Flora hatched the plan.
Schools had switched to remote instruction and there were more than a few frustrated students and parents struggling to keep up. Flora, an honors student, was bored and stuck in the house, anyway. It could be a good community service project to include on her college applications.
She tested it out over the summer, sharing the idea with eight friends, who agreed to help her get the project up and running. They were: Zaid Arshad, Amrita Ganapathy, Joy Li, Rohun Patel, Eunice Park, Janvi Sujith, Yolanda Wang and Sherry Zhou.
They built a website and, through social media, connected with some parents who wanted the extra academic support for their children.
Flora and her friends offered tutoring in math and English language arts for 45 minutes to an hour once a week through Zoom, the online video-conferencing platform.
"I love it," said Galina Danilovich, 16, one of the tutors. "You do service hours and my kids are great. I love helping them out."
Galina, a junior at Williamsville North, has been tutoring a kindergartner and a fourth grader, rotating between the two every other week. Galina thinks some extra personalized attention has been good for kids, given the irregular instruction this year.
"I mostly help them with English and reading and writing," Galina said. "The older one, I just kind of help her with assignments. The younger one, in particular, we read Time for Kids articles. I just kind of ask her questions about them and have her read for comprehension."
Yolanda, 16, has had some experience tutoring classmates, but it has been an adjustment explaining past participles to a fifth grader or converting fractions with a third grader.
"It's been awhile since I've last been in elementary school, so I'm always looking for new ways to explain the course material so that it makes sense to someone who is a lot younger than I am," said Yolanda, another junior at Williamsville North.
"It's also sometimes challenging, because kids obviously have a smaller attention span, so I have to find ways to keep them engaged," Yolanda said, "maybe make jokes with them or have them play games with me."
By the end of the summer, the number of kids being tutored grew to two dozen – which was about the same number of active volunteers.  
As the new school year began, a reboot was in store.
More to Learn plans to add tutoring in other subjects and will start offering sessions for groups of four to six, Flora said. Meanwhile, Flora's project officially has become an afterschool club at the high school with the aim of attracting more volunteer tutors.
"Initially, when we started, we were thinking of being more of an independent organization so that we would have more free rein operating during the summer months," said Yolanda, an original member of the group.
"But as we thought about it more, it might not be viable for Flora and the rest of us to be working on it full time when we go college," Yolanda said. "We thought it would be better to give it more stability by implementing it as a school club. That way the club can keep on going even after we graduate."
Most of the students being tutored are from Amherst, but there have been some from Buffalo, as well. Anyone is free to participate, Flora said.
Parents can fill out the form at moretolearnwny.org and their child will be paired with a tutor, as long as there are enough volunteers.
The relaunch will start when students return to school in January, after the holiday break.
A lot of the volunteers are top-notch students, said Sandy Rosa, a teacher at Williamsville North and the adviser for the club.
"It's nice to see what Flora is doing, especially during the pandemic," Rosa said. "I know a lot of parents are struggling with trying to do their job and helping their own kids.
"Tutors are very expensive," Rosa said. "I think this is a great opportunity for kids to be able to get some free tutoring."
There's now a GoFundMe page in hopes of receiving small donations to pay for websites and online programs that tutors can use with the kids, Flora said.
"Flora works very hard," Galina said. "She has put a ton of time and energy into this."
As for Flora, she said the tutoring has been "pretty fun."
"But also, at the same time, it has been a learning experience," Flora said.
She found out that keeping kids focused can be a challenge.