When students return to classes next month, they can expect to have more counseling services at their disposal as well as trained teachers keeping a closer eye on their mental health. 
A new state law requires it.
The law, signed on July 1, requires New York State elementary, middle and high schools to provide mental health education as part of their health curriculum.
Schools can choose their own approach. The law does not mandate a specific curriculum, said Amy Molloy, director of education for the Mental Health Association in New York State.
Buffalo schools, for example, are expanding trauma-informed care training to help teachers in the fourth, fifth and sixth grades understand how trauma affects people.
Niagara Falls schools are adding more school psychologists and hiring social workers.
The Tonawanda City School District has added a peer mentorship program to address mental health and drug and alcohol abuse.
Mark Laurrie, superintendent of the Niagara Falls School District, said he saw the urgency for mental health education after seeing the alarming statistics from the Youth Risk Behavior Surveillance Survey his school district conducted in November 2015.
Nearly 15 percent of the Niagara Falls students who filled out the survey said they seriously considered attempting suicide and 10.4 percent said they attempted suicide during the 12 months before the survey.
"That data from November 2015 put an urgency in our staff, where we needed to do something about it," Laurrie said. "My position is that kids do not and will not care about math, history or social science if they are not happy with who they are. So, if we don't attend to this, then the core curriculum will mean nothing to kids."
School flexibility
An aim of the new law is to encourage more conversations about mental health throughout the core curriculum – in math, English and other classes – so when students are depressed it'll be easier for them to seek help.
Part of what drove the new legislation is the growing mental health problems among children, with one in every five adolescents between the ages of 13 and 18 living with a mental health condition, according to the National Institute of Mental Health.
"I think it's a good idea for state education to not prescribe a specific curriculum because every school is its own unique culture," Molloy said. "It provides flexibility to schools so they can decide what's most relevant to their students."
The New York State Education Department released the "New York State Framework for Mental Health Education Instruction" as a guide for schools to consider when structuring its mental health curriculum.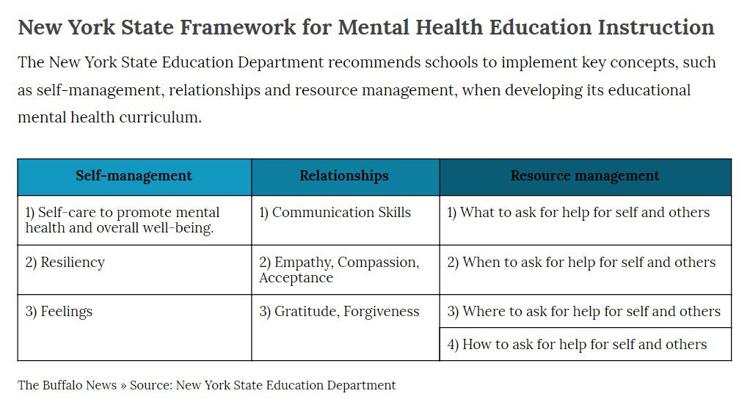 Teachers in Tonawanda district schools will review the curriculum guide and decide how to implement mental health education in their core classes, such as math, science and physical education, said Amy Edgerton, director of pupil personnel services for Tonawanda district schools.
"We are taking the integration approach," Edgerton said. "This guide will be given to teachers on the opening day of school, and they will be given time to review it and highlight areas they need to incorporate more of."
Molloy said bringing mental health education into schools can begin with simple steps such as inviting career development guest speakers and asking them to talk about how they manage stress.
"This legislation is about more openly discussing mental health well-being and mental health," she said.
In addition, the association offers lesson plans, one-on-one guidance to schools, and additional resources and tools.
Schools also will have access to a one-hour professional online training session provided by the association, Molloy said.
"The training helps them reframe mental health ... to an understanding that everyone has mental health," she said. "And there are things we can do to support it, what are some scientific symptoms of those struggling with mental health."
One of the association's key recommendations includes fostering a positive school environment where mental well-being is valued – a school climate free from stigma so students feel safe and accepted.
"When you have a school where the student feels safe and secure, they feel connected with adults and other youth, and then they can live to their potential," Molloy said.
Molloy said schools play a key role in promoting mental health in all children, and the impact is the greatest when all staff is involved in mental health promotion in all areas of the school, including the culture, policies, curriculum and activities.
Emphasis on training
School districts are also recognizing the pivotal role of teachers and school staff in students' mental health and are expanding training for student staff so they can respond to warning signs and ask the right questions to students about mental health.
For example, Buffalo public schools are extending staff training efforts by providing Trauma Informed Care training to teachers of grades four to six this year, and extending it to other grade teachers over the next two years. The training will focus on learning to understand where trauma and stress come from, and how it impacts individuals.
In addition, the Niagara Falls City school trained its teachers in the spring and summer and will continue training in the fall.
"Trainings focused on teaching educators how to identify the different signs and symptoms of mental health, and learning how to refer students to resources for help," Laurrie said.
In addition, the Niagara Falls City school district is adding more school psychologists and hiring social workers, who are going to focus largely on families with young children from ages 3 to 7.
"Earlier grades is where we have the highest need for support ... and a better beginning for these kids will lead to a stronger completion, and hopefully we won't see the mental health issue we have," Laurrie said.
Laurrie said he believes the new legislation is a path into the right direction to address an ongoing problem and his schools will continue finding opportunities to continue the conversation about mental health.
The Youth Risk Behavior Surveillance Survey is conducted every two years to monitor the prevalence of health behaviors in young adults, and survey responses from Niagara Falls students alarmed district officials.
"We found that an alarming number of students either attempted or were contemplating suicide," he said.
"We will need to intensify our efforts here because the need for mental health education is not going away," he said. "Schools are going to build on our resources but we need to continue attending to it."
Improving community support
A public health approach involves maximizing the mental wellness and resources for the entire school community – the staff, students and families – while teaching children how to identify their feelings and self-management skills.
"It's important as caregivers who are working with students to help students understand mental health and how they can influence their own mental health through stress management and reaching out when help is needed," Molloy said.
Buffalo Public schools chose the public health approach through its "Whole School, Whole Community, Whole Child model," said Anne Botticelli, chief academic officer of the district.
This model recognizes the importance of both the psychosocial and physical environment of a student's mental health and the roles that the community and families play, Botticelli said.
"It also addresses the need to engage students and families as active participants in their learning and health," she said.
The Tonawanda City School District said it has been implementing a mental health curriculum for around seven years, but this year, it will include a peer mentorship program to address issues in mental health and drug and alcohol abuse, said Mary Beth Scullion, the district's assistant superintendent for curriculum and instruction.
"We will be taking 40 students on a retreat, and teaching those children on how to be mentors for students in grades seven to 12," she said.
Other school districts like the Buffalo public schools are improving services and support through their mental health clinics. For example, its special education department is working with Say Yes Buffalo on improving the process of referring students with mental health needs, and it also will develop new staff training to assist students with social and emotional needs.