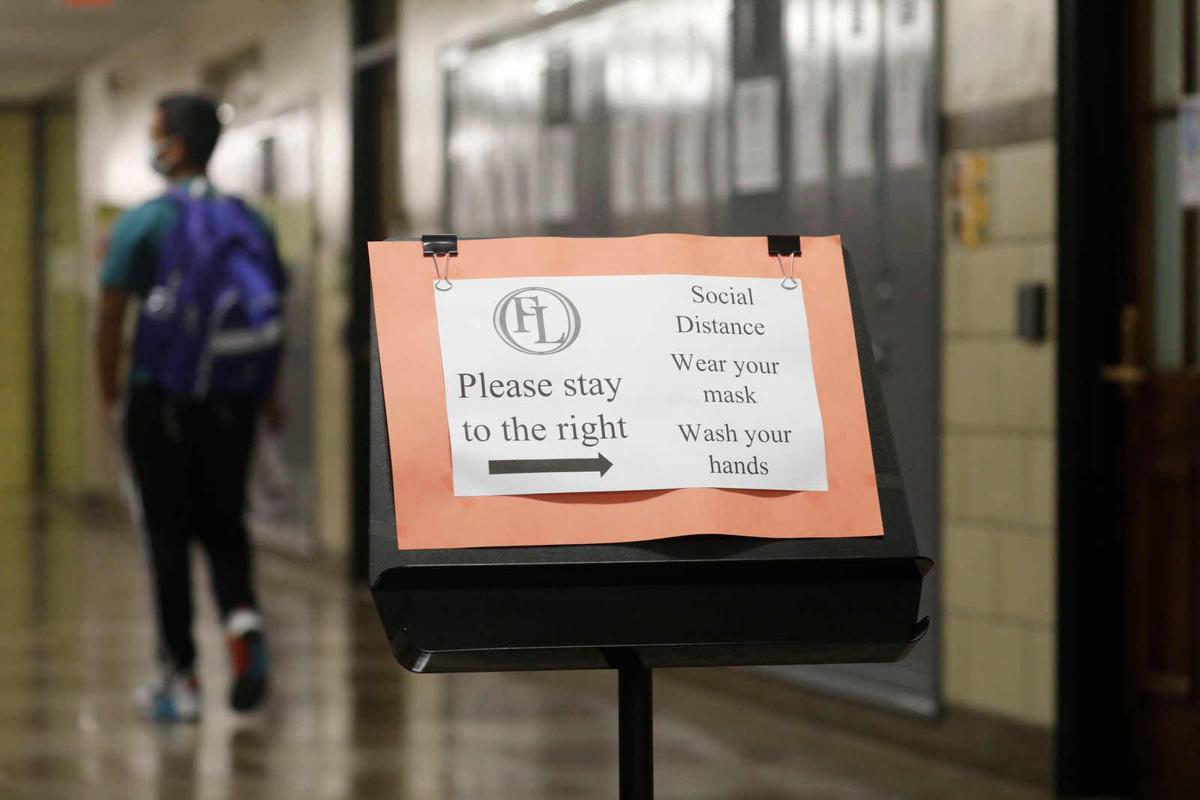 After hundreds of Erie County students were quarantined in the first two weeks of school, parents and educators are hoping Erie County's easing of school quarantine requirements will mean fewer students will have to miss school.
"I think it's a step in the right direction," said parent Tarja Parssinen of Clarence, who is a member of Western New York Education Alliance. She's hoping the next step will be daily testing of close contacts so they can remain in class.
The change was made after "receiving feedback from school leaders," according to a news release. It also will bring consistency among school districts in Western New York, including districts that span Erie and adjoining counties, according to the county. The new requirements will go into effect Monday.
"The Covid-19 school guidance that our department issued remains a strong document with practical, common sense recommendations for schools to maintain safe and healthy operations," Erie County Health Commissioner Dr. Gale Burstein said in a statement. "We hope that as school leaders look to NYSDOH guidance as a baseline, they maintain measures in our guidance document, especially since children's health is at stake."
The county was requiring all unvaccinated students in classes, buses and sports teams where two or more students tested positive for the coronavirus to quarantine for 10 days. And if there was no seating chart and someone tested positive, the county required all unvaccinated students to quarantine for 10 days.
"That resulted in the quarantining of a lot of kids who were not close contacts according to the New York State Department of Health definition of close contacts," said Hamburg Superintendent Michael Cornell, who also is president of the Erie-Niagara School Superintendents Association.
New York State guidance requires only unvaccinated close contacts – those students who were within 3 feet of an infected person for 15 or more minutes – to quarantine. People who are fully vaccinated do not have to quarantine unless they exhibit symptoms, but children under 12 are not yet eligible for vaccinations.
The change "will likely reduce the number of students and staff who are subject to quarantine orders," said Erie County spokeswoman Kara Kane. But there still will be quarantines, she added.
Unvaccinated students in fifth and sixth grades in Holland were quarantined last week, and Akron Superintendent Patrick McCabe announced Wednesday that the high school was moving to remote learning next week because 17 cases would result in more than 175 students being quarantined. He said he was not sure how the state guidelines might change the number of quarantined students, but the district is looking at the requirements.
He said high school students have Friday off for a conference day. The school will be cleaned and disinfected, and administrators will be working on a plan for next week and will notify families about it as soon as possible. 
"We also have to bear in mind we have approximately 30 positive cases in the district," McCabe said.
Burstein said the county expects to see additional cases of Covid-19 among students and staff as well as clusters in classrooms, sports teams and buses.
She said the county Health Department has gone "above and beyond the minimum to protect students in school settings," including having a dedicated Covid-19 team in the epidemiology office. The county's voluntary testing program of students and staff in class or activities with infected persons will start next month and the county will distribute personal protective equipment to schools next week, she said. The county also bought antigen tests for schools to test unvaccinated school staff, and the Health Department also will be sending sanitarians into schools to "confirm compliance" with state health requirements.
She also said the county had offered a "test-through-quarantine" option to a small number "influential district leaders."
"Unfortunately, that offer was dismissed by the district leaders," Burstein said. 
But schools are already spending dozens of hours each week on Covid-19 related items, including contact tracing, Cornell said. 
"It was presented to us as something that would add more time and responsibility on school employees and it wasn't something that we felt we were in a position to accept on behalf of all of our colleagues at that time," Cornell said.