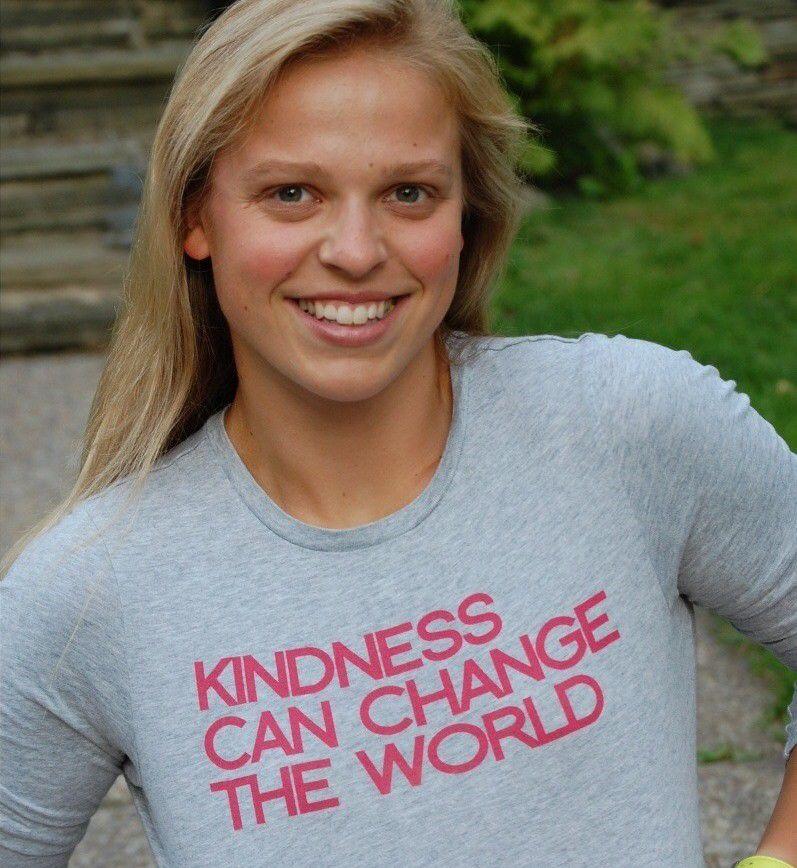 That was just like her – her soaring spirit, strong Catholic faith and uncanny ability to brighten someone's day, her mother, Trish Lewis, said.
"All of us suffer loss," her mother said, "and you're thinking: How can someone who was such a good person die early? So many will blame others or blame God and be angry and bitter."
Trish Lewis said her family has chosen instead to celebrate all that her daughter offered.
"We were blessed to have had her in our lives," she said.
Nearly four years after the tragic accident, Natalie Lewis' parents and siblings find comfort and meaning from the big and small ways she still permeates their lives. They will get a chance to share the remarkable way Natalie Lewis could brighten someone's day this Thursday as two seventh grade boys from Wellsville receive the Natalie Mattimore Lewis Kindness Counts Character Award at the 18th Annual Catholic Education dinner at the Buffalo Niagara Convention Center.
Trish Lewis, her husband Evan, and her surviving children, Evan Jr. and Caroline, picked the winner from a stack of nominations from teachers and principals at Catholic schools across Western New York.
"We don't know their names, their gender, their schools," Trish Lewis said. "We just read them all and we all just pray about it and let the Holy Spirit take it."
Their choice was unanimous: Jack Byrnes and Nial Rigas from Immaculate Conception School in Allegany County.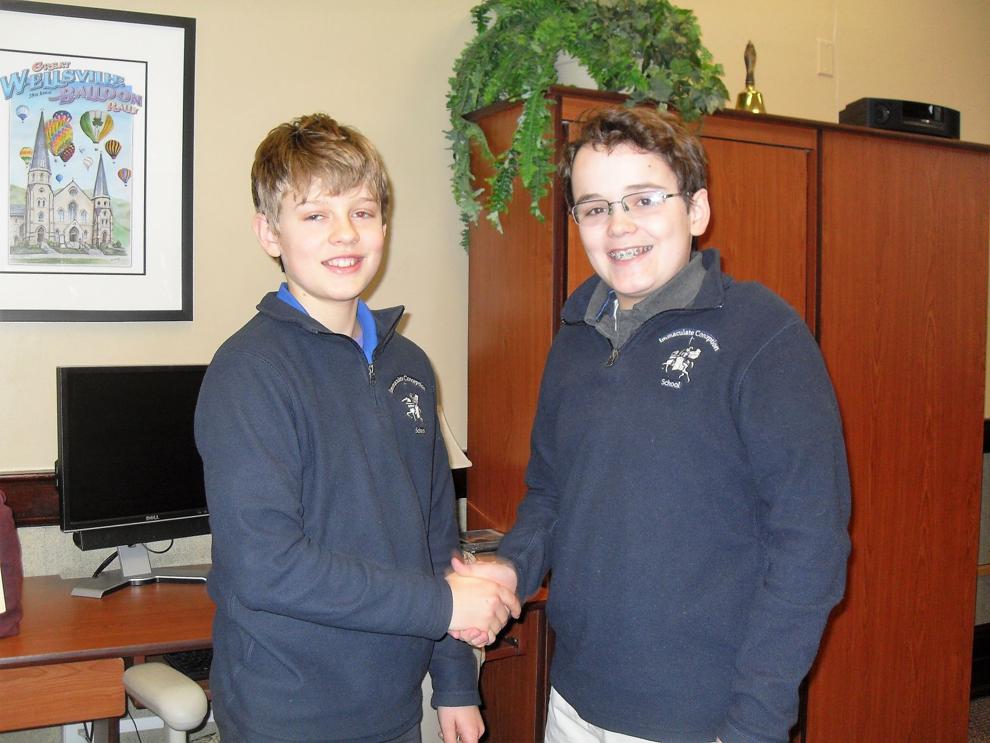 "These young men never cease to impress me with their sincerity and kindness," Principal Nora Burdick wrote in her nomination letter.
The principal shared a special moment about the boys from the holidays when the students at Immaculate Conception went to a local nursing home to share their Christmas concert with residents.
Burdick urged the children to talk with the residents. "These young men took time to engage residents in meaningful conversations," Burdick said.
Then later, after the concert, as parent chaperones drove groups of students back to school in their cars, Burdick was waiting with the last group of kids. A nurse from the dementia unit came by and asked if they wouldn't mind singing for her residents.
"I asked Nial if he thought he could sing his solo a cappella. He responded: 'Yes, Mrs. Burdick, I think I can," Burdick wrote.
As they sang, a resident reached out her hand toward the children and Jack took her hand. "He held her hand for the entire song," Burdick wrote.
Last year was the first time the award, which includes a $1,000 tuition voucher and a $100 cash award, was given. The foundation of the Roman Catholic Diocese established the award through an estate gift from a woman named Rose who strove to help others by visiting homebound people, feeding and clothing the poor and writing letters to and praying for incarcerated women. She had heard about Natalie Lewis' accident in Virginia and "felt strongly that Natalie was a young woman of faith and that her actions bringing happiness through acts of kindness was something the world desperately needed more of, especially in our younger generation," Rick Suchan, executive director of the Foundation, said in 2016.
Natalie Lewis' parents never worried about her, even when she was in the seventh grade at the now-closed St. Rose of Lima School in North Buffalo.
She recalled how her daughter had loved art and gym at that age, and enjoyed helping at funeral services at the church, noting how interesting the departed's lives were.
"She was always wise beyond her years," her mother, Trish Lewis said. "She knew how little it took to make someone's day and how much fun it was."
They credit the religion-centered education she received at St. Rose of Lima and later at Nardin Academy.
"I believe in Catholic schools," Trish Lewis said. "To begin your day with prayer is important."
The family takes delight in the many ways Western New York has found to remember and celebrate Natalie Lewis.
At Nardin, where Natalie Lewis went to high school, the school offers a "Heart of Nardin" award in her honor. There's an annual swim meet in May at the Aquatic and Fitness Center in the Town of Tonawanda that's named after her. The Buffalo Police Athletic League's tennis program as renamed Love to Serve in her memory.
'These help our family so much," Trish Lewis said, "for all people to realize death cannot end our love for on another. It binds us closer."
Trish Lewis feels her daughter's presence all the time. She sees her in pictures they take. Several times, she's asked someone to take a photo of her family and somehow, a photo of Natalie that's on the wall will make its way into the image.
Then there's the almost mystical way Natalie seemed to help her brother find true love.
After Natalie Lewis died, her parents and brother and sister turned to the Catholic Church for support. They had always been devout Catholics but as they coped with the tragedy of Natalie's death, they needed the church even more.
Natalie's older brother, Evan Jr., went to Mass nearly every day alone, sometimes at St. Rose of Lima, other times at St. Michael's downtown or the Cathedral.
Ron Adamczak noticed him. His daughter, Christie, had asked him to help her find a good guy. Maybe this young man?
Then at last year's Catholic Education dinner, when the character award named in honor of Natalie Lewis was debuted, Adamczak saw Evan Lewis Jr. there and that convinced him. He arranged for the two to meet. They texted at first and soon began dating.
On Jan. 20, Evan Lewis Jr. got down on his knee on a Canalside bridge and proposed to Christie Adamczak.
"Look at how Natalie works in our lives," Trish Lewis said.
On Thursday at the Catholic Education dinner, Natalie Lewis' family will have another opportunity to share the gifts their daughter gave them when they see Jack and Nial recognized for their kindness with an award that honors her memory.
Trish Lewis loves the idea of rewarding kindness, especially among children at such a delicate age.
"I think in middle school, it's not easy," she said. "It kind of has that reputation of kids being tough and bullying and hurt feelings. But I don't think kids want to be mean. They want to be kind.
They need examples. All you need is one person and they can completely change the whole culture."