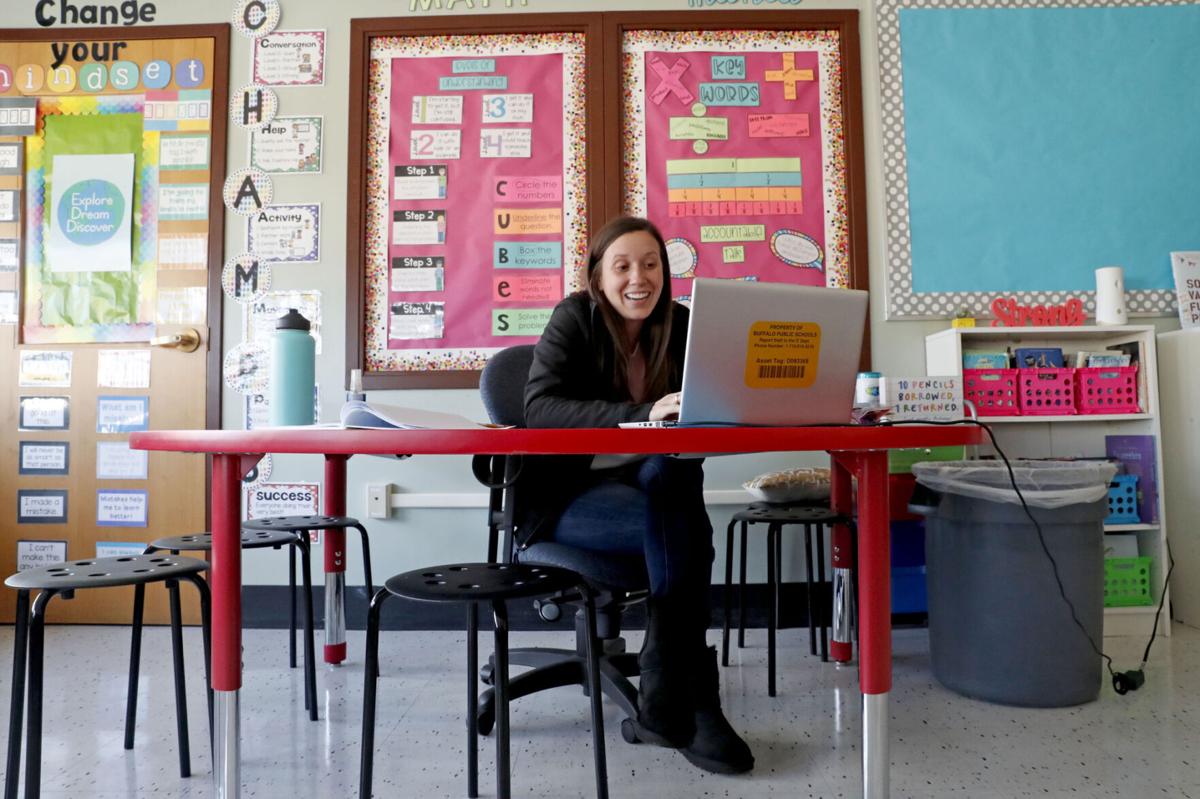 Three quarters of parents with little kids in Buffalo Public Schools said they want them back in the classroom next month.
Three out of five high school seniors also said they would return when the district plans to reopen schools on Feb. 1.
That's according to surveys conducted by the school district as it prepares to reopen for the first time since the Covid-19 pandemic shut down schools last March. High school seniors and students in grades pre-K through second grade would be among the first students to be phased back into the classroom on a part-time basis.
Of the 8,128 pre-K through second graders, only 26% opted to continue learning remotely from home, Superintendent Kriner Cash said.
"So, the way I read that is three out of four want to come back," Cash said.
"I thought it would be flipped almost," Cash said, "that most would opt out and only a few would want to come in, particularly the way the virus is raging. But that doesn't appear to be the case for pre-K through two."
Among the 2,608 high school seniors, 42% said they would continue learning remotely from home.
"A lot of them have said they've got to work," Cash said. "Now that they started to work they need to continue to work and they want to have flexible hours."
As of Wednesday, a total of 9,411 students in all grade levels – roughly 30% of district students – have told the school system they will opt out of in-person instruction if given the chance to return to the classroom. That number is still fluid, though, and the district will continue to survey parents.
Buffalo Public Schools, home to 32,000 students, is the only school district in the region that remains closed for in-person instruction. Cash reiterated to the Board of Education on Wednesday that the virus has not let up, but that he would continue to proceed with reopening plans if he gets a go-ahead from the board and the district's medical advisors.
The School Board posed no objections at Wednesday's work session.
"I think I'm feeling a little more confident or comfortable with us beginning a slow phase-in for the groups we identified," said Larry Scott, an at-large board member.
Besides high school seniors and grades pre-K through second, the district also targeted for return 50 to 100 students from each school identified with the highest academic needs. Throw in the teachers and staff required to report, and the initial phase of reopening is at "max effort" placing a "premium and crunch on available space" at some schools, Cash said.
In fact, the district previously indicated that once schools reopened it would phase in additional grade levels every couple of weeks through mid-March. But Cash on Wednesday tried to temper those expectations. He said the district may have to make some adjustments along the way. That could include cutting back at some point on the five days of in-person instruction planned for the highest-need students in order to make room to phase in other kids. 
"We won't know until well after the February break about what our capacity is and what that space can tolerate and how much it's going to cost to add additional staffing, bus routes and so forth," Cash said. "The more we try to bring back and phase in, the more challenges we're going to have."
The School Board spent three hours on Wednesday listening to details about the district's reopening plans and peppering the superintendent and his staff with questions.
District officials indicated that the vast majority of students, whether learning remotely or in-person, will still have the same teachers they have had all year, although board members raised concerns about how teachers will manage the classroom while teaching both groups.
High school students will continue to ride Metro buses to school, while yellow bus service for the elementary students will be at a reduced capacity with one child per seat. Masks will be required throughout the bus ride.
"I'm very confident both Metro and yellow buses will be prepared to return students for a February reopening," said Cheryl Kennedy, the district's director of transportation.
School nurses are being trained this week on how to perform the testing that is required of schools. The district has received 9,000 test kits from the state to start. Schools are reaching out to parents for consent this week so random testing for the virus can begin the week prior to reopening, said Tonja Williams, associate superintendent of support services.
The superintendent said some questions – and there are a many – may have to be worked through once they get back into the buildings.
"We have to start somewhere, especially being out of these building for 10 months," said East District Board Member Kathy Evans-Brown. "I think all across this country schools are experiencing similar challenges. It's daunting."