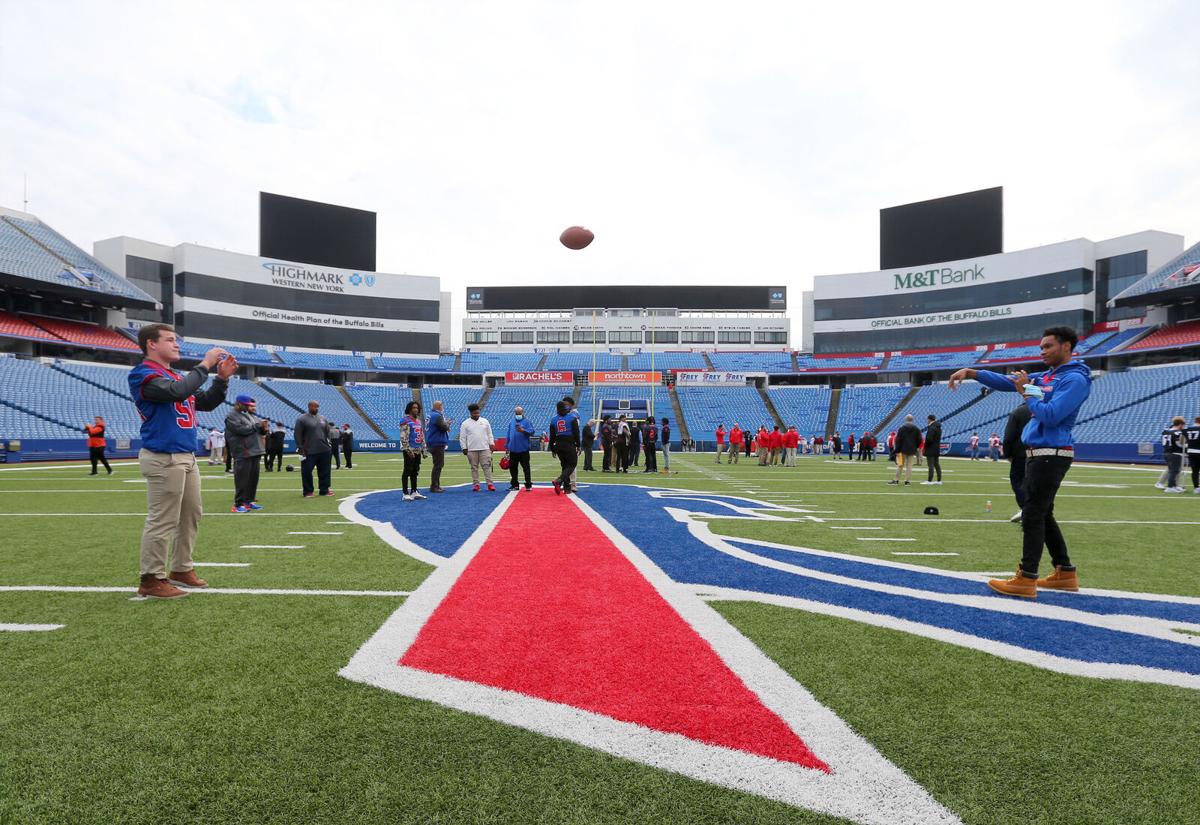 Plans by fans and family members to attend weekend Section VI football finals at Highmark Stadium were thrown into confusion Wednesday over whether they had to be vaccinated.
It was the second time in a week that schools were surprised by the Erie County Health Department's pronouncements about Covid-19 protocols.
Erie County Executive Mark Poloncarz announced in September that proof of vaccination would be required for all Buffalo Bills and Buffalo Sabres games and all events at the stadium and KeyBank Center.
Section VI made arrangements to hold the annual contests at the stadium, and the word went out that since it is a high school event, it would be like attending a game at school: fans would not have to show proof of Covid-19 vaccination.
The Medina Mustangs athletics Twitter page posted that notice, adding that unvaccinated fans would have to wear masks and everyone must wear masks indoors at the stadium. 
Then Nick Sabato, a reporter for the Niagara Gazette and Lockport Union-Sun & Journal, retweeted the Mustangs post Wednesday, adding that a spokeswoman for the Erie County Health Department said there had been no change in entrance requirements at the stadium.
"That caused a firestorm in Medina," said Superintendent Mark B. Kruzynski, who said the word spread and then he started getting calls. 
The undefeated Mustangs are looking to defend their Class C title Saturday when they play Fredonia, which also is 10-0.
"You have parents who aren't vaccinated planning on going to the game and wearing a mask," Kruzynski said. "It would have been a nightmare."
"Our member schools, Section VI office, for three to four hours, were just turned upside down," said Alden Superintendent Adam Stoltman, who is past president of Section VI and on the group's executive committee.
There were phone calls back and forth between Section VI and Pegula Sports & Entertainment as well, he said.
Then shortly after 7 p.m., Sabato tweeted an update from the Health Department: "The stadium services are not fully open for this weekend's event; masks are recommended for all unvaccinated attendees, and required in interior areas (bathrooms) but vaccination status is not being checked as with Bills games."
Spokeswoman Kara Kane confirmed in an email to The Buffalo News Thursday that "vaccination status is not being checked for this weekend's event."
She did not reply when asked if the county had first indicated vaccinations were required.
Kruzynski noted Medina is in Orleans County. New York State considers Orleans County part of the Finger Lakes Covid-19 Region, but Medina Central  is in Section VI with Western New York counties for athletics. And different counties sometimes have different requirements.
"It just would make sense if everybody would get on the same page," he said.
This is the second time in a week that some school leaders were befuddled by statements from the Erie County Health Department.
Last Friday Health Commissioner Dr. Gale R. Burstein wrote to Williamsville Central School Superintendent Darren J. Brown-Hall that the county had received complaints about Williamsville schools allowing students to take "mask breaks" during the day. She also said in the letter that the state Health Department's guidance does not allow for mask breaks. Brown-Hall sent copies of both letters to parents Monday, and said he was waiting for clarification.
Kane told The News in an email Tuesday that the letter was part of "educational outreach" which is the "department's initial step in enforcement."
Later Tuesday, Kane said in a news release that the the county "does not intend to take enforcement measures against schools that are providing students with mask breaks during the school day."