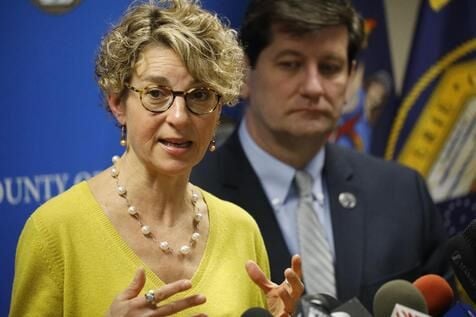 School officials in Erie County say they are struggling to begin required Covid-19 testing because the county health department refuses to do it or to even let the schools use the county's license to obtain the tests.
Without help from Erie County, officials at schools in the orange zone say it will be nearly impossible for them to reopen until the governor lifts the Covid-19 zone designation.
Meanwhile, just down the Thruway, schools in Monroe and Onondaga counties have tested thousands of students and teachers for Covid-19 in the past week.
Schools in those two counties found different testing solutions, but have one thing in common: their county health departments are helping them.
The Onondaga County Health Department is testing nearly 5,000 students and teachers this week in 61 schools. Dozens of county employees have been reassigned from their usual duties to conduct the testing.
Public and private schools in most of Erie County must end all in-person classes in their buildings because of the orange zone designation.
"We are rearranging county government to meet this challenge," Onondaga County Executive J. Ryan McMahon II said during a briefing last week.
The county created five testing teams that will visit each school once a week, he said.
"We made our commitment that we will rearrange the deck in what we do and focus in on that being our priority," McMahon said.
In Monroe County, within hours after schools learned they were in a yellow zone, the county executive and health commissioner reached out to school officials to offer help.
"Their questions to us were: What do you need? What do you need from us to make this happen? What questions do you have?" said Brighton Superintendent Kevin McGowan. "Our collaboration with our county executive and our health commissioner has been absolutely crucial."
Monroe County took on the responsibility of ordering Covid-19 tests from the state for the schools. By the end of last week – four days after the state announced the yellow zones – schools there had the Covid-19 tests. 
And Monroe County provided the schools with use of its lab license, which enabled the schools to begin testing this week, until the schools procured their own licenses.
By Tuesday, 3,500 students and staff in Monroe County had been tested.
"The county right from Day One said we're happy to have you on our license for the time being," McGowan said.
Brighton is contracting with WorkFit Medical, a Rochester company that provides per diem staffing. The district is paying a total of $225 an hour for three nurses to administer the tests, for a total of $5,400 a week.
In Erie County, the situation is far different.
"We are providing a significant amount of testing to the general public," Erie County Executive Mark C. Poloncarz said. "If we were to stop everything that we are doing and just work with the schools, we would no longer be able to provide the testing for the general public."
The orange zone designation means businesses designated as "high-risk nonessential," such as gyms and salons, must close.
Much of Erie County was designated a yellow zone Nov. 9, the same day parts of Onondaga and Monroe counties were.
But in Erie County, no students or staff have yet been tested in the schools.
Throughout the summer and into October, the Erie County Health Department assured schools that it would supply the Covid-19 tests and the personnel to administer the tests if at any point the schools needed to conduct testing, according to several school superintendents.
But on Nov. 8, the day before the state declared a yellow zone throughout much of Erie County, schools learned that would not be the case.
The county health department told schools that Poloncarz informed them "that the county would not keep its commitment to being our partner under the Governor's Micro-Cluster Initiative," Hamburg Superintendent Michael Cornell, president of the Erie-Niagara School Superintendents Association, recently wrote in a letter to Poloncarz.
"The purpose of this letter is to ask you to reconsider your decision to no longer be our partner in this public health endeavor," Cornell wrote. "Western New York's school districts are educational institutions and not public health institutions."
On Nov. 12, the state Health Department issued guidance stating that counties "are required to allow schools to operate under their limited service laboratory license for the purposes of conducting weekly testing." If a county is "unable to support the school in conducting testing," the county must work with the school to find community partners with a lab license that they can work with.
Public and private schools in most of Erie County must end all in-person classes in their buildings because of the orange zone designation.
Erie County Health Commissioner Gale Burstein says the county will not let schools use its license.
Because the health department "does not have the capacity to run schools' testing programs, we have a strong concern that any testing operational deficiencies or reporting inaccuracies from school sites could jeopardize all ECDOH lab licenses and our ability to provide any testing for the community," Kara Kane, a spokeswoman for Burstein, said in an email.
Instead, schools can either apply for their own lab license from the state or partner with a local medical organization and use its license, she said.
'A very, very heavy lift'
When schools are in a yellow zone, they need to test 20% of students and staff every two weeks order to stay open.
Now that several districts in Erie County – accounting for more than 35,000 students learning in schools at least two days a week – are in an orange zone, schools must close for four days.
To be able to reopen, those schools must test 100% of students and staff learning and working on site.
"It might be something that could potentially be done, but I'm telling you it's going to be a very, very heavy lift," Kenmore-Tonawanda Superintendent Sabatino Cimato said in a video update on Wednesday. "It's very improbable that not only our district but that any other district is going to be able to achieve this."
Many schools say they have applied for their own lab license, but do not know how long it will take for the state to approve their applications. If the county would allow them to use its lab license temporarily, the schools could begin testing right away, they say.
It normally takes about 30 days to get a lab license, but Covid-19 applications are being approved in 24 to 48 hours now, as long as the application is complete, according to Jill Montag, a spokeswoman for the state Health Department.
Schools can order Covid-19 tests from the state before they have a lab license, she said, but the tests are not sent out until the school's license is approved.
Testing challenges for private schools 
Private schools have had the same challenges as the public schools.
"Like all schools, they are all trying to navigate this challenge with not a lot of help from the county or the state," said Eric Yarwood, executive director of the Education Collaborative of Western New York, which represents 14 private high schools. "It's been very challenging to have that communication with them."
Twenty-four Catholic elementary schools are included in Erie County's orange zone. They had planned to partner with Erie County or Catholic Health for Covid-19 testing, but both were too overwhelmed to help, according to Joan Thomas, interim superintendent of the Catholic Schools of the Buffalo Diocese.
A few of the Catholic schools closed even before the yellow zone was changed to orange, she said. A few others have applied for their own lab licenses. And some others have created partnerships with local pharmacies.
The pharmacies have ordered the tests and are delivering them to the schools, she said. And parents with a medical background have volunteered to fill the role of medical supervisor on site.
"We're trying very hard," Thomas said.
One public school district with an elementary school in southern Erie County is coordinating with Cattaraugus County to do its testing.
Gowanda Central Superintendent Robert Anderson said in a letter to parents Wednesday that the district was working with the Cattaraugus County Department of Health to test students and staff at Gowanda Elementary School, which is in Collins. Other schools in the district are in Cattaraugus County.
But on Thursday, he sent another letter to parents announcing, "with a heavy heart," that all schools would go fully remote starting Monday.