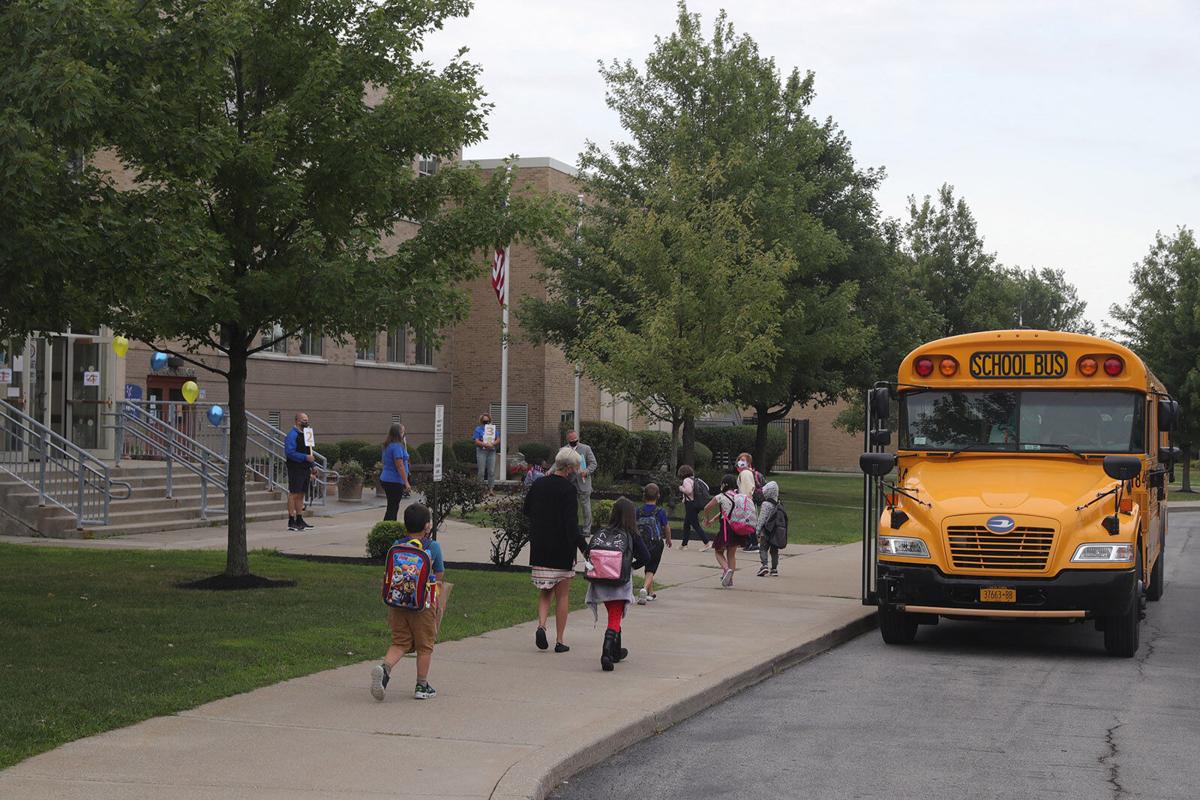 Wearing a face mask in school has gone from a vital safety measure to an annoyance to another battle in the culture wars.
As of Wednesday, it is something else: no longer necessary in New York summer schools.
New York State told schools Wednesday that students are not required to wear masks this summer.
The state Health Department updated the guidance because of the "current low rates of Covid-19 transmission," it said in an email to school districts.  
Schools and districts may implement the masking policies for child care, day camp and overnight camp programs, the state said. That guidance says that unvaccinated children "are strongly encouraged but not required to wear face coverings indoors as feasible."
Schools still can require masks to be worn, according to the Health Department.
Some local summer schools relied on the school year guidance requiring masks, while others determined that the guidance was for the 2020-2021 school year that ended June 30.
"I think the New York State Department of Health understands the developmentally critical nature nature of having school be as normal as possible for our children," said Hamburg School Superintendent Michael Cornell, who also is president of the Erie-Niagara School Superintendents Association.
Western New York Students First, a group formed to support fully opening schools for in-person learning, joined with 11 other groups in the state to send a letter to Gov. Andrew M. Cuomo in mid-June demanding he remove the mask mandate for children.
"We're hearing from our families that they're very happy with this," said Tarja Parssinen, co-leader of the group. "Families are relieved, of course, to see hopefully that all districts can get on the same page now."
The relaxing of the mandate applies only to this year's summer school session, according to the email, which said that guidelines for the 2021-2022 school year will be issued soon. 
"These decisions, which should reflect local sentiment, may be made by the school superintendent or local board. There is no requirement for additional public meetings," the Health Department said. 
Schools also are no longer required to submit a daily report to the state on cases of coronavirus. 
Confusion surrounding masks, and when they are required, started last summer as schools were preparing plans to return to buildings in the middle of the Covid-19 pandemic. Last summer's controversy was whether masks were required if students were 6 feet apart, and the answer was yes.
State Health Commissioner Dr. Howard Zucker sent a letter early last month to the U.S. Centers for Disease Control and Prevention saying New York intended to waive the mask mandate for students effective June 7. The letter left many believing that masks would not be required starting June 7, but two days later the state Education Department said Zucker's letter was meant to solicit federal input, and did not change requirements.
Pioneer Central Superintendent Benjamin Halsey announced June 7 that wearing masks was optional for students, faculty and staff. But 10 days later, Halsey informed the school community that New York State had threatened the district with withholding state aid.
"I was further notified that the state and county departments of health will be imposing fines, and withhold the district's state aid, or even close our school for non-compliance, by following the anticipated state Department of Health guidance that was not implemented," Halsey said in a message on the school district website.
The mask mandate led parents in several school districts to protest at school board meetings, and to challenge the mask requirement in court.