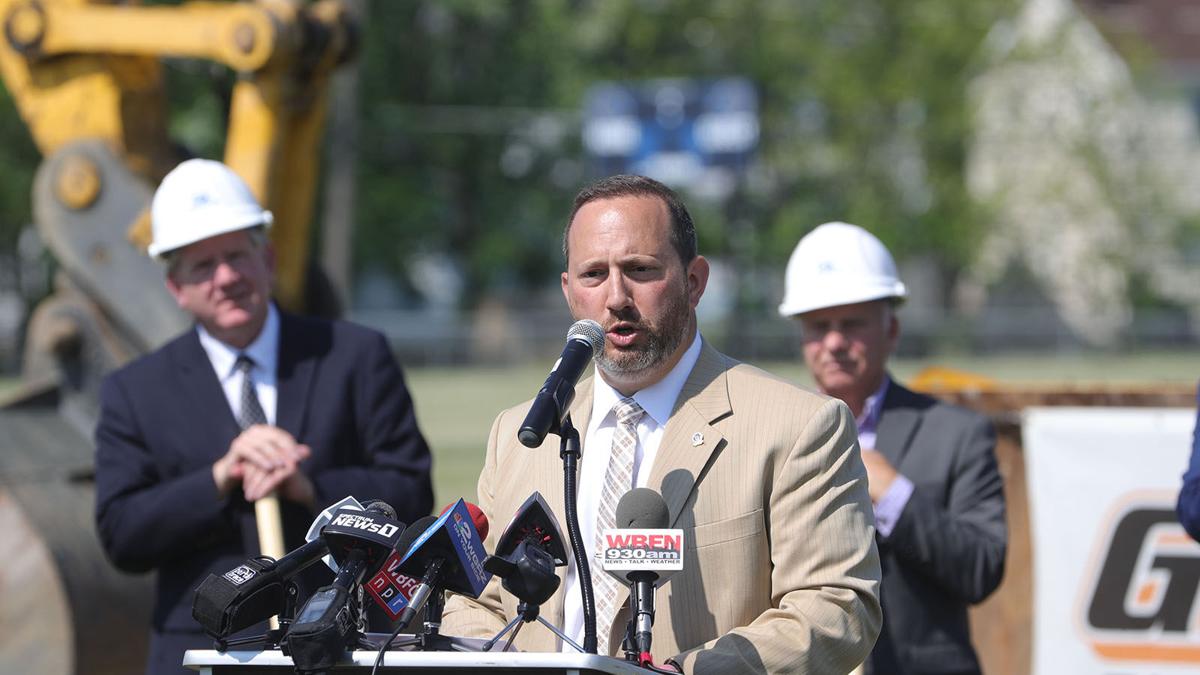 When a shrinking student population prompted Kenmore-Town of Tonawanda to close three schools in 2016, district officials said enrollment would continue to drop by 1% or 2% a year for the foreseeable future.
Today, that pessimistic prediction looks as out of date as the Buffalo Bills playoff drought.
Ken-Ton administrators say enrollment stabilized recently and is expected to grow by just over 1% annually through 2030.
As a result, Ken-Ton, working with YMCA Buffalo Niagara, will expand its universal pre-K program from a half day to a full day starting in September.
"We are investing in our earliest learners and in our community," Ken-Ton Superintendent Sabatino Cimato said Friday at a news conference at Kenmore East High School announcing the change.
The full-day pre-K will be based at the former Hamilton Elementary School, a strategic decision to bring some life back to one of the three elementary schools that closed between 2013 and 2016.
Cimato and local officials on Friday also marked the start of a $75 million capital project approved by Ken-Ton voters in February 2020 that features work at each of the district's nine schools.
They pointed to the capital project, which includes an artificial turf athletic field behind Kenmore East, and the pre-K expansion as a sign of improved fortunes for the district that serves 6,700 students.
"This is the dawn of a new era," said Kenmore East Principal Patrick Heyden, noting the bright sunshine and blue skies.
The outlook for the district five years ago was far gloomier.
Ken-Ton had closed Jefferson Elementary School in 2013 and, three years later, decided to shutter Hamilton and Roosevelt elementary schools along with Kenmore Middle School.
The closings and related school consolidations were driven by declining enrollment and financial considerations.
In the decade between 2008-09 and 2018-19, the district's student population fell by 23%, Ken-Ton officials previously reported.
However, enrollment leveled off in recent years and long-term projections based on factors including birth rates and population trends suggest enrollment will rise by 1.2% per year on average over the next nine years.
"Many young families have been moving into the village in the last few years," Kenmore Mayor Patrick Mang said Friday, and a strong school system is important to them.
Those families are buying homes from seniors who themselves moved into the district in the 1960s and 1970s. Cimato urged young couples looking for homes in this tight housing market to consider buying in Ken-Ton.
This rising student population is the driver behind the district's plan to expand pre-K from a half day to a full day.
The hub for Ken-Ton's half-day pre-K program is at the former Kenmore Middle School, with satellite locations at Franklin and Holmes elementary schools. Creating the full-day program at Hamilton, which is now used for district storage needs, opens up more space at the Kenmore Middle building and presents the option of doing more at Hamilton, Cimato said.
The YMCA provides the teachers for the pre-K program, which is free for district schoolchildren.
Much of the cost for the pre-K expansion is covered by a state grant worth up to $1 million for the 2021-22 school year, said Ken-Ton spokesman Patrick Fanelli.
Friday's event also included a ceremonial groundbreaking for the new district capital project.
State aid is covering 69% of the cost of the work.
It features construction at the district's five elementary schools, two middle schools and two high schools, including the addition of 16 elementary classrooms because instructional space is in high demand.
"Our students, our staff and their families deserve the best," said Erie County Legislator Lisa Chimera, a Town of Tonawanda Democrat and district educator.
The project, planned before the Covid-19 pandemic, primarily is devoted to addressing student safety.
Highlights include new pipes to keep lead out of water consumed at fountains and used in food preparation, renovations for more secure building entry points and safer drains at the bottom of swimming pools.
Initially expected to be completed by the end of 2024, the project remains on track to finish on time despite the pandemic, Cimato said.
Tonawanda Supervisor Joseph Emminger said it was fitting Friday's groundbreaking came six days after residents saw another milestone: the demolition of the Tonawanda Coke smokestacks.
"Today we're here to see a rebirth in our community," he said.