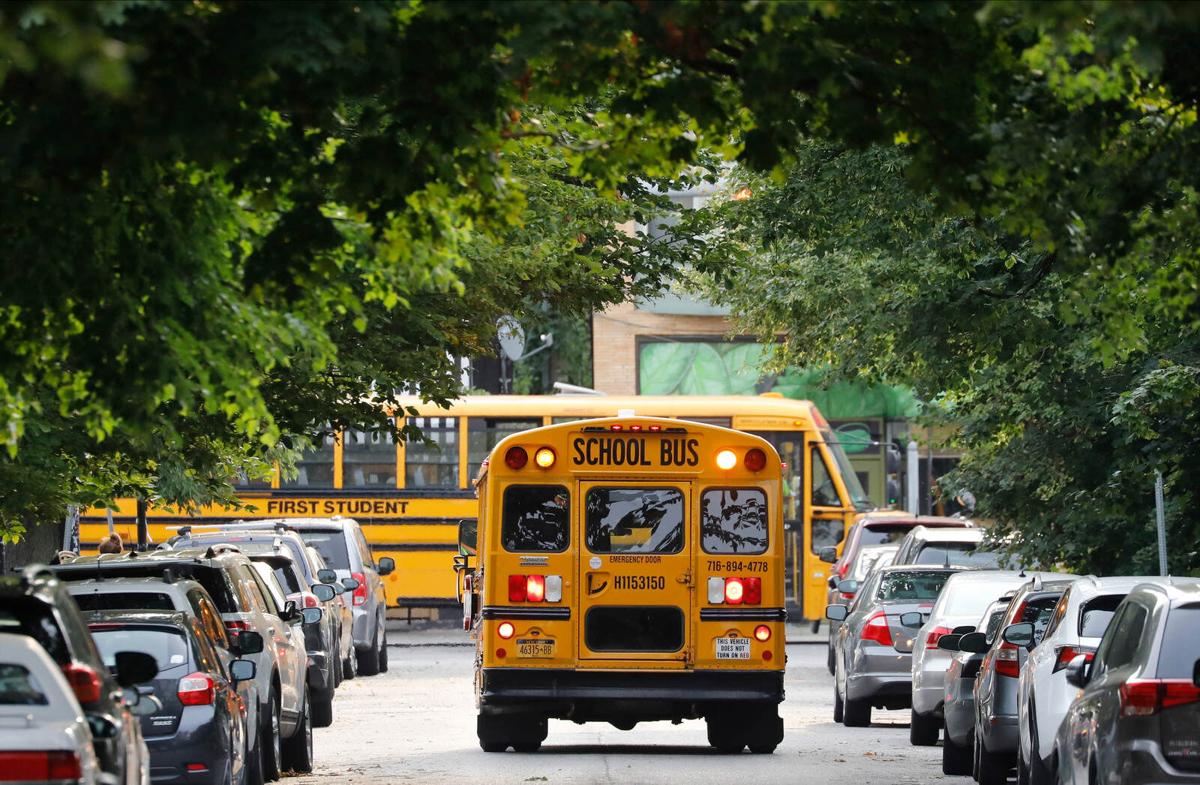 Reducing class sizes and hiring more social workers and guidance counselors are among the suggestions for how to spend a $289 million influx of federal dollars coming to Buffalo Public Schools to help recover from the Covid-19 pandemic.
The one-time fusion of money is about the same amount as the district receives in federal anti-poverty funds in a decade, and how the district decides to spend the money is being closely watched by community leaders, parents and advocates.
"We have to seize this opportunity, and use it in a strategic way and do this right, because we probably won't get another chance like this," Jaime Cohen, director of the district's Title I program, said Saturday during an online forum aimed at gathering ideas. "We want a massive, dramatic impact."
Districts across the state are receiving millions of dollars in grants from the two coronavirus recovery acts, and they must seek input from the public on how to spend the money before devising a plan and applying for the funds. Saturday's forum was the second of three virtual district meetings in Buffalo to solicit input of parents, teachers and other community members
"We want to use this funding to build capacity, so when the funding ends we have a strong school district that can continue on where we were," said Geoffrey Pritchard, the district's chief financial officer.
The grant money is coming from the Coronavirus Response and Relief Supplemental Appropriations Act signed in December, and the American Rescue Plan Act, signed in March, and must be spent by September 2024, he said.
At least 20% of the American Rescue Plan funds must be reserved to measure and address the academic impact of lost instructional time on students. For Buffalo, that is $40 million.  
U.S. Secretary of Education Miguel Cardona has said the American Rescue Plan funds can be used to provide more in-person learning options, sustain safe operations, support students' social, emotional, mental health and academic needs, as well as addressing inequities that were exacerbated by the pandemic.
"The district has made no decision at this point on how the funds will be spent," Cohen said.
There were plenty of ideas Saturday.
Kate Haq, of the Buffalo Parent Teacher Organization, said the group surveyed members and other district stakeholders. The overwhelming response was there should be more teachers and caring adults in schools, she said.
Of the 169 responding to the survey, 80.5% thought the best use of funds would be to reduce class size, and 63% thought hiring more social workers, counselors and psychologists could help transition children back to school.
Others believe the district should hire more reading and math teachers.
"The No. 1 priority for our families is smaller class sizes and more helping adults," Haq said.
Haq said more than 40% of PTO members also think funding should be used for the full restoration of music and art teachers, robust intramural activities, a fully funded library in every school, extended day programs and summer school.
There also was support for increased civic responsibility and life skills education and programs, as well as for increasing teacher salaries. 
Wendy Mistretta, president of the District Parent Coordinating Council, said the group wants more support of parents and better staffing of parent rooms. 
And there were a number of suggestions from those commenting as the event was streamed live on Facebook.
"If there is a school that has 100 students in the band, why is there only a part-time teacher? There are seven high schools with NO access to music programs," one band teacher commented on Facebook.  
"Class field trips out of town. Many children do not receive the chance to leave Buffalo," another person wrote.
"More attendance teachers would be a wise investment. We have kids who are chronically absent whether they're learning remotely or physically in the building, and one attendance teacher who works in other schools, trying to locate these," another person said on Facebook.