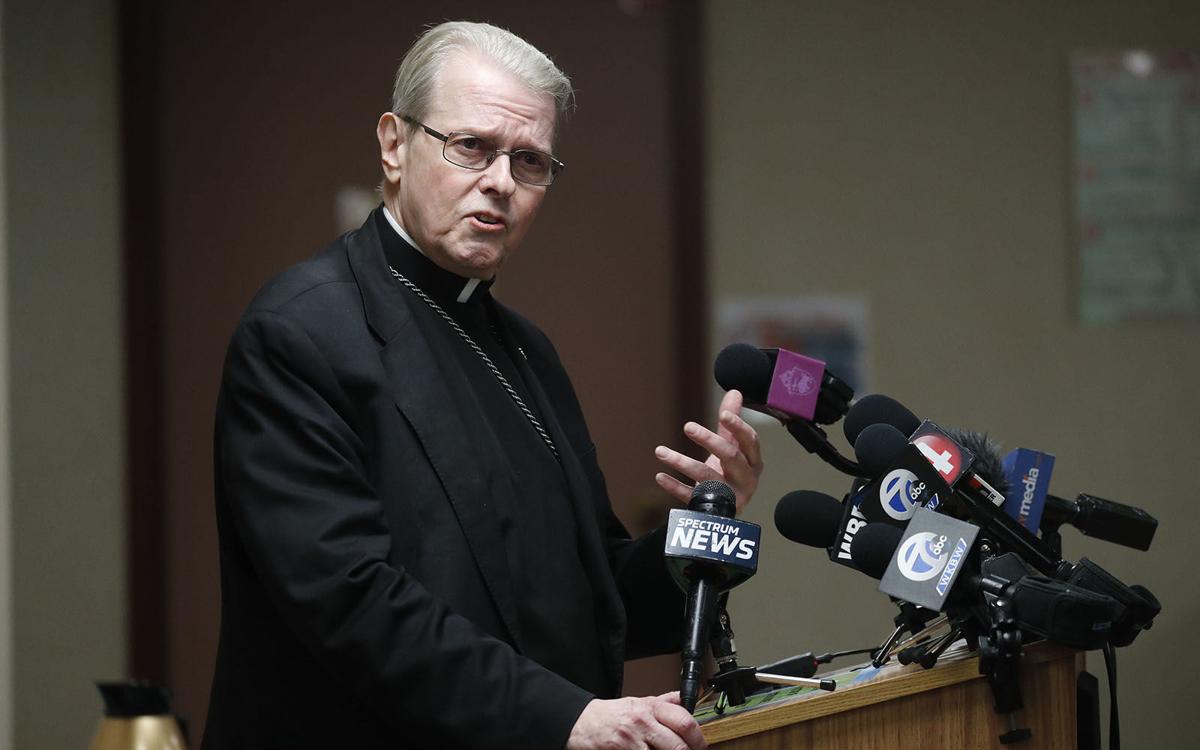 The Buffalo Catholic Diocese has begun an initiative that will focus on re-envisioning its mission, which could result in consolidations that would merge some churches and schools.
No specific plans have been made regarding the 161 parishes and 34 elementary schools currently in operation in the 8-county diocese, but Bishop Edward B. Scharfenberger said the diocese will work with pastors and other church leaders to decide what steps should be taken.
Scharfenberger indicated that there is "a great likelihood" that some Catholic schools and parishes will have to merge with others.
He told The Buffalo News late Friday that financial pressures on the diocese – including its bankruptcy case, hundreds of legal claims alleging abuse of children by priests and the Covid-19 pandemic – have forced the diocese to take a wide-ranging look at all its operations and find the best ways to spend limited funds.
Scharfenberger also acknowledged that the dwindling number of active priests in the diocese makes it difficult to keep all churches open.
While the diocese said it currently has about 360 priests, the bishop noted that most of them are either retired or semi-retired.
"We're reviewing our core mission and purpose," the bishop told The News. "We're going to identify what is essential to our mission and put all our weight behind what is essential. I have read stories saying that one-third of our small businesses may not survive because of Covid-19. I have thought that our parishes have a lot in common with small businesses."
He said the diocese hopes to make decisions "as soon as possible," especially regarding Catholic schools, with the start of the next school year fast approaching.
Some schools now have fewer than 100 students, too few to sustain their operations, the bishop lamented.
"It sometimes gets to a point in some of these schools that the classes are so small that it's almost like a teacher acting as a private tutor to one student," Scharfenberger said. "That's not cost-efficient."
But the diocese remains "strongly committed to Catholic education" and "vibrant" parishes, he added.
"The very harsh realities that have caused so much hurt and disappointment and damaged credibility in recent years must in no way obscure the vitality of our parish communities," the bishop said. "This initiative to bring about renewal across our diocese is all about creating greater reliance on one another, and creating even greater impact by combining our resources and harnessing the abundant expertise, talent and zeal of our people to bring about immense good."
Established in 1847, the Buffalo Diocese currently serves about 571,000 Catholics in an area of 6,500 square miles that encompasses the counties of Erie, Niagara, Allegany, Cattaraugus, Chautauqua, Genesee, Orleans and Wyoming.
Over the past two years, the diocese has faced some of the most difficult challenges in its history, mainly the priest abuse scandal, which led to the filing in February of a Chapter 11 U.S. Bankruptcy Court case seeking protection from creditors.
The diocese's voluntary petition for non-individuals listed assets of $10 to $50 million and liabilities of $50 to $100 million and said the diocese had between 200 and 999 creditors.
The diocese faces more than 260 lawsuits filed by alleged victims of priests under the state Child Victims Act. No other institution in the state faces so many such lawsuits.
Now, the Covid-19 pandemic, which forced the diocese to stop Masses and weddings more than two months ago, has caused a "sharp decrease" in parish revenues throughout the region, Scharfenberger said.
"If we can't meet our expenses and can't balance our budget, we clearly have to find a way to do those things," the bishop said.
He said the diocese has begun to conduct "a thorough assessment of all aspects of Catholic ministries and operations, looking closely at the current construct of parishes and schools; identifying resources that are able to be shared and leveraged more broadly; identifying underlying financial and operational strengths and weaknesses; and making decisions about the long-term viability of parishes and schools, as well as other programs carried out at the diocesan level."
He also said the diocese will seek to identify "options for potential mergers of parishes and schools, as well as identifying partnerships with other organizations and donors committed to Catholic education and the ministries determined to be vital. The diocese has communicated that it will not be in a position to continue the subsidy provided to Catholic schools given the current environment."
School leaders are working with the diocese's school superintendent, Michael C. LaFever, on this review, the bishop said.
The diocese said the bishop is meeting daily with the Vicars Forane – 12 regional representatives of the Bishop – and other church leaders.
The study, called the Renewal Initiative, will be led by the diocese's Chief Operating Officer, Sister Mary McCarrick, OFM, Msgr. David LiPuma, chair of the Presbyteral Council and James J. Beardi, chair of the Diocesan Finance Council.
When asked by The News when he expects Masses to resume, Scharfenberger said he hopes to "see some movement within the next two weeks," but added that he cannot be certain.
"I hope it's soon," the bishop said.