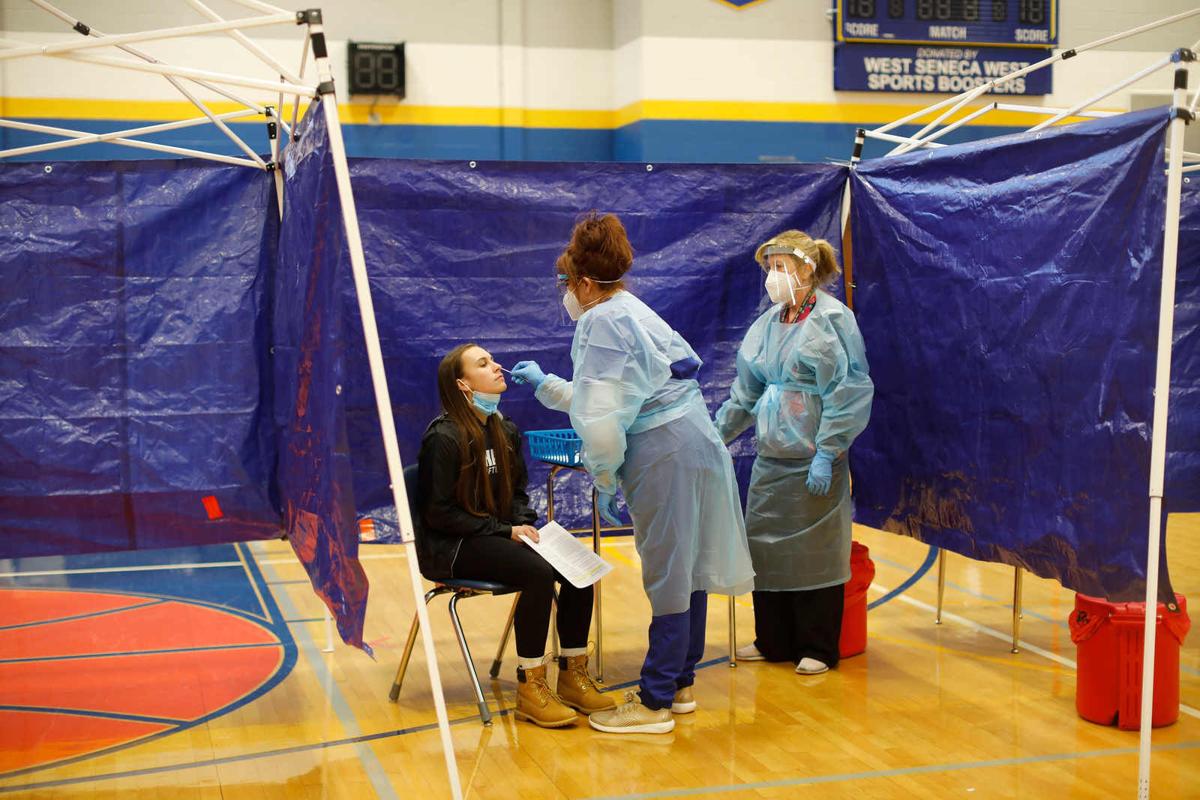 Allison Weller's daughter is out of school for her third quarantine since the beginning of the school year.
"It's horrible," Weller said.
The test-to-stay procedure would require students who wish to avoid quarantine to test negative for Covid-19 in a rapid test each day for seven days after potential exposure to an infected individual.
For those in the same predicament, it's a common tale. That's why parents and school leaders are hoping to implement a program that would allow Weller's daughter, and other children, to remain in school if they test negative. 
It's called test-to-stay, and it allows healthy children to avoid staying out of school because of quarantines. It would allow unvaccinated children who are identified as being close contacts of someone who tests positive to be tested daily. If the rapid test – which takes about 15 minutes to get results – is negative, the student could remain in school.
Erie and Niagara counties are still deciding whether to bring the program to schools.
More superintendents are pushing for the "test to stay" model, being used successfully in several other states.
"Right now, we are busy collecting information to make sure that if we do decide to impart on a test-to-stay that we will have the best plan possible," said Erie County Health Commissioner Dr. Gale Burstein. "We are collecting information and thinking about what would be the best way to implement this."
Niagara County discussed the program with school leaders last week, and is waiting to hear from them Tuesday to see if they want to do it.
"If it is done by one, it has to be done by all," Niagara County Public Health Director Daniel J. Stapleton said.
That is one of the requirements of New York State, which is worried about equity if some schools in a community implement the program, while others do not and have higher quarantine rates. 
"There is very, very strong consensus that we need to find a way to make it work," said Michael Cornell, head of the Erie Niagara School Superintendents Association. 
There were 517 cases reported as of Friday: 443 students, 37 teachers and 37 staff members.
The state Health Department does not recommend the program, but last week it said local health departments could adopt the practice. 
That's what has been happening in Ontario County schools for several weeks. The county, using part of its $3 million Covid-19 relief funds from New York State, hired an agency nurse for every school to help coordinate the testing, and bought machines for rapid tests for every school nurse's office, according to Public Health Director Mary L. Beer.
Students identified as close contacts are tested daily. Many of them have been able to stay in school with the daily tests.
"We have found a lot of cases we probably wouldn't have found. That gets them out of school and spreading," she said. 
And if any student develops symptoms during the school day, they are tested, she said.
Health departments, hospitals and pediatricians offices are preparing to accommodate a whole new segment of the population with a whole bunch of fun stuff geared toward making the process a little less scary.
Vaccinated students do not have to quarantine, unless they develop symptoms. But unvaccinated students must quarantine for 10 days from the time of exposure.
And that creates problems for children and their families, like the Weller family of Hamburg. 
The first time, Weller's daughter was out for six days. The second time, she had been back in school for one day and was exposed again and out for 10 days, she said. And this week, Weller got a call again that her daughter was in close contact of someone who tested positive, and she's out of school again.
"It's so stressful," Weller said, adding that she got a call from Frontier Central High School, telling her to pick up her daughter from school, but sometimes she can't instantly drop everything at work to get her child.
Her daughter's final vaccination will be effective soon, and the family is looking forward to no more school quarantines.
One of the State Health Department's requirements is that the daily negative tests allow children to remain in school, but the quarantine is in effect for clubs, sports and other extra-curricular activities.
"Does this person who created this have children? I am going to say they do not," Weller said. "Kids go to school for those extracurricular activities. Those are the things that keep a child in school."
But test-to-stay has logistical issues as well.
"It would be on the schools to do the testing, it wouldn't be done by the Health Department," Stapleton said. "A lot of this extra work would fall on the school district and the school staff and school nurse."
It would mean bringing every student considered a close contact, and testing them for seven days, and there is a shortage of the tests, he added. 
Stapleton said the best way to not be quarantined is to get the vaccine, which, depending on when the shots are given, could be effective before Christmas.
"The bottom line is that this all goes away, this all becomes irrelevant, if students and staff are fully vaccinated, and nobody has to be in quarantine and we don't have to think about doing any test-to-stay option," Burstein said.