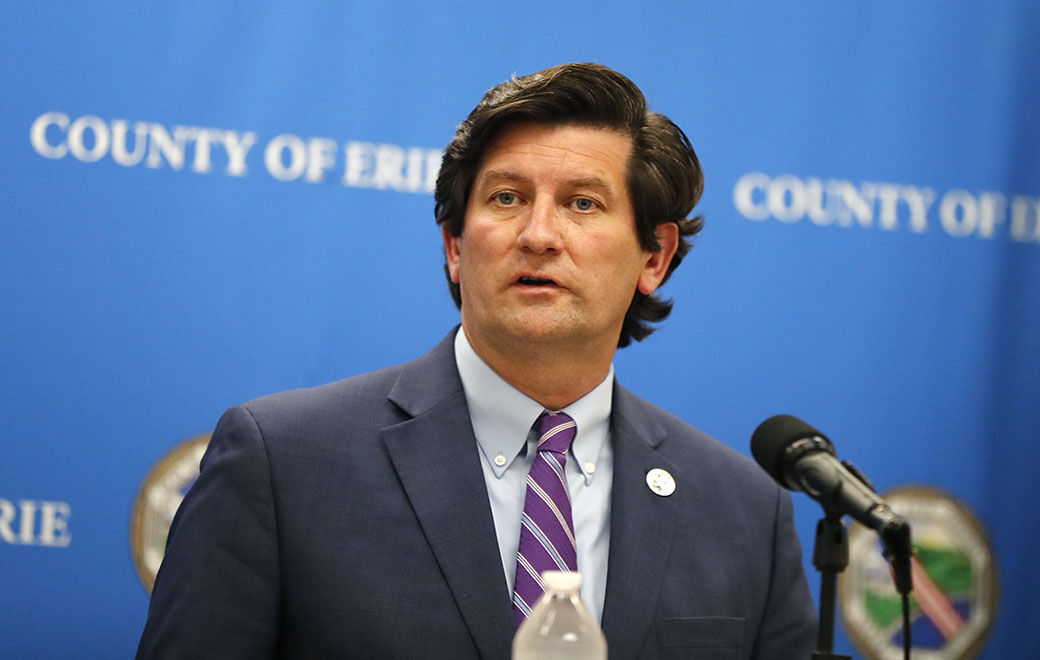 Erie County Executive Mark Poloncarz said the county will allocate $15.2 million of its federal CARES Act stimulus money to offset school reopening costs related to the Covid-19 health crisis.
The money will support public and publicly funded charter schools and be distributed based on student population. Every public school will receive $100 per student, and schools will receive an additional $50 for students considered poor enough to qualify for free meals.
That means county grants would range from $100,900 for the Holland school district to nearly $4.4 million for the Buffalo Public Schools. The Williamsville school district will receive the second highest amount at $1 million.
"This is an example of how, working together, we can create a better community for all," Poloncarz said in his Facebook Live announcement.
The $2 trillion CARES Act, passed by Congress and signed by President Trump in late March, allocated $150 billion to local governments as part of the Coronavirus Relief Fund. Of that amount, $160.3 million was earmarked for Erie County.
While the county has only spent a fraction of that money, Poloncarz said the county is not allowed to roll over that money for use next year, so the county will share it with public schools on a proportional basis.
Private and religious schools will not receive any of the funds because the rules restricting use of the stimulus money require that the money go to support local governments. Public school districts count, but private schools don't, Poloncarz said.
He also said the money could not be used for school district expenses already budgeted prior to the Covid-19 health crisis, such as teacher salaries. Money would also not go directly to any parents.
The money shared with schools must be used by public schools to provide direct response to the coronavirus pandemic. 
The county said eligible uses of this funding include:
• Purchasing personal protective equipment.
• Purchasing cleaning equipment.
• Implementing social distancing and other infection-control measures.
• Purchasing equipment for remote learning, such as laptops, tablets, webcams and hotspots.
The announcement comes on the heels of Gov. Andrew M. Cuomo saying that the state's finances will dictate at least a 20% reduction in state aid to localities, which include schools and municipalities. The state has already quietly withheld $324 million from school districts in June and July, amid growing concerns the cuts may become permanent without more federal assistance.
"We believe that we have an obligation, on behalf of the people of our community, to assist our school districts to ensure that they can return their students as safely as possible back to school," Poloncarz said.
He reiterated that the county has no say in school district reopening plans but that the money allocated by the county will help ensure school districts can execute the best plan possible.
Poloncarz made his announcement in the Rath Building on Facebook Live and took two public questions out of those posted to his feed. He has held no news briefings in two weeks.
Find out how much your school district/charter school will receive:
Erie County payments to public school districts
| Public school district | Payment |
| --- | --- |
| Akron | $162,050 |
| Alden | $179,200 |
| Amherst | $339,750 |
| Buffalo | $4,396,850 |
| Cheektowaga | $277,000 |
| Cheektowaga-Maryvale | $270,850 |
| Cheektowaga-Sloan | $168,600 |
| Clarence | $460,500 |
| Cleveland Hill | $165,000 |
| Depew | $223,900 |
| East Aurora | $190,100 |
| EDEN | $149,000 |
| Evans-Brant (Lake Shore) | $279,950 |
| Frontier | $541,950 |
| Grand Island | $320,250 |
| Hamburg | $376,500 |
| Holland | $100,900 |
| Iroquois | $243,200 |
| Kenmore-Tonawanda | $827,250 |
| Lackawanna | $259,750 |
| Lancaster | $625,500 |
| North Collins | $67,650 |
| Orchard Park | $499,750 |
| Springville-Griffith Inst | $198,250 |
| Sweet Home | $412,450 |
| Tonawanda (City) | $217,650 |
| West Seneca | $762,800 |
| Williamsville | $1,080,750 |
Erie County payments to charter schools
| Charter school | Payment |
| --- | --- |
| Aloma D. Johnson Charter School | $37,150 |
| Buffalo Acad-Sci Charter School | $101,600 |
| Buffalo Collegiate Charter School | $15,750 |
| Buffalo United Charter School | $94,500 |
| Charter School for Applied Technology | $313,300 |
| Charter School of Inquiry | $34,850 |
| Elmwood Village Charter - Hertel | $26,650 |
| Elmwood Village Charter Days Park | $56,900 |
| Enterprise Charter School | $40,300 |
| Global Concepts Charter School | $129,550 |
| Health Science Charter School | $44,900 |
| King Center Charter School | $62,800 |
| Persistence Prep Academy Charter School | $14,550 |
| Reach Academy Charter School | $35,750 |
| South Buffalo Charter School | $129,350 |
| Tapestry Charter School | $128,100 |
| West Buffalo Charter School | $64,800 |
| Western NY Maritime Charter School | $62,650 |
| Westminster Community Charter School | $78,350 |