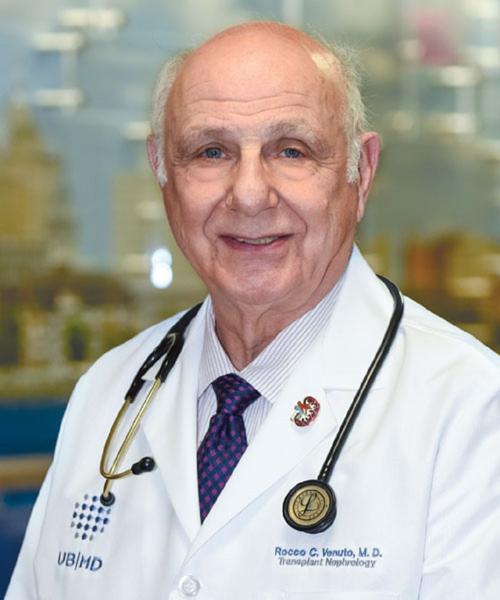 Oct. 15, 1941 - July 11, 2019
Dr. Rocco C. Venuto, a kidney specialist who last month marked 50 years of service to the Jacobs School of Medicine and Biomedical Sciences at the University at Buffalo, died in his sleep Thursday in his Williamsville home. He was 77.
Besides serving as a professor at UB, where he was the longtime chief of nephrology, Dr. Venuto also was medical director of renal transplants and director of the chronic kidney disease program at Erie County Medical Center's Regional Center of Excellence for Transplantation and Kidney Care.
Dr. Venuto held a lifetime achievement award from Upstate New York Transplant Services for his advocacy on behalf of organ donation. He served on the board of the Kidney Foundation of Western New York.
He also practiced nephrology at UBMD Internal Medicine, seeing patients until the day before his death. He also cared for high-risk pregnant women with renal dysfunction at John R. Oishei Children's Hospital.
"He was the physician every patient would want: a superb diagnostician but extremely caring and patient," said Dr. Brian Murray, ECMC's chief medical officer and assistant professor at UB.
Besides his practice, Dr. Venuto was an internationally renowned researcher on improving care for kidney patients and on hypertension among pregnant women.
His research helped expose the inadequacy of detection and treatment of chronic kidney disease, and improved the effectiveness of anti-rejection drugs given after kidney transplants.
He was a fellow of the American Society of Nephrology and the American College of Physicians.
"He educated nephrologists from all over the country and all over the world," said his wife of 54 years, Ann. "He's had an enormous impact on medical education."
"He conveyed the value of education to his four children, inspiring them to all earn advanced degrees," said his son, Rocco T.
Dr. Venuto was born in Niagara Falls and graduated from the former Bishop Duffy High School in 1959. The school's successor, Niagara Catholic High School, honored him as a distinguished alumnus in 2014.
He earned his bachelor's degree at Niagara University and his medical degree from UB. He also completed fellowships at Ohio State University. He served in the Army Medical Corps at Fort Benning, Ga., from 1971 to 1973.
When not caring for patients, Dr. Venuto cared for his flower and vegetable gardens. He was an avid traveler and fisherman, and loved to watch horse racing. He was a member of St. Gregory the Great Catholic Church in Amherst.
Along with his wife and son, Dr. Venuto is survived by three daughters, Maria, Lisa and Laura; a brother, Charles; a sister, Colette Greene; and six grandchildren.
A Mass of Christian Burial will be offered at 8:45 a.m. Thursday in St. Gregory the Great Catholic Church, 250 St. Gregory Court, Amherst.
Be the first to know
Get local news delivered to your inbox!