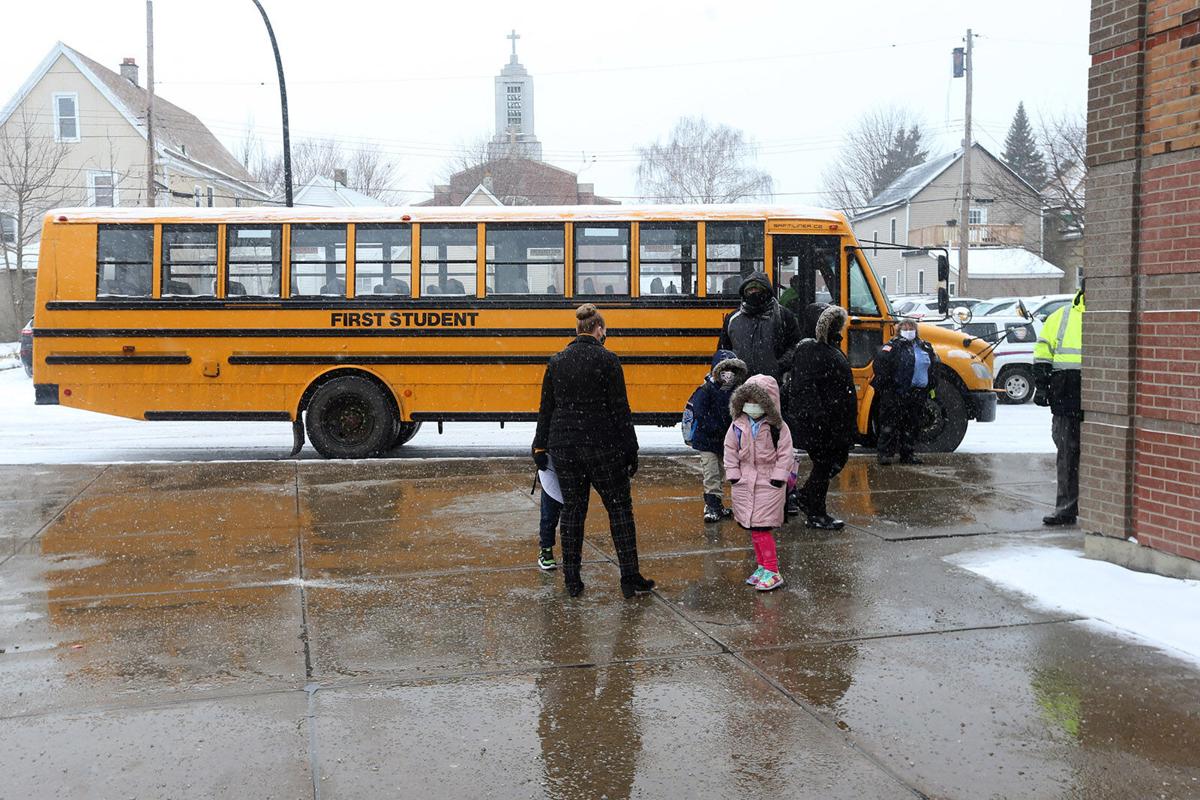 From the first day of classes in September when thousands of Buffalo Public Schools students logged on for remote lessons, it was clear: there were thousands more who did not.
One-third of high school students in Buffalo missed at least one out of five school days in September, according to a Buffalo News analysis of district data. Among elementary students, one-fourth did.
At the time, thousands of students still did not have an iPad or a laptop. Some lacked internet access. By November, those technology issues were largely resolved.
Rather than abating, though, the city's absentee problem steadily grew worse, even after thousands of students began attending school in person in February.
In April, half of Buffalo's high school students were absent at least one out of five days; so were one-third of elementary students, according to The News analysis.
But the problem is even worse than those numbers suggest.
A student can be marked present as long as the school has "significant contact" – a term that is broadly defined and can include anything from a student uploading an assignment to a parent calling to say their internet connection isn't working, officials say.
Often, students are counted as present on days they receive little to no instruction, teachers and administrators acknowledge.
"If they show up in the class, even if they're only there for five minutes, they get marked as present," said Jim Healy, a history teacher at the Buffalo Academy for Visual and Performing Arts. "We have kids smart enough that they know they can check in, answer a question or two in the chat, and then take off."
Buffalo school administrators acknowledge that absenteeism has surged this school year. Many families are dealing with financial challenges brought on by the pandemic, they point out. Some students are homeless. Others have entered the foster care system. An unknown number have lost family members to Covid-19 or have been sick themselves.
"There are no excuses, but what we know is that a significant number of our children and families were in survival mode," said Tonja Williams, associate superintendent for student support services.
"And it's not just in Buffalo. Miami, Philadelphia, New York City – they're all experiencing some of the same things we have had challenges with, in terms of tracking students who have been experiencing traumas during this pandemic."
Numerous studies have found links between chronic absenteeism and lower student achievement. A few studies have found that missing one out of every 10 school days in the early grades makes it less likely that a child will be able to read by the end of third grade. Another study, at Johns Hopkins, found that excessive absences as early as sixth grade indicate a student is more likely to drop out of high school.
In both March and April, more than 40% of students districtwide missed at least one out of five days of school.
But because the pandemic has created so many difficulties for families, Buffalo students with excessive absences this year will not face any negative consequences from the school district, Superintendent Kriner Cash said Friday.
"Students and families have had untold challenges navigating the year," he said. "Our emphasis from the start has been on restorative rather than punitive practices for students.
"There is a robust menu of summer programming being required for eligible students. Our students are resilient and, given shared high expectations from home and from school, will rebound."
Schools with the most absences
Some Buffalo schools more than others are seeing students missing class.
At Math Science Technology Preparatory, a high school on East Delavan Avenue, 82% of students missed one out of every five school days in April – double the school's rate in September.
And at least six out of 10 students missed one out of five days in April at several other Buffalo high schools: McKinley, Lafayette, Burgard, South Park and East.
In some schools, attendance varies quite a lot from one grade to another.
At the Buffalo Academy for the Visual and Performing Arts, for instance, three out of four sophomores missed at least one out of five days in April – a tenfold increase from September. Among freshmen, the rate was 29%, triple what it was in September.
"They're taking days off and not showing up. Some kids know they can just not go – their parents are tired and they're not checking anymore," said Healy, the history teacher.
"I've got a lot of kids who are failing," he said. "I've got kids who haven't handed anything in since September."
Even in schools where attendance is usually among the best in Buffalo, absenteeism has snowballed.
In September, the best attendance was at City Honors, the district's school for academically advanced secondary students. Only 3% of students there had missed one out of every five days the first month of school. By April, though, five times as many had.
Overall, attendance has been somewhat better in Buffalo's elementary schools.
But even among younger children, in many cases, absenteeism has grown much worse over time.
At the Buffalo Elementary School of Technology, 68% of fifth graders were severely chronically absent in April – a tenfold increase from September. The rate among sixth graders tripled during that time, to 29%.
Some elementary school teachers say it's not uncommon for them to have a total of only three or four students on a given day, in a class that is supposed to have 20 students or more.
This year, spotty internet service, along with malfunctioning iPads and laptops, seem to be among the biggest reasons students miss classes, parents and teachers say.
Gary Cutright's four children at Lovejoy Discovery School 43 are all attending classes in person two days a week now, but the first several months of the year were fully remote and rife with technology problems for his family. They continue to learn remotely three days a week.
"Honestly, it's been pure torture for them," Cutright said. "There's times where they sign on and the teacher won't let them in the class, or the internet goes in and out. They all despise virtual learning."
Students miss class for various reasons, parents and teachers say. Some have to help with younger siblings while their parents are at work. During the pandemic, some teens have taken jobs during the day.
The ongoing challenges, stress and uncertainty brought by the pandemic have taken a toll on the mental and physical health of many kids. The lack of structure finds some of them awake at night and sleeping during the day.
Even when remote students do log in at some point, that does not mean they were there the entire day, teachers point out.
"We get kids that come in the morning, but after lunch they don't come back," said a first grade teacher, who asked to remain anonymous out of fear that the district might retaliate."
"After 11:30, I'd say half of my kids don't come back," the teacher said. "So half of my kids aren't getting reading instruction, because I teach that after lunch."
Buffalo does not require students to turn their cameras on during remote instruction, in order to allay concerns that some students might be embarrassed by their surroundings. So teachers often can't tell whether students are paying attention or watching YouTube videos.
Classroom teachers, social workers, counselors, attendance teachers and sometimes even the school resource officers sometimes visit students at home to see how they might be able to help improve attendance, whether that means connecting the family with support services they need or providing help with logistical challenges.
"We've done everything we possibly can to help children get what they need," said an attendance teacher who also asked to remain anonymous. "I've gone to the technology center many, many times to pick up devices. We have even delivered paperwork to the children. At some point, what else can we do?"
Buffalo waited longer than any other district in New York to bring students back into the classroom. On Feb. 1, high school seniors and students in pre-kindergarten through second grade had the option to return in person at least two days a week. About half of them did.
In the three months after that, attendance improved in those grades at about half the schools in the district, according to The News analysis.
District officials, though, say that the attendance data is preliminary at this point. This year, as in any other year, the data is not finalized until August, giving the schools a chance to review the records and correct any mistakes.
So, for example, if a school sees that a student was absent for two weeks in April, officials would take a closer look and might retroactively change her record to show that she had been present, said Ebony Bullock, the district's chief accountability and information officer.  
"If she turned in any work during those two weeks, we would give her credit for being there, because she was learning the material," Bullock said.
"We're not making anything up. But we will verify to make sure the numbers are nice and clean. Our building leaders are working hard to verify any anomalies."
To further complicate the matter, the state Education Department required that as of Feb. 1, districts had to differentiate in their attendance records which students were remote on each day – and whether they were absent – and which students were attending school in-person – and whether they were absent.
Ever since the change was made on Feb. 1, Bullock said, the district's attendance tracking system defaults to marking remote students absent unless the teacher marks them present. So if a teacher forgets to take attendance, remote students would all be marked absent, she said.
Even though the district's records now differentiate remote students from those in the classroom, officials do not know whether attendance has improved more – if at all – among remote students or those in person. The district was hit by ransomware in March, and the attendance data prior to the attack has not yet been fully restored, Bullock said.
"Once our systems are fully recovered, I can look at that data back to February," she said.