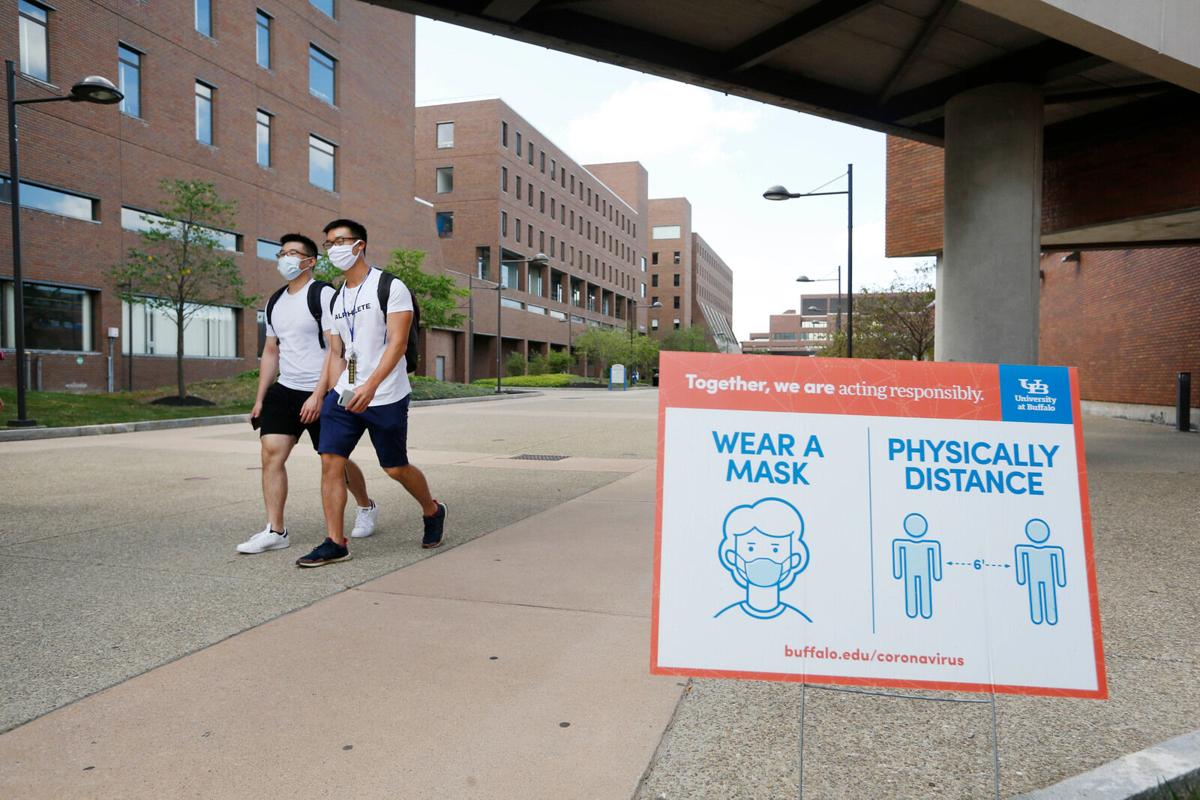 Just days into the start of the fall semester, area colleges and universities are struggling to keep students from gathering in large parties.
Dozens of students have tested positive for Covid-19, most of them within the past few days, and administrators have disciplined at least 21 students for violating rules set up to limit spread of the novel coronavirus.
Covid-19 infections among students and staff at SUNY Buffalo State College rose to 21 on Wednesday, two days after classes began. President Katherine S. Conway warned of the likelihood of more positive tests because of an off-campus party in August attended by a commuter student who tested positive.
"Through contact tracing efforts, multiple students who attended the gathering have since tested positive. More positive tests will likely result from this reckless behavior," Conway said in a letter to students.
Conway also said in the letter that she was considering canceling the winter and spring playing seasons of student-athletes who hosted the gathering.
"For those students and their teams, all practices and training sessions have been suspended indefinitely," she said.
At SUNY Fredonia, President Stephen H. Kolison Jr. suspended 13 students on Tuesday for violating college protocols at an off-campus party.
"It was an off-campus gathering that was brought to our attention and investigated right away. Hosts and students who attended were identified and suspended," said Cedric Howard, vice president for enrollment and student services.
Some students who attended the gathering later tested positive, Howard said.
Fredonia now has 22 Covid-19 positive students and 88 students who are in quarantine, a week and a half after classes started.
SUNY Geneseo also this week suspended nine students and three student organizations, including two fraternities, for their roles in several large off-campus parties. Geneseo reported two cases of Covid-19 on campus.
"As we advised the community, we do not tolerate behavior that jeopardizes health and safety," President Denise A. Battles wrote to the campus in an email.
Meanwhile, the number of students and staff who tested positive at the University at Buffalo, the area's largest campus, shot up by 41 in two days. UB, which started classes Monday, now has 46 positive cases among students and staff.
Gov. Andrew M. Cuomo said colleges and universities that have 100 students or 3% of the population of people on campus test positive for Covid-19 will have to switch to remote-only learning for at least two weeks until the virus gets under control.
That's already happened at SUNY Oneonta, where an outbreak now stands at 289 people infected since the fall semester began. One hundred twenty-five students are in isolation on campus, and another 54 are in quarantine. Five students and three campus organizations were suspended for hosting parties against college policy.
"We understand students want to party. But individual responsibility plays into the collective good. So, your individual actions can have enormous consequences on everyone else in your college community," SUNY Chancellor Jim Malatras said in a recent conference call with media. "We're going to be tough on those students, not because we want to ruin their fun, but this is in a different time ... We have to address this during the new normal."
While SUNY colleges and universities are posting Covid-19 infection numbers on their websites, the area's private colleges and universities haven't volunteered that data online.
Canisius College Vice President for Student Affairs and Dean of Students Daniel A. Dentino said in an interview that the school has had five confirmed Covid-19 cases, all of them involving students who live off campus. Four of the students who tested positive already have been cleared to return to campus, he added.
"We've been fortunate, but this can change in a heartbeat," he said. "The students have been for the most part, I would say, heroic in what we've asked them to do. They've been mindful."
The college hasn't received reports, so far, of large off-campus gatherings of Canisius students, Dentino said.
Despite the low numbers so far, Dentino said the "rumor mill is very robust on campus" that infection rates are high.
He plans to send a weekly Covid-19 update to the campus community via email, starting Thursday, spelling out the facts.
"We're trying to be transparent with the community," he said. "I'm hoping that can allay some of the concerns, which, understandable as they may be, I don't think most of them are based in fact. They're based in people being super anxious."
Be the first to know
Get local news delivered to your inbox!