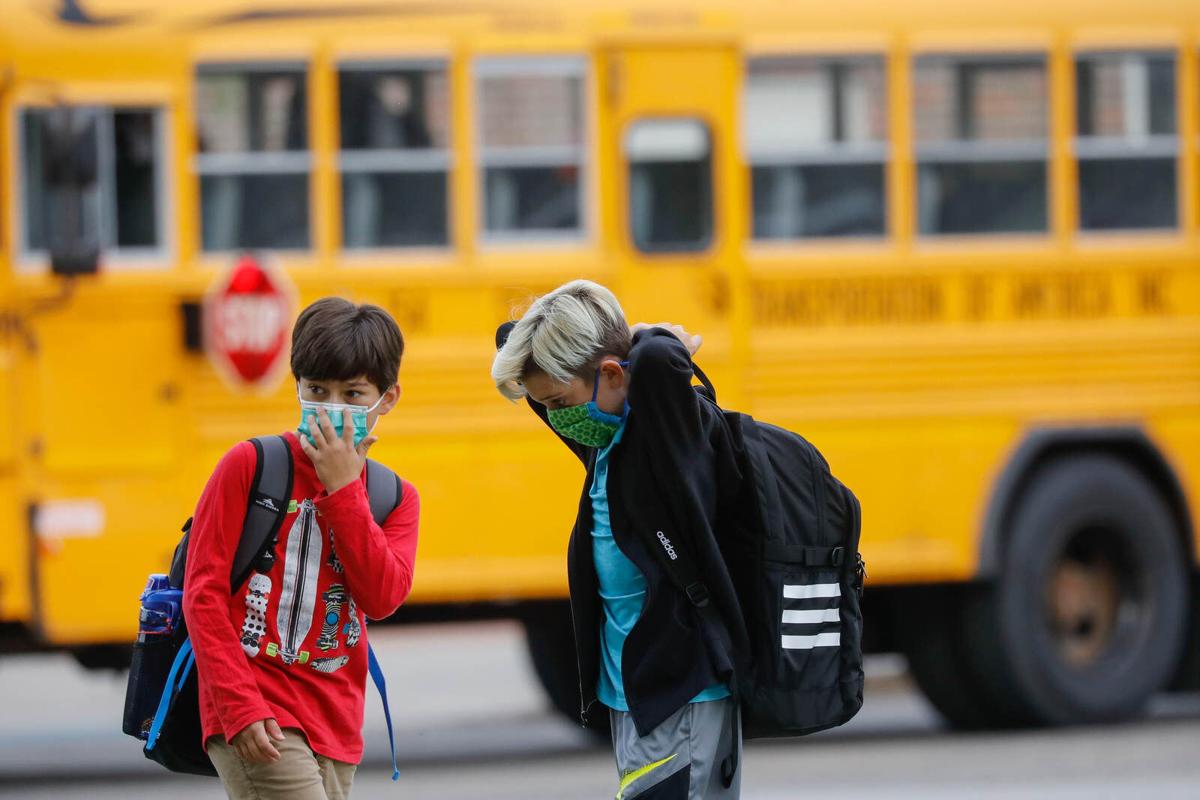 Mascots greeted in-person elementary students for the first day of school Tuesday and families were praised for following the drop-off procedures as school got underway for hundreds of Williamsville students.
But what looked like a typical day was anything but typical.
Nearly 1,400 middle and high school students in the district spent the day wondering how long they will get to sleep in before their remote learning option gets started.
The school community, having found Williamsville in the unfamiliar position of being the object of scorn instead of admiration, spent the day waiting for answers and wondering what will happen with the district leadership.
And parents, still reeling from changing reopening plans and a delay in the start of remote learning for middle and high school students that culminated in the longtime superintendent being put on leave the day before school started, just want the chaos to end.
"Please take our kids off of the roller coaster!!!!" one parent tweeted in reply to the announcement that John McKenna was named acting superintendent Monday evening, another unexpected turn as one of the region's premier districts deals with turmoil connected to the coronavirus pandemic.
McKenna had been the assistant superintendent for human resources for nearly three years. He takes over for Scott G. Martzloff, who was put on leave after the bungling of the reopening of school.
The reopening plans, particularly remote learning, changed several times. On Friday, Martzloff announced the delay in the start for most remote-only students. He said the district still had to hire 21 teachers.
"I will reserve judgement until I see some action on getting our remote learners the educational instruction that they deserve," one parent tweeted.
And parents took to the district's Facebook page to express their displeasure.
"I agree there are many moving parts here and he may not be the only one to blame. But at the end of the day it was his poor communication that did him in," another wrote on Facebook.
"The failure in providing remote learning had nothing to do with restrictions from the governor ... it had everything to do with failure from Martzloff. Every school knew we needed a remote learning plan this fall. They had six months to prepare one," wrote another parent.
"I still do not have a warm fuzzy feeling that my daughters who are in the remote program will start school with the appropriate classes anytime in the near future," another parent wrote on Facebook.
School Board President Teresa Anne Leatherbarrow said parents have been emailing board members, and most want to know about remote learning.
"And rightfully so. They deserve to have the education start for their child," she said.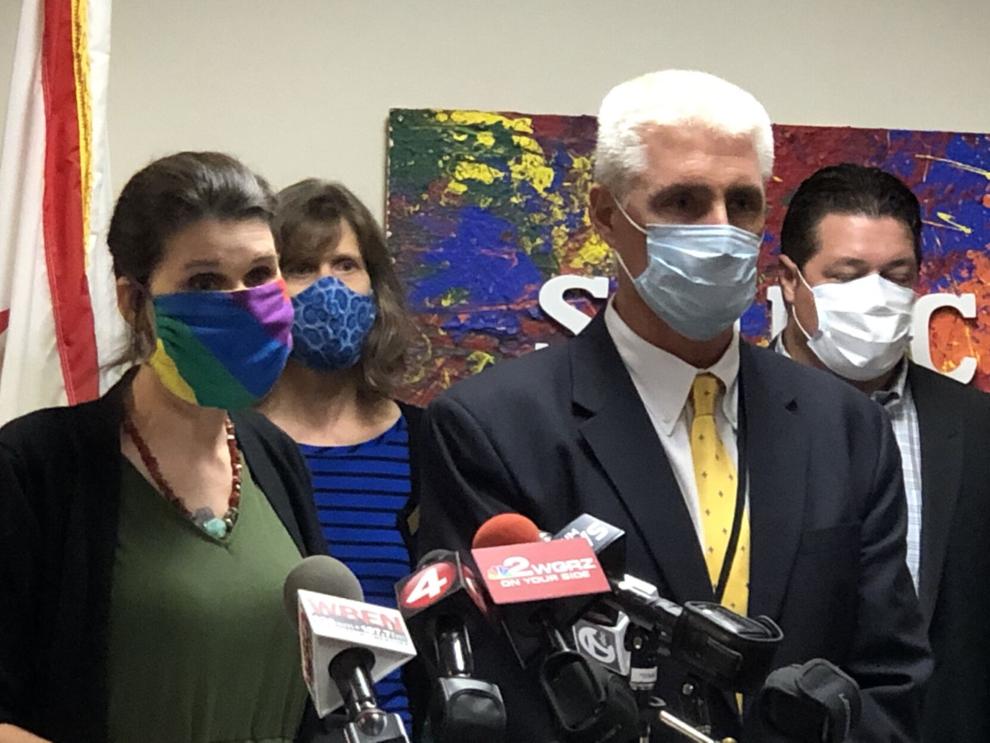 After learning Friday afternoon that school would be delayed for remote-only learners, the School Board held special meetings Sunday and Monday, where they put Martzloff on leave and announced an investigation into his "conduct in office, and particularly regarding his plans for the reopening of schools."
Martzloff, who makes $233,000 a year, was hired in July 2011. A former minor league basketball player for a short time, he had been superintendent of Byron-Bergen Central in Genesee County for less than three years when he got the Williamsville job. 
He was introduced by then board President William Freeman as a "rising star" with "exceptional integrity" and "first-rate intellect."
"It's clear he is a person of collaboration," Freeman said at the time.
Former Board Member Ronald Shubert, who served for 18 years spanning three superintendents, said Martzloff came to Williamsville from a very small district. There were more students at Williamsville East High School alone than in the entire Byron-Bergen School District.
"It was totally different from what he came from, and probably different from what he expected," Shubert said. 
He said it is hard for a superintendent to please everyone. 
"If not for Covid, this would not have happened, I'm sure of it," Shubert said.
While parents also may wonder what happened to bring confusion to their top-rated district, it's not the first time Martzloff has faced controversy. 
The Williamsville Teachers Association in the past protested his efforts to fire an administrator, the involuntary transfer of a teacher, union allegations of lack of integrity and abuse of power in 2014. Teachers in 2015 issued a vote of no confidence in him. 
But the superintendent had apparently worked through those issues. Last year the School Board extended Martzloff's contract for three years. It expires June 30, 2022.
"I don't know how we go from that to where we are now," Shubert said, adding he was as surprised as anyone at the developments. 
The board unanimously approved McKenna as acting superintendent during a meeting Tuesday night, and he was sworn in.
The meeting was held via videoconferencing, during which McKenna presented a video of the first day at school for students who opted to attend classes in-person.
Swaroop Singh said it was bittersweet for his daughters, who watched through tears because they chose the remote option and wound up missing school.
"They're both at home, and nobody is talking about remote learners," said Singh, who added that he wanted some reassurances that, even if McKenna does not yet have a timeline for when classes will resume for remote learners in the district, like his daughters, that school district administrators are working with the teachers union and parents to get all parties on board for a new plan.
Laura Smith said parents were appreciative of the action the board took over this past weekend to try and find a better option for all students in the district.
"I know Mr. McKenna was just appointed the acting superintendent and I feel as a parent that has two fully remote students learning, I understand all of our frustration, but at the same time, we need to give him some time to work and come up with a plan that is equitable and accessible for all," said Smith.
Sam Puvendra, who has three children in the fully remote program, also thanked the board for its actions.
"It'll be nice if you can have some sort of online assignments like you guys had at the end of last school year," he said.
Puvendra added that he thought putting cameras in all of the district's classrooms would be a very good idea.
Matt Clabeaux, another parent, said he was furious over the delay for the remote learners. He and other parents and a couple of students who called in to the meeting expressed concerns over the quality of the teachers the district is hiring to teach the remote classes and how that might affect high school students taking advanced or AP courses.
"At a minimum, we want AP, electives, all the course work, foreign language. You're creating a domino effect for our kids. They can't take certain courses, and then they can't take the courses after that," Clabeaux said.
Jack Flick, the father of a Williamsville North High School student, said his daughter regretted having to choose the health of her family over her education, but said McKenna should focus on the safety of students and staff in the district, and getting its remote program for the school year up and running.
Jen Burton, the mother of two middle school students in the district, said that, as a family, they chose the 100% remote learning option because they wanted to leave room for a student whose parents don't have the luxury of working from home.
Burton sought assurances that the district was hiring only certified educators to teach the remote classes.
"I beg you to move quickly to get these kids to feel like they belong some place," she said.
Juliana Gentile, a senior at Williamsville North High School, chose the hybrid learning model, but said she would like to see five days of instruction from teachers, noting that it would not be optimal for students taking Advanced Placement classes to attempt to teach themselves.
Parent Jim Sikorski questioned whether fully remote students who are waiting for their classes to reopen had an option similar to what the district provided when classes were shutdown last spring because of the pandemic, and students could log in to a site and obtain classwork that they could study independently.