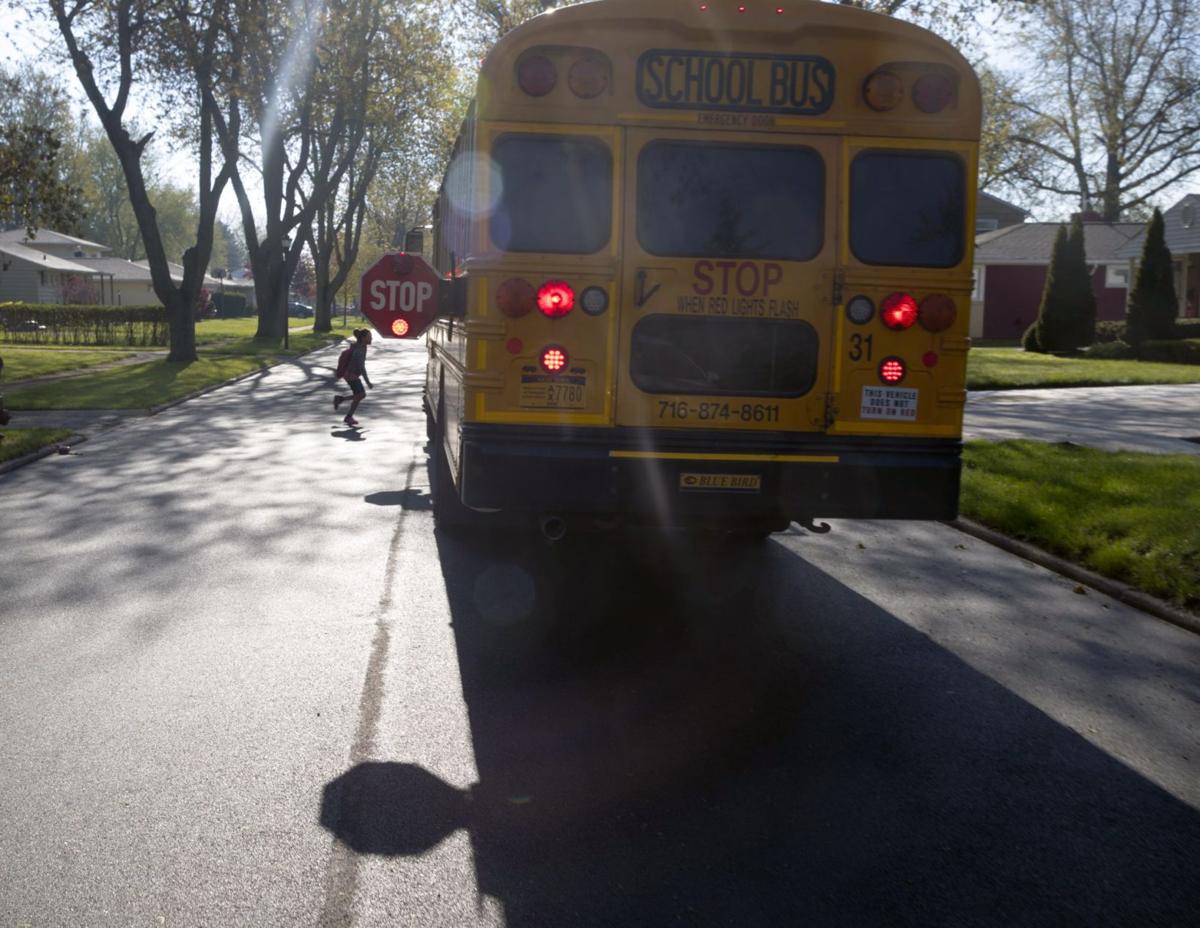 Drivers who don't stop for school buses be warned.
Gov. Andrew Cuomo signed legislation Tuesday authorizing school districts to install stop arm cameras on school buses to catch and fine drivers who fail to stop when students are boarding or getting off school buses.
"It was great news," said Linda O'Grady, transportation supervisor for the West Seneca Central School District. "It's been a few years in the making and it's good that it finally came through."
School districts will have the option whether to opt in to the camera program.
Cameras would be mounted on the arm that swings out on a bus when stopped while picking up and dropping off students, or on some other part of the exterior of a bus. Images of drivers failing to stop when a school bus has its red lights on will be sent to local municipalities and law enforcement for prosecution.
A first-time offense would carry a $250 fine, rising to $300 apiece for three or more infractions.
Schools would have to pass a resolution authorizing the local municipality – with legal jurisdiction over traffic enforcement laws – to enter into a camera contract on its behalf.
Costs incurred would be paid for by the municipality, but officials say municipalities and districts will be able to cut deals with camera companies to install the cameras for no charge while allowing the private operators to keep a share of the fines.
Bill Harvey of the Honeoye Falls-Lima Central School District near Rochester, legislative chair of the New York Association for Pupil Transportation, said in a statement that illegal passing of school buses has become "a menace on our roads and a danger for our children." The association has long sought passage of the legislation.
"Its final passage is deeply gratifying to all of our members," Harvey said.
In Buffalo, the region's largest school system, district officials said there first needs to be buy-in from the city – as well as details ironed out with transportation provider First Student – but anticipated widespread support for the cameras.
"From the district's perspective, we've been encouraged that everyone is fully supportive of the legislation," said Will Keresztes, the district's chief of intergovernmental affairs, planning and community engagement. "I've only heard strong support at the city level and we're excited about the opportunity to have a safer route to and from school for our students."
In the Kenmore-Town of Tonawanda School District, transportation officials are looking into the camera program and gathering estimates, a district spokesman said.
In West Seneca, the district has included exterior camera mounts on all the new buses it has purchased since 2016, so about a quarter of its fleet of 92 buses now have that capability, O'Grady said.
If a vehicle passes a stopped bus, O'Grady explained, all those drivers have to do is press a button on the camera system. That, she said, places a time stamp on the images, which can then be sent off to the police.
Buses already are equipped with interior cameras, O'Grady said, so adding two exterior cameras might cost a couple of hundred dollars more.
"It was well worth it to get ahead of the game," O'Grady said, "because we knew once it became legislation it would be very well utilized."
Parents, school officials and bus drivers have long complained about drivers going around stopped school buses. State Sen. Tim Kennedy, D-Buffalo, who sponsored the legislation in the Senate, said state officials estimate there are 50,000 incidents where stopped school buses are passed each day across New York State.
"This is simply unacceptable," said Kennedy, who chairs the Senate's Transportation Committee. "By enacting this comprehensive legislation that ensures stricter enforcement of these crimes, we're sending a strong message: if you pass a stopped school bus in New York, you're going to get caught, you're going to be fined, and you're going to be held accountable."
Be the first to know
Get local news delivered to your inbox!