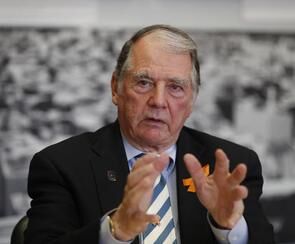 The Buffalo Teachers Federation is threatening to take legal action to stop the school district from resuming some in-person classes on Feb. 1 unless the union's safety concerns are resolved.
Eighty members of the union's Council of Delegates voted unanimously Thursday to call on Superintendent Kriner Cash to reconsider the decision to return special education students, high school seniors and some other high-needs students to school two days a week.
The union is asking the district to provide a report detailing how health and safety concerns have been addressed at each school.
"What teachers are telling us is that the conditions are still unsafe in the schools," said Philip Rumore, president of the teachers union. "The No. 1 concern right now is the cleanliness of the schools."
All of Buffalo's 31,000 students have been fully remote since school opened in September. Buffalo is the only district in the region that has not yet brought back any students to the classroom. The School Board on Wednesday voted unanimously to begin returning some students to their schools on Feb. 1. The district plans to bring back most of its students by mid-March.
When school reopened in September, educators sought to strike a balance between "no harm" grading policies and the need to hold students accountable for learning.
Last week, the union informed the district of a number of concerns in various buildings, Rumore said, but has not received a response.
In response to questions from The Buffalo News, the Buffalo Public Schools on Friday issued a statement from Nathaniel Kuzma, general counsel for the district, and Jamie Warren, associate superintendent of human resources. 
The district has received 1,000 requests from staff for accommodations, they said. The district has addressed most of them, with fewer than 100 remaining.
"Accommodation does not mean working remotely," Kuzma and Warren said in the statement.
Rather, accommodations will be made within the buildings, according to the statement.
The union in September asked State Supreme Court Justice Frank A. Sedita III for an injunction to prevent the district from requiring teachers to work from school two days a week. Sedita denied the request because the union did not provide conclusive evidence of health and safety concerns.
Local scholastic coaches and players were equally stunned and thrilled that their dark winter season could come back to life, pending approval from area health officials.
Rumore on Friday said he thinks the union will be able to make a stronger case this time, should it move forward with legal action.
"We have more details now than we had then," he said. "We have more examples of issues and we will have people ready to testify what their buildings are like."
The district declined to comment on the union's threatened legal action.
"We are prepared to comment if and when it occurs," Kuzma and Warren said.