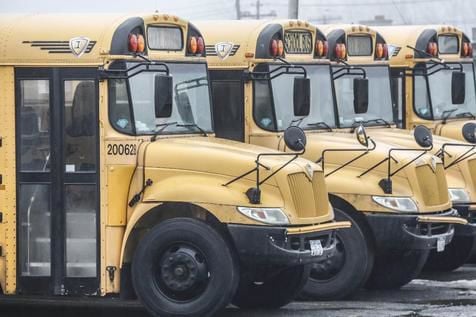 With Covid-19 cases on the rise in Western New York and parents worried about what that might mean for schools, Buffalo schools will have an extra day off next week.
The School Board voted unanimously to start the Thanksgiving holiday one day early, with school canceled Wednesday. 
No reason was given in the notice that was posted to the school district website Thursday afternoon. School officials said it was not related to the pandemic, but rather a way to give extra time off for kids, faculty and staff during a particularly stressful school year.
However, the rise in cases among students and staff as well as the community has prompted discussion about taking stronger measures, including the possibility of more days off or even returning to remote learning.
Superintendent Kriner Cash told the School Board Wednesday night that the district is "on the cusp" of shutting down again.
"It's spreading and it's still here and it's still killing people. So, just so you know, we're on the cusp ... and I want a sense of urgency about this, as well as all of the other issues we talk about tonight," he told the School Board, according to WBFO news.
"I don't want to have to close the buildings, but we've got to have a better effort at getting vaccinated, at getting our children vaccinated and people following the rules outside of school," he said.
Buffalo schools went fully remote in March 2020. The 2020-2021 school year started fully remote and students were phased back in the spring on a hybrid schedule. They returned to fully in-person learning in the fall of 2021.
At the same time, Buffalo teachers union president Phil Rumore called for the district to take more action and had raised the possibility of "lengthening" the Thanksgiving recess.
Rumore said he received a report from the district that between Nov. 8 and 15, 120 students and 45 adults tested positive for Covid-19. The following day another 47 students and eight adults tested positive.
Since the start of the school year, 574 students and 276 faculty and staff have tested positive for Covid-19, according to district data.
"Action must be taken immediately," Rumore wrote in a letter to Cash dated Wednesday. "Our students, staff and community are in great danger, especially with the Thanksgiving and Winter recesses, as well as the cold weather, coming."
Rumore also called on the district to toughen enforcement of mask-wearing by students as well as increase cleaning at schools and speed up contact tracing efforts.
"Teachers aren't looking for a day off, they're looking for safety for the kids," Rumore said.
"It was giving our staff and students a chance to disconnect and refresh," School Board Member Larry Scott said.
Around 11 p.m. Wednesday, after the board came out of executive session, Board Member Sharon Belton-Cottman moved "to give our staff and students Wednesday off based on the high level of stress" that many have experienced amid the pandemic, Scott told The Buffalo News Thursday.
The decision came as a surprise, especially to working parents who must now scramble to find child care.
"You can't do that to working parents/guardians. 1 week notice? Technically less than that. Not everyone has flexibility and a support system in place to help with this. Snow days are one thing. You can't control Mother Nature," a parent posted to the Buffalo Parent Center's Facebook page.
Scott said the decision to cancel classes on Wednesday was not about the rising cases of Covid.
Scott said district officials are working to keep students in classrooms and that the district isn't yet considering going remote.
"We have not reached that point where there's consideration for shutting down any schools today," Scott said. "I've been hearing a rumor circulating that we're going to go full remote. It's not something that is being considered."
While the number of students and staff getting sick with Covid has risen, Scott said evidence continues to show that it's not spreading within schools.
However, if there's evidence that there are a large number of cases at a particular schools, it's possible just that school could switch to remote learning, Scott said.