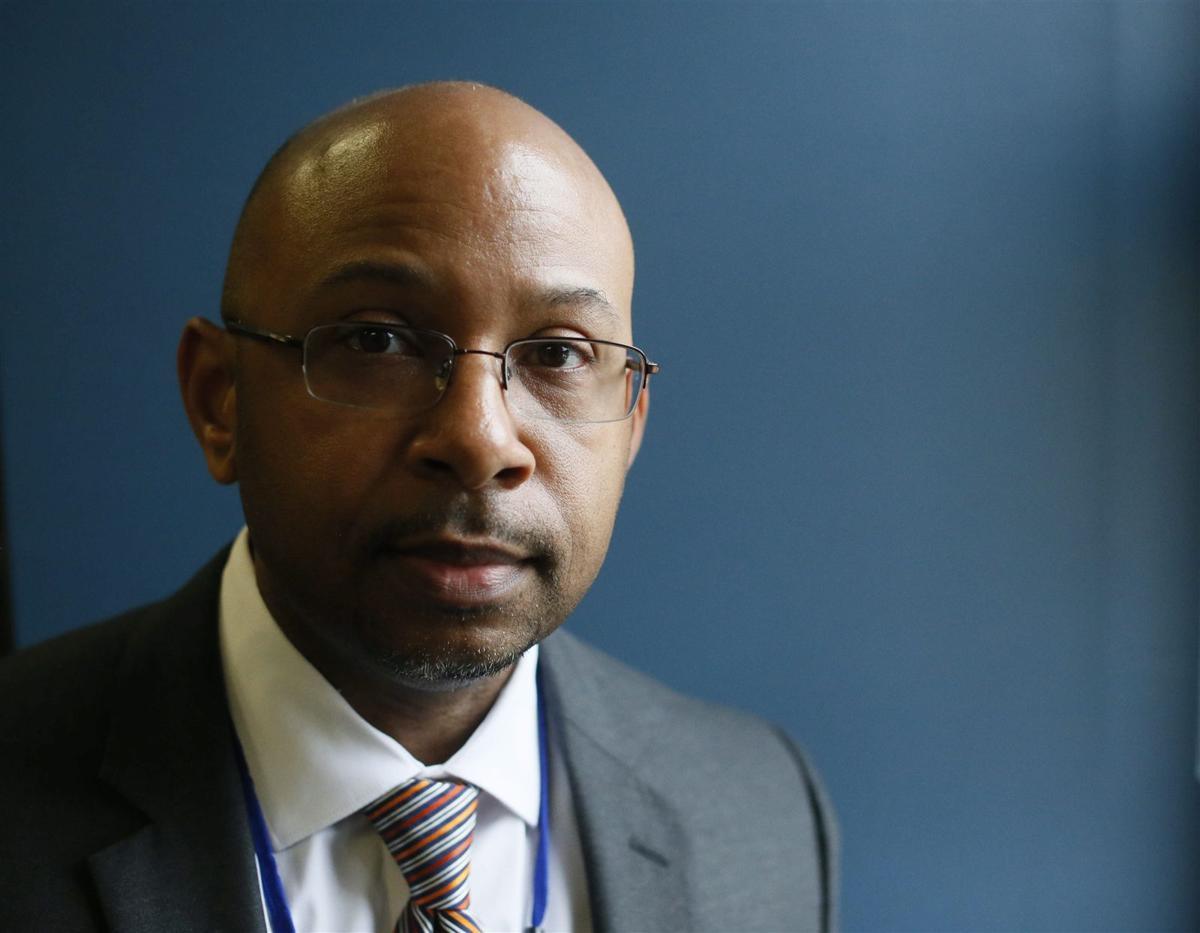 Darren Brown-Hall, the second in command in the Buffalo Public Schools, has agreed to a contract to become the next superintendent in the Williamsville School District and is expected to be appointed by the School Board on Thursday, according to a source with knowledge of the situation.
He will become the first Black suburban superintendent, as well as the first openly gay superintendent, in Erie and Niagara counties.
Darren Brown-Hall has built a career in education. In Buffalo, he grew up deeply influenced by a schoolteacher mother, Linda Brown, and his own youthful passion for math and physics eventually led him to the classroom. He is now an administrator, the chief of staff for the Buffalo Public Schools. As a parent and an educator, Brown-Hall, 45, tries
He was one of three finalists for Williamsville's top post, according to a second person familiar with the search, who also spoke on the condition of anonymity. John McKenna, Williamsville's interim superintendent, was also a finalist for the post, along with a candidate from outside of Erie County, according to the source.
Brown-Hall declined to comment for this story. Theresa Leatherbarrow, president of the Williamsville School Board, did not respond to a request for comment. A school district spokesperson directed inquiries to Erie 1 BOCES Superintendent Lynn Fusco, who conducted the superintendent search for Williamsville. Fusco did not respond to a request for comment.
Buffalo Superintendent Kriner Cash, through a spokesperson, declined to comment for this story on Brown-Hall's work in the city schools, noting that the Williamsville School Board will be announcing its decision Thursday.
Nearly $400 million is headed to local public schools under the American Rescue Plan. That's an average of $2,870 per student in Erie and Niagara counties. Some districts, though, will receive only about one-tenth that much.
When Cash became superintendent in Buffalo six years ago, he appointed Brown-Hall as his chief of staff, a role that has him overseeing the day-to-day operations of the second-largest school district in New York State.
Prior to that, Brown-Hall served for a few years as Buffalo's associate superintendent for human resources. When then-Superintendent Amber Dixon tapped him for the post, she cited his leadership and organizational skills as essential in taking over a department considered by many to be inefficient and poorly organized.
In Williamsville, Brown-Hall, 47, will be taking the reins of a district that has spent much of the school year in turmoil.
Parents in four suburban Erie County school districts have decided the best path to the classroom is through the courtroom.
For months, the district has found itself at odds with parents who wanted their children to have the opportunity to attend school in person five days a week.
All summer, Williamsville struggled to put together a reopening plan. In early September, then-Superintendent Scott Martzloff announced that the 1,400 fully remote students in middle school and high school would not be able to start the year on time because the district did not have enough teachers.
The next few weeks were marked by confusion and outrage, as the district modified the plan to address one set of concerns, only to create a new set of concerns. Eventually, the district settled into a model that closely mirrored that of many other local districts, with most students attending in person two days a week.
The independent counsel's report found the reasons the district wasn't prepared to reopen go well beyond the former superintendent's shortcomings.
A few weeks ago, an investigator hired by the district attributed Williamsville's bungled reopening to a number of factors, including problems with Martzloff's leadership, inadequate communication among officials and a fear of disappointing people in the community.
Brown-Hall, 47, is known in the Buffalo Public Schools for his ability to maintain a sense of calm and diplomacy even in the most heated situations.
Throughout his career, he sought to teach students that there is strength in differences and "that you can't fully appreciate someone as a person until you appreciate what makes them distinct," he told Buffalo News columnist Sean Kirst two years ago.
He began his teaching career in the Sweet Home School District, then left education briefly to work in banking before becoming assistant principal at South Park High School in Buffalo.
The son of a teacher, he holds a bachelor's degree in math and a master's in math education from Buffalo State College; a master's of business administration from Canisius College; and a doctorate in education from the University at Buffalo.
He served for two years as principal at School 53, then as principal at Performing Arts for four years, before being named associate superintendent for human resources.
He and his husband, Chris Brown-Hall, and their two children live in Amherst.