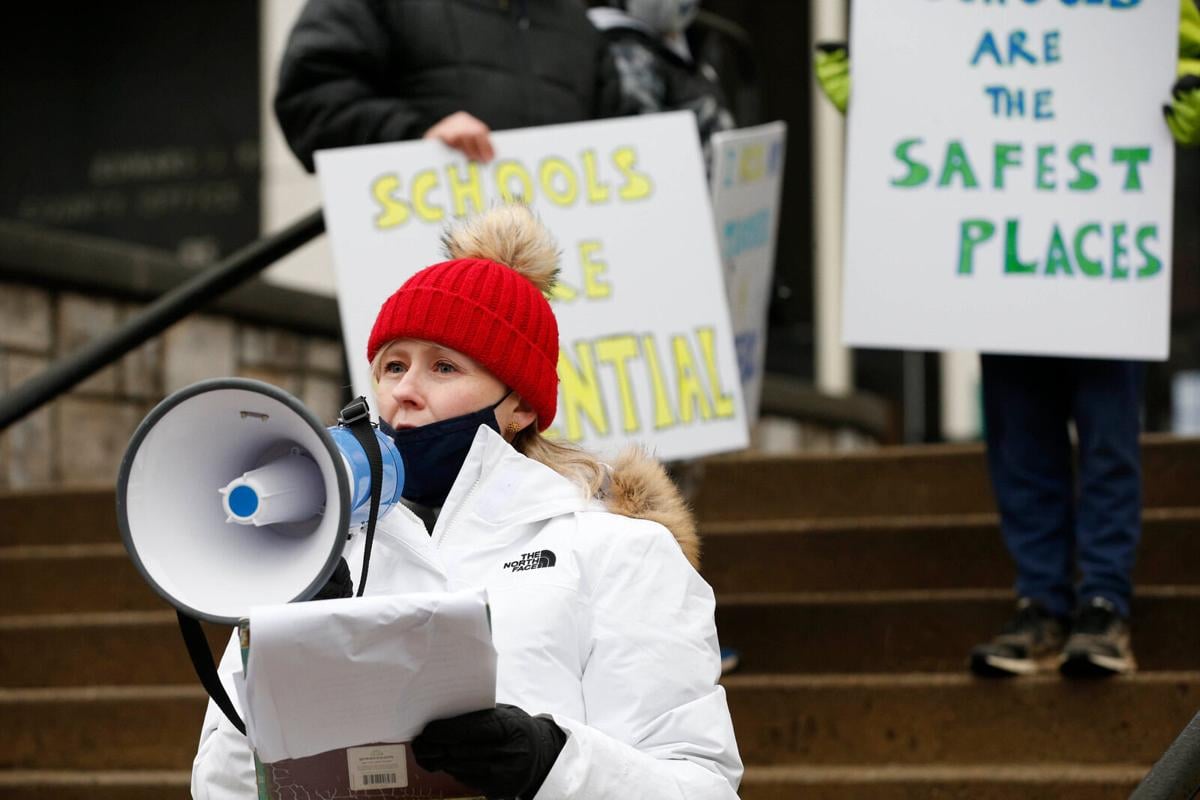 They see their kids falling behind, getting anxious and depressed.
At first they understood that school couldn't be normal in a global pandemic. But now these parents are mad, insistent and increasingly vocal: They want their children learning in school five days a week. 
They are networking with other parents across the region and across the country on Twitter and Facebook. And they want to know if some schools can open for in-person learning full-time, why can't theirs?
Parents here look down the Thruway to Onondaga County, where the county executive announced a plan Thursday to reduce social distancing in schools to return more children to the classroom full-time.
"I think a lot of people are frustrated. They thought by now, something would have changed," said Tarja Parssinen of Clarence, an organizer of Western New York Students First. "People are really starting to get scared for the fall."
The group's immediate goal is to return students to school full-time. The movement has grown, with Students First groups organized in Buffalo, Lancaster, Clarence, Frontier and Williamsville school districts, she said. 
In addition to writing letters, speaking at school board meetings and attending rallies, some parents are looking to legal action to get their children in school buildings five days a week. The group also is paying for a billboard this month along the Kensington Expressway near Bailey Avenue. 
Since high-risk sports returned to school and other recreational sports have been given the green light to reopen, some parents want to see full-time school on the list of openings. 
Five days a week would be better
Christa Bouquard's son is in seventh grade at Orchard Park Middle School. A 13-year-old with attention deficit disorder, he does fine when he is in the school building because of the structure it imposes. But he is in a hybrid learning model, and on the days he is working from home and is expected to work independently, he has trouble. Now he is getting failing grades.
The school said he could come into the building for a half day on his remote learning days, Bouquard said, but she works and can't find anyone to drive him.
"What can we do for this child? I need help here, he needs to be in school at least four days," said Bouquard, whose husband died two years ago. "He feels hopeless because he feels he's so far into the hole."
Five days in school would be better, she added.
"I think if you're talking about concerts and amusement parks and sport games being open, then an incredibly essential service like education should be paramount to that," said Jonathan Rich, who has two children in the Williamsville school district. 
Some parents are willing to go to court to have schools fully reopen. A Penn Yan attorney has has filed legal actions throughout the state challenging the governor to open schools. Hundreds of parents have contacted the HoganWillig law firm, according to James Minner, the firm's director of media relations. The law firm is preparing legal action on behalf of parents in a number of school districts, he said.
"We feel they should be in school and can be in school in a safe way," Minner said.
Parents say being out of in-person learning for so long is not healthy for children.
"It hit me when my daughter had to be medicated," said Bethany Morgan of Buffalo. "To this day she's not the same kid who walked out of that school in March of last year."
Her daughter, Anya, is a senior at Riverside High School, and she had a rough time with remote learning. That's why she was glad Buffalo seniors could return to school this month for the first time since last March. But she was dismayed when much of the days are spent in the gym, with students signing on to their computers for remote learning like they did at home.
Which guidance to follow?
Schools could fit more children in classrooms if they did not have to be 6 feet apart from one another to prevent the spread of the coronavirus. Some experts have said students can be as close as 3 feet apart in school. That's the guidance Onondaga County is following. County Executive Ryan McMahon said students can be 3 feet from one another, but they must wear face masks and have barriers between desks. The county will purchase the barriers, he said.
The U.S. Centers for Disease Control and Prevention recommends 6 feet, and that is what New York State requires for students. The World Health Organization suggests maintaining 3 feet distance where feasible, and the American Academy of Pediatrics said "schools should weigh the benefits of strict adherence to a 6-feet spacing rule between students with the potential downside if remote learning is the only alternative."
Parssinen said the state guidance should not prevent schools from fully opening.
"They could do it if they wanted to. Even the superintendents could do it if they wanted to, but they feel they can't go against Department of Health guidance," she said.
But it's not that easy, according to superintendents.
"It's always been the default position of school superintendents to want to have students learning in person as often as the public health officials say it is safe to do that," said Hamburg Superintendent Michael Cornell, who is president of the Erie-Niagara School Superintendents Association. "Most would jump at the chance to have students in person every day if the state changed their guidance."
He said it has been somewhat unclear as to whether a local health department has the authority to modify state guidance.
"It would seem as though folks in Onondaga County intend to find out, given the fact they have established their own policy," Cornell said.
If schools went to a shorter distance with physical barriers, it could be difficult and expensive to acquire them, he added. 
"Spending thousands of dollars on Plexiglas barriers at this point in the school year is cost-prohibitive," he said.
Some parents are running out of patience, while others are feeling hopeless.
"Who knew in March of last year what Covid was going to bring? But now I think we've settled in and we understand what we're dealing with," Rich said. "I think superintendents are put in a very difficult spot. Many of their boards are not in favor of reopening, many of their teachers unions aren't in favor of reopening."
"I know our school districts want this and are ready for it and we're all waiting for the guidance," Parssinen said. 
Boquard said she knows she's not the only parent struggling with remote and hybrid learning, and she just wants her son to get through the year.
"Pretty much every parent is on the same page: 'Let's just get through it,' " she said.