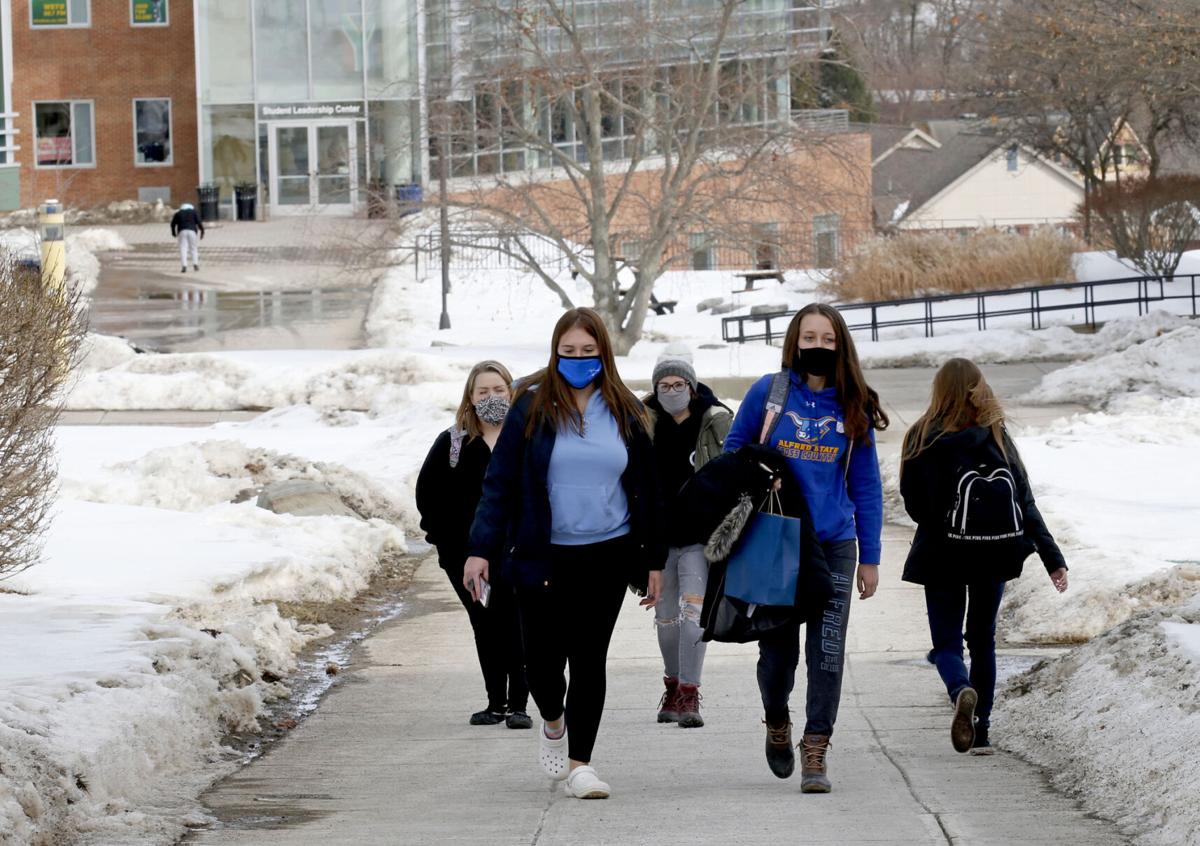 Most State University of New York campuses have welcomed back at least some students on campus, some of the time, during the Covid-19 pandemic. But no public college or university in the state has done it to the same extent as Alfred State, a residential technical college of 3,500 students in rural Allegany County.
Last fall, and again for the spring semester, Alfred State filled its dormitories and classrooms with students. It also required most faculty members to show up in classrooms for in-person instruction, eschewing efforts to decrease campus density that have been employed liberally at other SUNY colleges and universities.
The unusual pandemic path has roiled faculty members and some students, but Alfred State President Irby "Skip" Sullivan makes no apologies for it. Flipping courses to remote instruction – as many campuses did – would not work at his institution, he said.
"We are a campus that's face to face, hands-on, applied and it is really difficult for us to try to remotely teach someone how to weld, how to operate a crane, you name it. We're face to face across the board and that is the niche of Alfred State, is that hands-on, applied learning," Sullivan said.
While many SUNY campuses hosted a quarter or less of their courses face to face in the fall, 87% of classes at Alfred State were held in person. Residence halls were 93% occupied, compared with a third- to half-occupancy at other campuses.
Sullivan said enrollment declined about 3% between fall 2019 and fall 2020, the first drop-off in several years, but far lower than what many other colleges and universities experienced.
Alfred State has had its share of Covid-19 cases – 183 positive test results among students, faculty and staff since Aug. 28. A spike in cases in November prompted college officials to shut down for Thanksgiving break a few days before originally planned. But the college's overall test positivity rate currently is below 0.7%, and the college hasn't had any students or employees since August who died or were hospitalized due to coronavirus, according to the SUNY Covid-19 Case Tracker.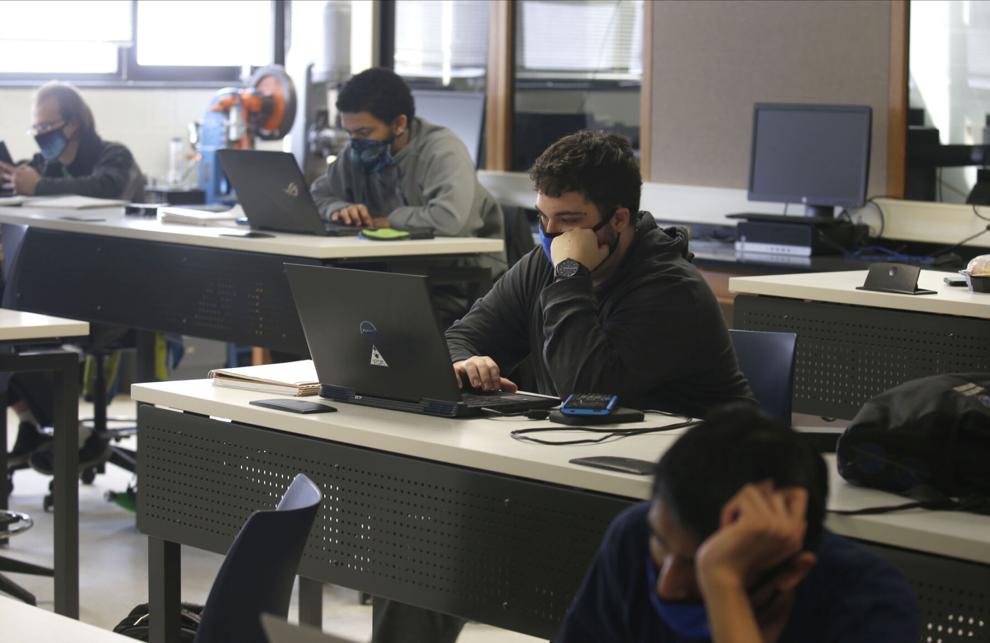 Some faculty members remain angry and disappointed about the college administration's approach to reopening the campus, which they said lacked any careful planning or consultation with instructors and put employees and students at greater risk of contracting the virus. The Executive Faculty Senate voted no confidence in Sullivan's leadership in August, largely because faculty had no input in the reopening plan.
Some faculty members were especially rankled by Sullivan's refusal to honor an agreement between New York State and the statewide faculty union, United University Professions, that allows instructors and other campus professionals to work remotely from home during the pandemic, with the approval of a campus president.
"There's been a good deal of rancor on the part of faculty, at least some faculty," said Joseph Petrick, UUP chapter president at Alfred State. "There was a reopening task force, and there were a few faculty on it. I was on it, and it didn't meet."
In Allegany County, only 3,500 people – or roughly 9% of all adult residents – had received at least one dose of the Covid-19 vaccine as of Feb. 23.
Several Alfred State professors were denied accommodations to work from home, despite having young children unable to attend school due to the pandemic or pre-existing health conditions that made them more susceptible to the virus, according to multiple sources. A few of them retired or quit, and others are looking for new jobs at other colleges. One faculty member who was denied a request to work from home ended up becoming seriously ill with Covid-19, multiple sources said.
UUP President Fred Kowal said the telecommuting agreement mostly has worked well across the state, "with some areas of difficulty," including Alfred State, which he called an "outlier" among SUNY campuses.
"The administration there has been a real problem from the start," said Kowal. "Right from the start, to put it frankly, the administration did not seem to be taking the pandemic seriously."
"It's not just about protecting our members," he added. "But it's also for the health of the communities. You stop the spread by not having the density. That's how you stop this thing."
Sullivan acknowledged that some professors were denied accommodations to work from home, but he declined to provide numbers on how many employees applied and were approved to telecommute.
"Everyone had an opportunity to apply for accommodation," he said. "There were a good many accommodations made, both for health reasons and also for child care reasons."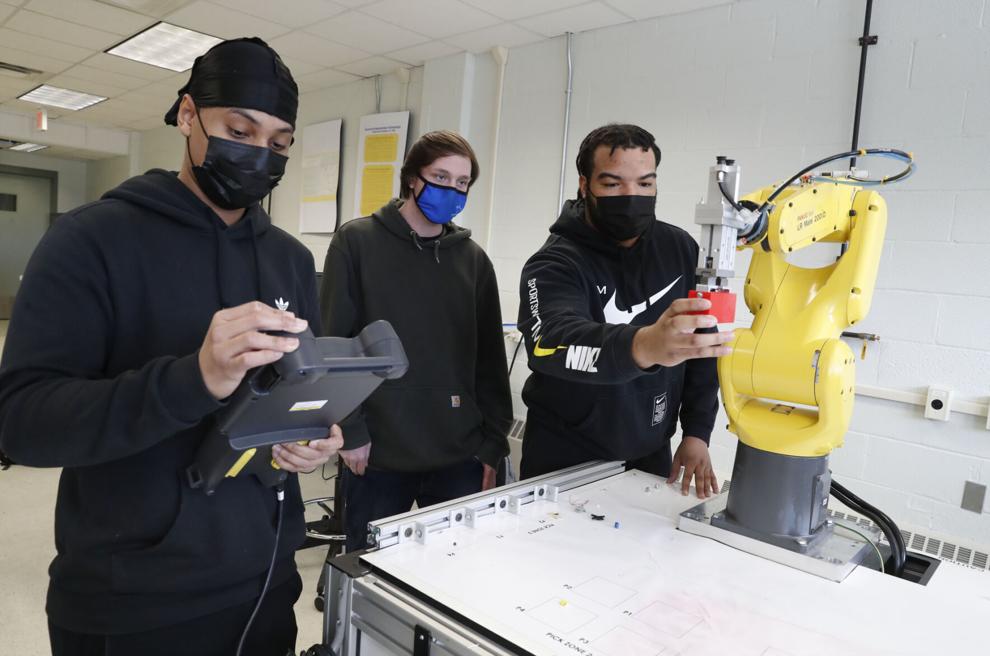 Most students desperately wanted to be back in the classroom, lab or studio for their studies, Sullivan said
"If all our students are here, and they're face to face, we have to have people to meet the needs of the students who are paying room, board and tuition to attend school here," he said. "So, yes, we wanted all employees to be here, there's no doubt about that."
Students had mixed reactions about the fall semester at Alfred State. Some feared for their own safety, including a senior who posted an online petition in October calling upon the college to shift immediately to virtual instruction. The petition received 145 online signatures, with some students saying they were required to be in a classroom with other students, even when an instructor who had an accommodation was teaching from home.
"That desensitized students to the course and the material because the professor wasn't there and they were forced, in a way, to come from where they were, to meet a professor who was only online," said Shaheim S. Green, a junior from Brooklyn.
The college changed its policy this semester to allow students to take a course remotely if the professor is teaching from home, said Green, who is studying criminal justice.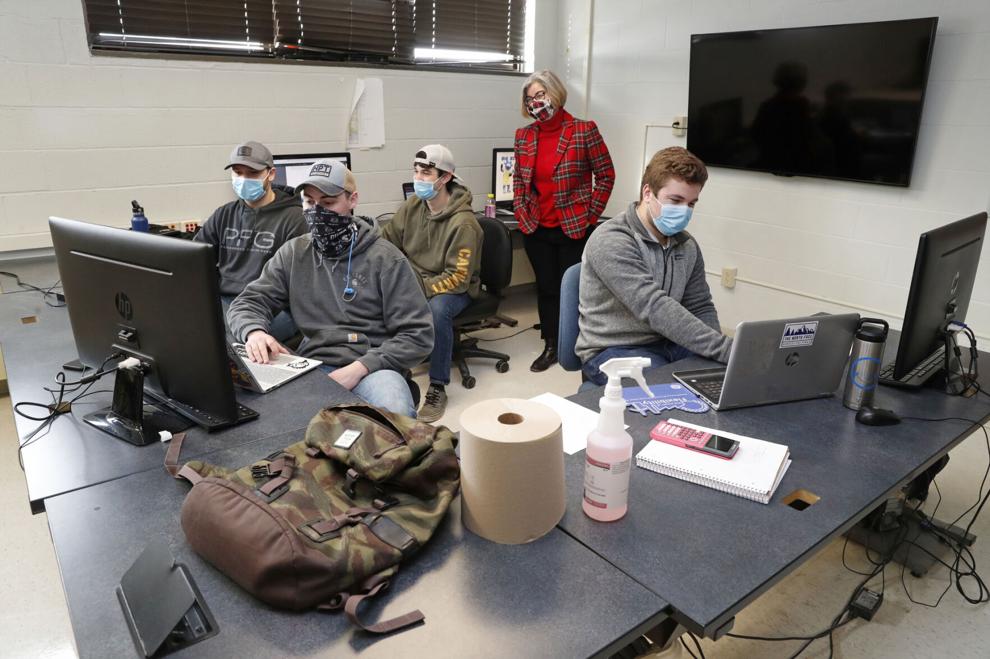 All of his courses this semester are being taught in person, said Green, who was grateful because he believes that's how he learns best.
"A lot of students are like this. They need to be physically in the classroom, communicating with other students and communicating with the professor in person to really be actively engaged in the course material," he said.
Some SUNY colleges and universities experienced significant Covid-19 outbreaks in the fall, even with vastly reduced numbers of students and employees on campus. Alfred State had the 13th largest on-campus population among 61 SUNY colleges and universities, and the 17th most Covid-19 cases since Aug. 28, according to the SUNY Covid-19 tracker.
Sullivan said he believes the college was able to maintain a safe campus through "consistent enforcement" of protocols defined in its reopening plan.
"Being limited in what you can do based on state guidelines, you know, the college experience has changed but we feel we did absolutely the best we could to provide a good learning experience for our students," said Sullivan.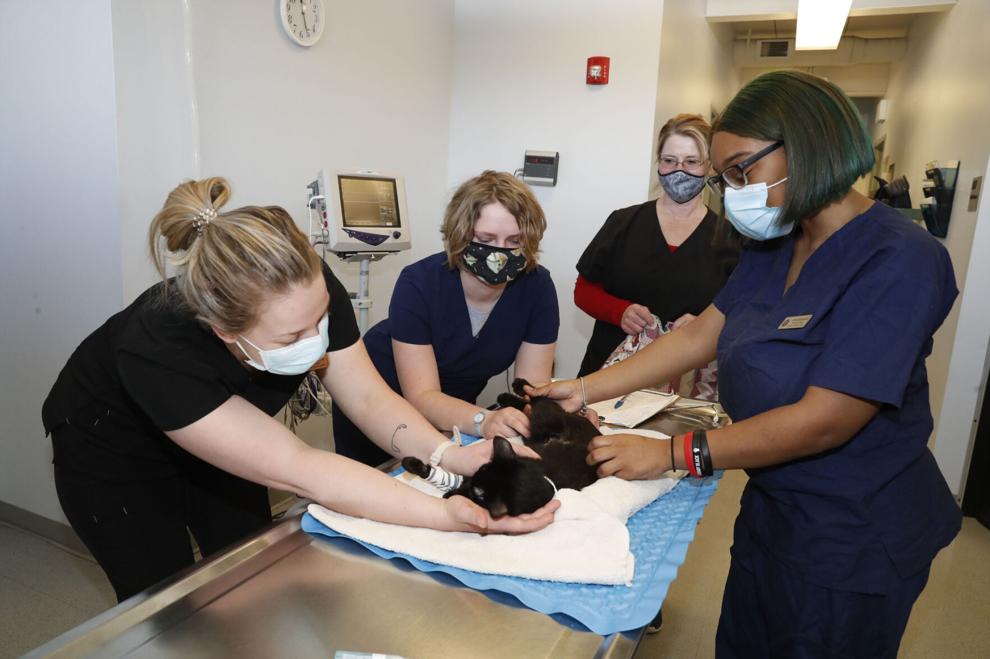 It also helped that the college, because of its rural location, did not have to deal with the level of off-campus partying and gathering that happens at some other SUNY colleges and universities
"We do not have a large off-campus population of students, as far as big houses and things like that that a lot of other colleges have," Sullivan said. "But we were very strict in making sure that the safety protocols were adhered to. And we're not shy about addressing those individually and quickly and doing that."
Sullivan said safety protocols were enhanced further this semester with weekly testing of all students and staff on campus.
Out of 12,301 tests, 42 Alfred State students and eight employees have tested positive since Jan. 11, according to the SUNY Covid-19 tracker.