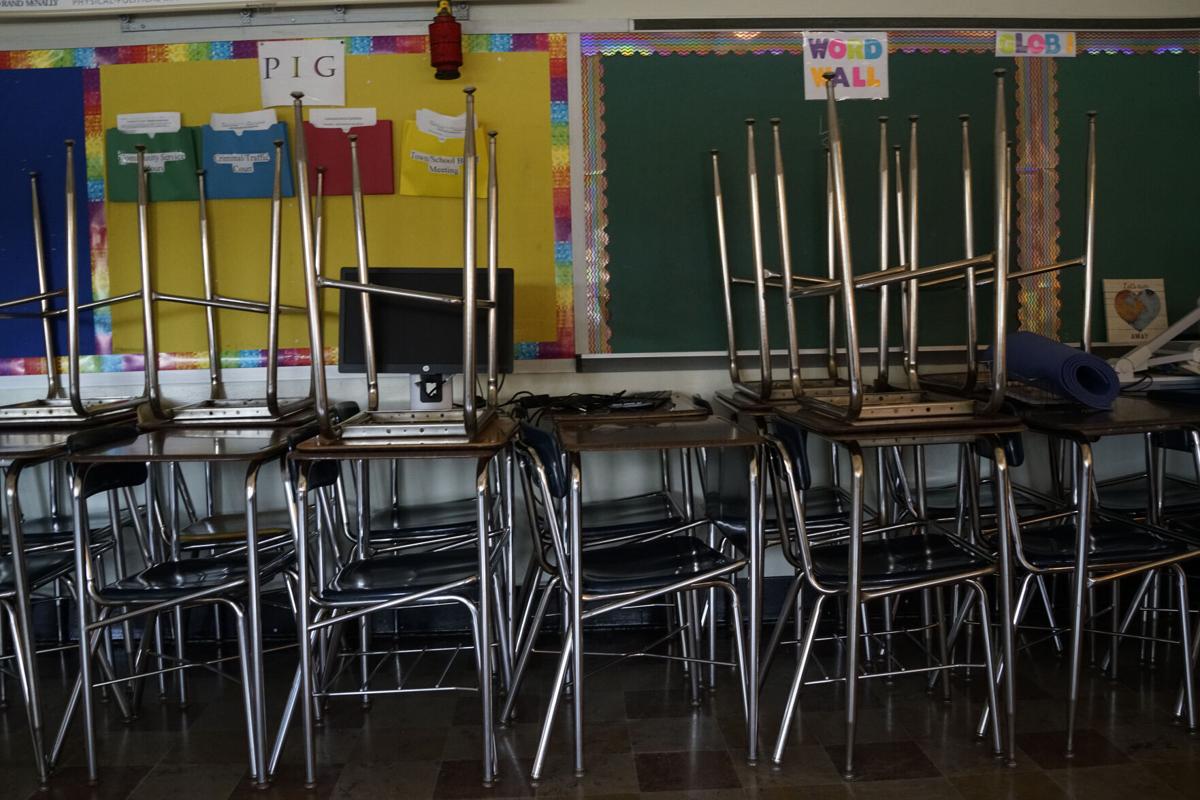 Most students in West Seneca will see something this week they haven't seen since March 13: the inside of a classroom.
The district's 6,300 students have been learning from home since schools closed at the beginning of the Covid-19 pandemic. A small number of children in special education classes and kindergarten did start to return in November, before the orange zone designation again closed in-person learning, and some special ed classes resumed Thursday.
West Seneca and the Buffalo Public Schools have been fully remote longer than any other school district in Erie and Niagara counties. Buffalo plans to begin transitioning to in-person learning Feb. 1, beginning with the highest-need students from each school, as well as high school seniors and those in grades pre-K through second. The rest of the students who want to return to in-person learning would be phased in through mid-March.
And when they get there, there may be a better chance they will be able to stay in school.
Gov. Andrew M. Cuomo announced last week  that schools in a county that has an infection rate over 9% can remain open if the positivity rate of tests done in school is less than the rate in the community. Originally, schools in an orange or red zone had to discontinue in-person learning. Guidance updated by the state Department of Health on Dec. 4 said schools in orange and red zones had to close if testing revealed nine or more cases, or a 3% positivity rate.
Asked about Cuomo's announcement last week, the health department then said in a statement that "parents, students and educators need confidence that schools are a safe place to learn and teach ... New York State is not mandating a new standard but rather working in close coordination with schools and districts to, where safe and appropriate, keep schools open for learning by supporting existing testing plans or developing a new testing plan."
"My position has always been if the children are safer in the school than they are on the streets of the community, then children should be in school," Cuomo said last week. But it is a local decision, he said.
Cuomo's 9% rule is getting criticism from powerful teacher unions that note the infection rate is rising throughout the state.
"New York schools should immediately go to remote learning if positivity rates exceed 9%, as calculated by the state," American Federation of Teachers President Randi Weingarten and New York State United Teachers President Andrew Pallotta said in a joint statement. "There are many ways to mitigate risk, but weakening school safety standards is not one of them. We're seeing new research from Europe that says schools can be vectors."
West Seneca had planned to phase in its in-person schooling, with middle and high school students returning Feb. 1, the start of the second semester. Some parents pushed for a faster return, and the date was moved up. Still, about 20% of students have chosen to remain fully remote, Superintendent Matthew Bystrak said.
Random testing for Covid-19 will take place in schools on Tuesdays and Thursdays. Parents who want to be present for their child's test can make appointments for Wednesday afternoons, when testing will take place at the district's two high schools.
Those who choose to come back will return in two groups, or cohorts, for two days a week, except in West Seneca West High School. Because of the larger enrollment and because it is an older school with smaller classrooms, three cohorts were created, Bystrak said. 
Classes at West will be in session five days a week, with the three cohorts alternating days. That means each week, two cohorts will end up attending twice, while the third group will attend once.  
"We will assess that, continue to evaluate that," the superintendent said.
Classes in other schools will include four days of in-person learning and one day of distance learning. Students will keep the same teacher and classes as they had in remote learning, with teachers using what the district is calling "live-casting."
"The teacher will start off the class with kids in session and also be on a Chromebook talking to kids for virtual at the same time," Bystrak said. "The kids who are on remote won't likely be on for the entire class. At least they'll get the basic lesson."
Teaching to two groups simultaneously and planning lessons for both has its challenges, he said.
"I'm going to say it outright, it's not going to be easy. We've done a lot of professional development around it, but there's not a ton of professional development geared especially toward this," Bystrak said.
"We miss our kids. We have been advocating for a safe return," said Joseph Cantafio, high school teacher and president of the West Seneca Teachers Association. "We know there's going to be some bumps along the road and we know we'll get through them."
Bystrak said schools are scheduling office hours later in the day for students to check in with teachers if they need additional support.
But, he said, keep in mind: "This is a pandemic. There is no perfect."