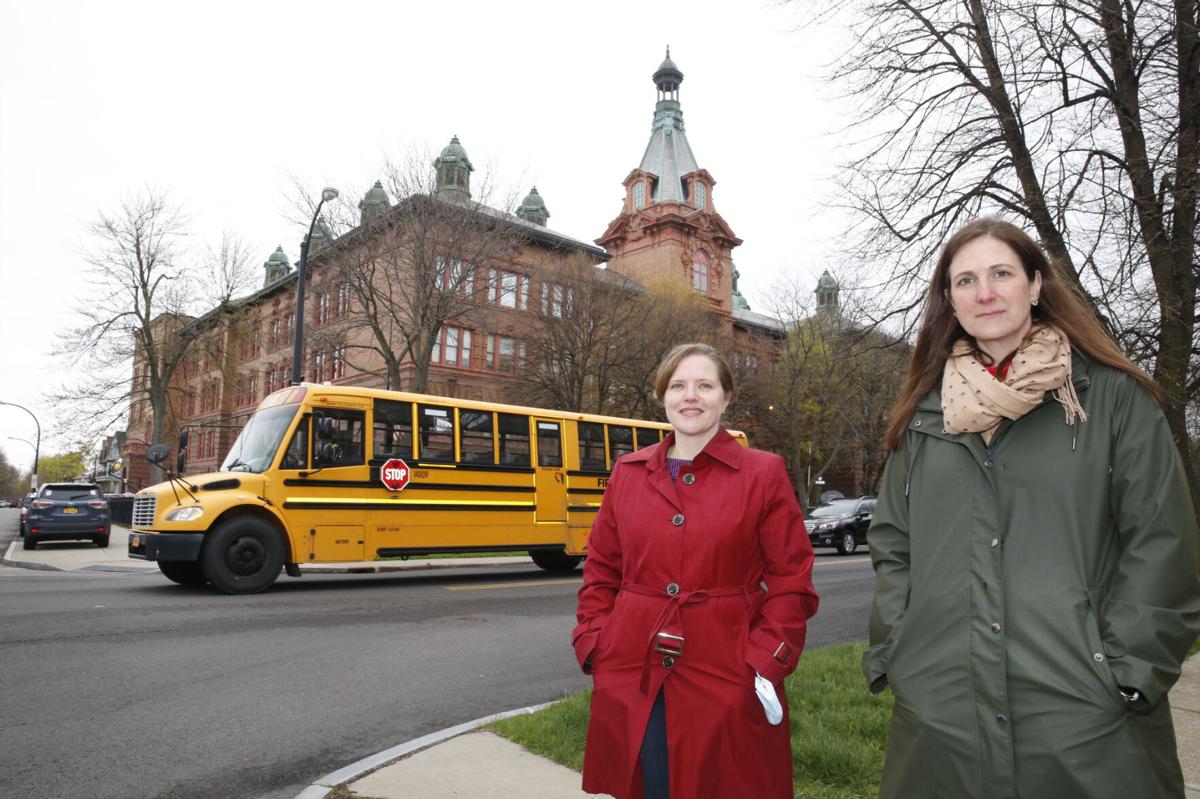 Tensions have been quietly brewing within the local medical community over returning students to the classroom full time.
On one side is Erie County's health commissioner, Dr. Gale Burstein. Week in and week out, she cautions parents and school districts about filling up classrooms amid a rise in Covid-19 cases, particularly among school-age children. The last full week of March, for instance, schools reported a record 504 cases – all students.
"Our office of epidemiology school team received 470 Covid-19 reports of K-12 students this week through Thursday afternoon," Burstein said Friday. "This signals that we will have our highest weekly total ever this week for Covid cases in schools."
On the other side are a group of local doctors – pediatricians, emergency room physicians, epidemiologists, child psychiatrists. They have emerged in recent weeks to push back against the commissioner's message with one of their own: Kids need to be back in the classroom five days a week.
The research shows that there's low risk of transmission in the schools when masking and proper protocols are taken, said Dr. Rebecca Schaeffer, a child and adolescent psychiatrist.
That, she said, is the message that hasn't been coming through.
"If there's a high number of cases in the community, there's going to be a high number of cases in children – but it's not because they're getting it in school," Schaeffer said.
"Even when there are a lot of cases, we know that – for the most part – they are not catching it in the classroom environment," Schaeffer said.
"They're scaring parents," said Dr. Lauren Kuwik, an internist and pediatrician.
"The CDC says it's low-risk. The American Academy of Pediatrics says it's low-risk," Kuwik said. "I don't know why Erie County, N.Y., somehow thinks they know something that the CDC or the AAP doesn't know. That has been very frustrating."
Schaeffer and Kuwik are among the organizers of an ad hoc group called Physicians for Safe and Open Schools. The group went public last month when it took out a half-page ad in The Buffalo News with the names of 52 local doctors from across fields of medicine hoping to lend their voices to the conversation.
"As physicians, we felt that we have a lot of data now and a lot of research out there about schools that have been operating for a while in person and doing it successfully," said Dr. Samantha Bordonaro, who specializes in emergency medicine.
"Maybe we can be a voice to help and support that effort in a way that's driven by data," she said.
The doctors are also raising awareness about what a year of interrupted learning has done to kids, a topic they feel has been missing from this conversation.
They describe a rise in teens and preteens coming through their offices and clinics seeking treatment for a host of mental health issues: Anxiety. Depression. Eating disorders. Even thoughts of suicide. They blame the isolation of remote learning and inconsistency of two to three days a week in the classroom.
"There is anxiety related to the fear of Covid, but there is also a complete loss of everything that makes daily life predictable," said Dr. Laura Benedict, a psychologist. "That just creates an incredible amount of anxiety."
That will allow districts to fit more students into a classroom and start returning at least some kids five days a week before the end of the school year. Students, generally, have been attending in person only two or three days a week because schools don't have the space to fit everyone while keeping the required 6 feet of distance between them.
But Burstein urged schools to exercise caution before deciding whether to expand in-person instruction, citing a surge in Covid cases among school-age children and a higher rate of positive testing among those under 18 compared to Western New York as a whole.
Schaeffer is concerned that message to the public has lacked context and specifics.
"The frustration I have is the mention of the 200 to 300 cases per week coming out of the schools, but there's not a focus on just how many of those cases are actually being transmitted at school," Kuwik said.
"The message to the public is that schools are unsafe," Kuwik said, "but the messaging should be that with safety measures in place schools are a low-risk for transmission."
The doctors last month pressed the county Health Department on how many cases actually have been attributed to in-school transmission. At the time, they were told 17, Kuwik said.
"Seventeen kids getting it in schools is not a reason to keep kids out of school," Kuwik said.
The Buffalo News reached out to Burstein for comment and she responded in a statement from a spokeswoman.
Schools in Erie County reported 122 Covid cases on Wednesday and 115 cases on Thursday, a reflection of "strong and sustained community Covid-19 transmission," Burstein said. She also noted higher positivity rates among the 20-29 and 30-39 age groups – typical ages for parents of school-age children.
But the commissioner did note "the relatively low risk of in-school transmission" thanks to two factors: schools following the recommended guidance and the county's epidemiology team working with the school staff to contact trace and quarantine students and staff who were exposed.
In cases where they did find in-school transmission, either masks were not being worn properly or someone came to school or their team experiencing symptoms. Or, Burstein added, the 6-foot distancing rule was breached – which would explain her caution to schools about moving to 3 feet.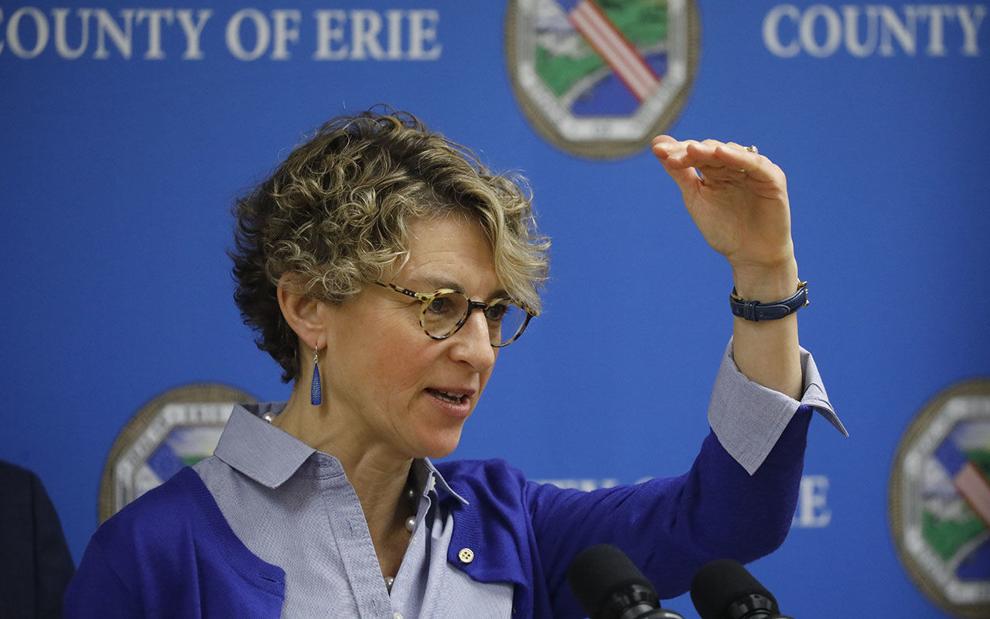 Some of the doctors did have a Zoom call with the health commissioner and staff to express their concerns.
"It was a very respectful phone call. They heard what we had to say," Kuwik said. "We obviously have different thoughts."
It's not to say the doctors are dismissive of the rising cases.
In fact, Schaeffer agrees sports appear to be a problem, at least in circumstances where teammates are not wearing masks while carpooling or hanging out together off the field.
"We should be prioritizing classroom over sports," Schaeffer said. "But if kids are allowed to play football, shouldn't we be ensuring that they have equal access to math class?"
The doctors are also trying to raise a red flag about the number children seeking help for mental health problems since the start of the pandemic.
Benedict sees it – anxiety, depression and eating disorders, specifically.
"There is no question that kids in our community really are struggling with this pandemic," Benedict said. "The lack of their engagement in school is certainly what is coming up repeatedly over and over and over again as we meet with these kids."
Dr. Dalinda Condino, who specializes in adolescent medicine, sees it. There has been a significant jump in referrals to her office for eating disorders among youth. Kids have less time with their traditional support groups, leaving more time for social media and to focus on themselves, she said.
"We've seen children as young as 9 years old referred for eating disorder behavior and weight loss and refusal to eat," Condino said. "Most patients with eating disorder behavior have additional other issues they're dealing with, including anxiety and depression, so we're certainly seeing those issues."
And Dr. Tara Petroski, who specializes in pediatric emergency medicine, sees it. Anecdotally, she has noticed more kids being admitted for psychiatric evaluation as well as more for trauma, because when they weren't in school they were out doing things they shouldn't.
"I'm seeing a huge number of kids coming in and they're depressed," she said. "They're trying to get counseling and they can't because the counselors are overwhelmed."
News Staff Reporter Barbara O'Brien contributed to this report