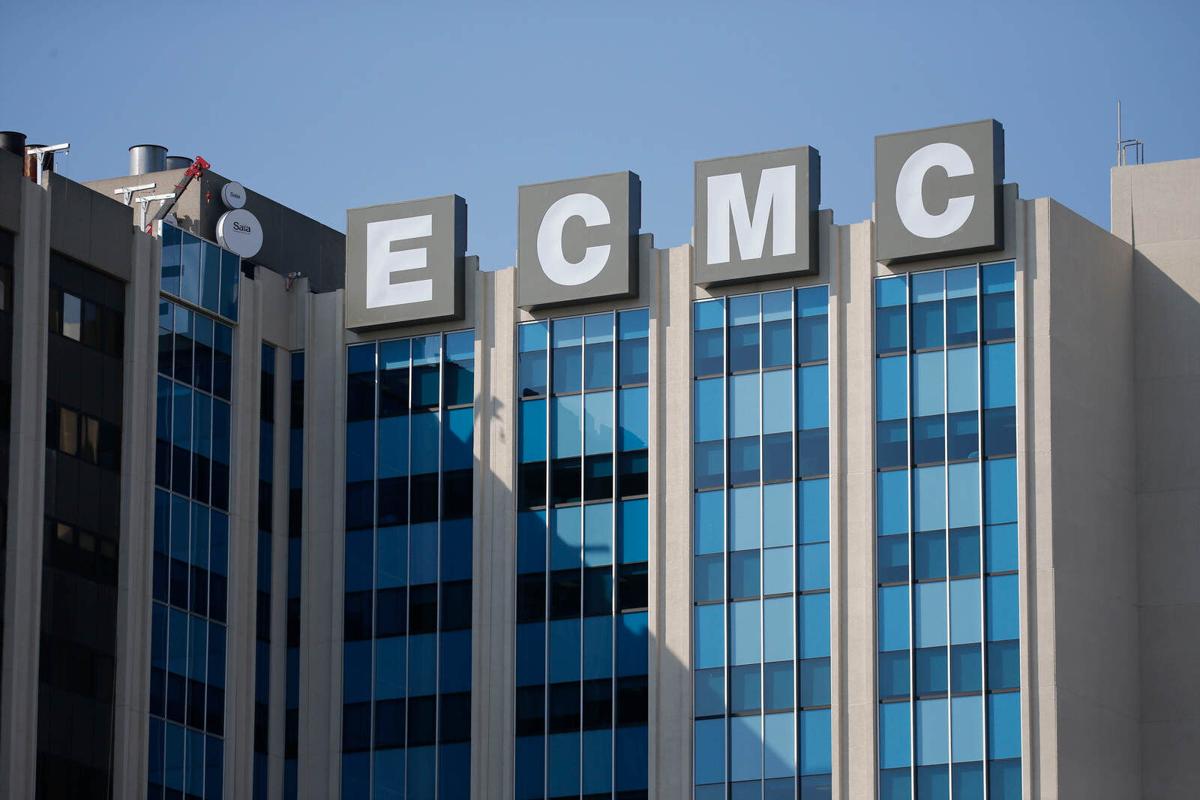 Erie County Medical Center, which houses the top-level trauma center in Western New York, expects to lose about 400 hospital workers next week due to the new state vaccination mandate at a time when it's seeing record numbers of patient admissions.
And that will mean longer emergency room wait times – up to eight hours some days – and the hospital admitting fewer patients.
"It's the smart thing to do and we have to continue the mandates," the governor said. "This is not intended to be dictatorial; this is intended to save lives."
Other hospitals are facing similar pressures.
"The mandate hits all of us, so we're all in the same boat in this situation," ECMC Chief Operating Officer Andrew L. Davis said.
The state's vaccine mandate, which goes into effect Monday, isn't the only thing hurting hospital capacity for patient care. Nursing homes, rehabilitation centers and care facilities for those with developmental disabilities all are experiencing capacity and staffing limitations. That means some patients, who could be discharged and transferred to lower level care facilities, continue to occupy hospital beds that they otherwise would not.
Covid-19 cases and high numbers of trauma cases are also stressing hospital capacity, Davis said.
"We're still in the throes of trauma season," he added.
The hospital reached an all-time high for inpatients in the hospital this week, with 553 beds occupied. The hospital is licensed for a maximum of 573 beds.
ECMC is a full-service hospital that also houses the region's only Level 1 trauma center, accepting patients in the greatest need of critical care. But it expects about 10% of its workforce will not be fully vaccinated by Monday, when Gov. Kathy Hochul's vaccine mandate for all health care workers goes into effect. That could restrict between 400 and 500 hospital staffers from working, hospital officials said.
As a result, starting next week, the hospital is planning to suspend all elective inpatient surgeries and temporarily refuse all intensive care unit patient transfers from other area hospitals, Davis said.
The suspension of inpatient elective surgery, which includes procedures such as gastric bypass, orthopedic and plastic surgery, is expected to free up roughly nine to 10 beds a day. Outpatient elective surgeries, which compose the majority of ECMC's elective surgeries, will not be restricted.
Recent vaccination orders will broaden an already noticeable chasm between vaccinated and unvaccinated individuals.
Plans to refuse ICU transfers from other hospitals is expected to free up another three to eight beds, though the refusal to accept these patients is a cause for concern from referring hospitals since ECMC is the main hospital in the region that performs round-the-clock general inpatient and orthopedic surgery. ECMC typically accepts about 650 ICU patient transfers from other hospitals every year, hospital spokesman Peter Cutler said.
Critical trauma transfer cases will still be accepted, hospital officials said, but there will be more of a vetting process for other medical ICU patient transfers to ensure that the transfer is truly necessary and not simply a precautionary measure.
"I think it will be a fluid situation," he said. 
ECMC also plans to shut down two units, comprising roughly 32 beds, at its Terrace View nursing and rehabilitative care facility. ECMC will not kick patients out of the long-term care facility, but will stop accepting new admissions so that the closures can be accomplished through attrition.
Finally, the hospital intends to cut back on outpatient clinic hours at ECMC so that more health care staff can be redirected to inpatient care in the main hospital. Davis estimated that the outpatient clinic hours would be curtailed by two to four hours, on average.
"I will not be micromanaging," Hochul said. "But I'll be giving guidance based on your input. I'll be giving you the cover you need. I'll be an ally, but I will not be imposing state people and locations on you without consultation.
"We're going to try to take some of that staff and move them more toward the bedside, depending on what we see," he said.
The hospital will open a new Incident Command Center over the weekend to monitor hospital operations closely and adjust its contingency plans from week to week based on what they're finding in terms of hospital staff shortages and inpatient capacity levels. Administrators said they don't yet have a breakdown for how many unvaccinated staffers are involved in direct patient care and how many work in a support staff role, but they believe there are similar levels of vaccine refusal across the board.
Davis also said that while it may take longer for patients to initially be seen – 85% of all ECMC admissions come from the emergency room – he expects patient care provided by nurses and physicians to remain strong.
"It's going to take some time for us to get people in, but once they're in, we have great confidence in our staff," he said. 
The hospital is also running vaccination clinics daily and will hold a 12-hour clinic on Saturday and a nine-hour clinic on Sunday. Employees will be considered vaccinated and able to work if they have received at least a single vaccine dose before next week, said Davis, who expects to see a bunch of of last-minute vaccinations over the weekend.
Some hospital employees are also citing religious exemptions to allow them to continue to work despite their unvaccinated status.
U.S. District Court Judge David Hurd in Utica has temporarily barred the state from enforcing the mandate on anyone objecting to the vaccine for religious beliefs. The state is now due in court Oct. 12 to explain why its mandate does not discriminate against health workers who want religious exemptions to the requirement. The court postponed its original Tuesday hearing date.
The state's vaccine mandate order does not include any exemptions and does not offer regular Covid-19 testing as an alternative for those who refuse vaccines.
Some lawmakers and officials in the health care industry have repeatedly warned about consequences to health care providers if thousands of people refuse to get vaccinated and are fired or forced to resign from their jobs at hospitals, nursing homes and other settings.
Both ECMC and Kaleida Health have reported that some employees have sought religious exemptions since Hurd issued his temporary restraining order.
"We are now assessing the federal judge's recent calendar change that was announced relative to the temporary restraining order," Kaleida spokesman Michael Hughes said. "That said, we are doing all that we can to compliantly implement the mandate. Our goal remains the same as it did from the day the pandemic hit; and that is to protect our employees and patients as we continue to battle Covid-19."
He said 91% of Kaleida's hospital staff and direct care providers are vaccinated.
In the Catholic Health system, 78% of hospital staff are vaccinated. The hospital network has made no announcements about how it will address any staffing shortages as a result of the vaccination mandate. 
Hochul said the her administration is working "very intensely" at ways to help prevent any crisis situations at health facilities. She plans to announce a multi-faceted approach to provide support for them within the next day or two, she told reporters Wednesday.
"We want to make sure there's no disruption in the health care delivery," she said. "We also encourage everyone: The vaccine is safe. You're trained in science and medicine. Listen to the facts. Please get vaccinated. We want you on your jobs. We want you healthy. We want your patients healthy."