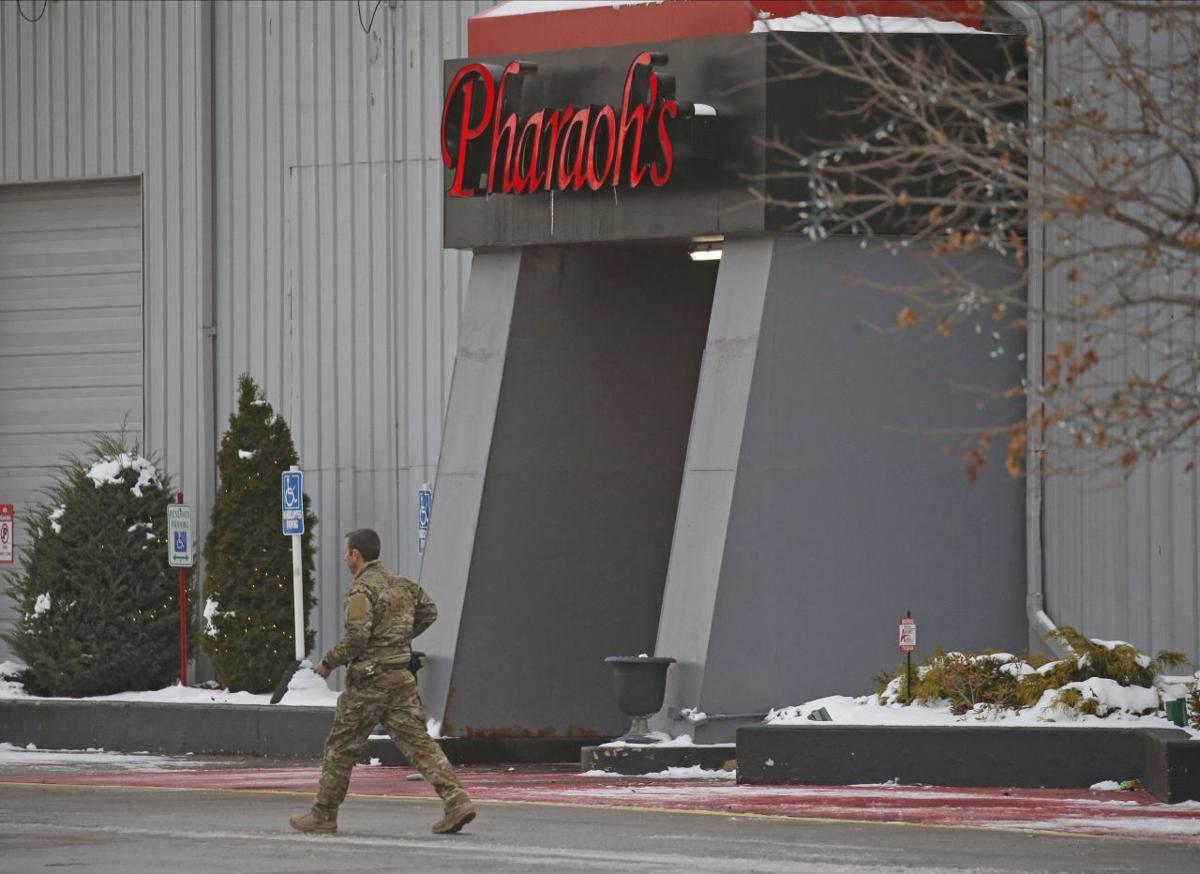 The owners of Pharoah's Gentlemen's Club, in a new lawsuit, claim they were improperly denied a loan through the federal government's Paycheck Protection Program.
At the crux of Pharoah's complaint is the SBA's denial of its loan application because of the club's role as a venue for "live performances of a prurient sexual nature."
Shuttered since mid-March, the Cheektowaga club has been unable to pay its 76 employees, according to court papers.
The PPP loans, administered by the Small Business Administration, are designed to help employers cover payroll, rent and other expenses during the Covid-19 outbreak.
"They need the money to stay in business," said Edward P. Yankelunas, a lawyer for the club. "They can't pay their mortgage, they can't pay their employees and they can't pay their vendors."
The suit, filed in U.S. District Court in Buffalo, follows a Homeland Security raid of the club in December.
At the time, sources familiar with the court-ordered search said it was tied to the indictment of a former DEA agent accused of protecting drug dealers and taking bribes.
In answering the civil suit filed by Pharoah's, federal prosecutors point to the raid and the search warrant detailing potential crimes, from money laundering to a drug conspiracy.
In court papers, Assistant U.S. Attorney Michael S. Cerrone also makes mention of Anthony Gerace, a manager at the club, and his federal indictment on gun and drug charges.
Gerace's lawyer dismissed the government's claims and said his client agreed to work for his brother, Peter Gerace, the club's operator, after he was charged.
"His brother offered him a job so we could get him out on bail," said defense attorney Thomas J. Eoannou. "One has nothing to do with the other."
In the civil case, Pharoah's sought a preliminary injunction against the SBA and the government responded by moving to dismiss the case.
In a ruling Friday, U.S. District Judge Lawrence J. Vilardo rejected the request for an injunction and the motion to dismiss.
The club's owners argue that their business is a form of protected free speech and that the SBA's restrictions against businesses presenting "live performances of a prurient sexual nature" are unconstitutional.
In his ruling, Vilardo noted that two other federal courts have found the agency's exclusion of strip clubs is contrary to what Congress intended when it passed the law creating the loan program.
"Whether you find it unsavory doesn't matter," Yankelunas said. "You can't withhold a subsidy based on a viewpoint."
In a similar case here, this one involving the Catholic Dioceses of Buffalo and Rochester, the court found that the SBA acted within its authority in rejecting their loan requests because they have filed for bankruptcy protection from creditors.
To qualify for a PPP loan, a business or organization must have 500 employees or fewer.
There are no fees or collateral required for the loans and they are fully forgiven if at least 60 percent of it is used for payroll. If not, the business must repay the loan within five years at 1% interest.
Like Eoannou, Yankelunas dismisses the government's contention that Anthony Gerace's pending criminal case and the federal raid in December are tied in any way to the civil lawsuit against the SBA.
"They have nothing to do with the issues that are going to decide this case," he said.
The raid at the Aero Drive night spot followed an indictment accusing former DEA agent Joseph Bongiovanni of taking $250,000 in bribes from drug dealers.
In return, according to prosecutors, Bongiovanni provided information on DEA investigations and the identity of cooperating sources.
Bongiovanni, 55, of Tonawanda, has pleaded not guilty.
Get local news delivered to your inbox!
Subscribe to our Daily Headlines newsletter.