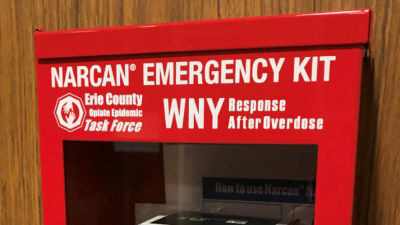 Overdoses on drugs of all kinds – and not just injected drugs – are on the rise across Erie County and other parts of Western New York.
"We've had a tremendous amount of fatal overdoses," Erie County Health Commissioner Dr. Gale Burstein said Friday as she showed a graph displaying a spike in the number of fatal deaths from overdoses. It showed that there were 28 deaths in March that are suspected overdoses. There were 5 in all of February and 11 in January. There's already been one in April, she said. The number of nonfatal overdoses has remained steady – with 57 last month.
She said part of the blame is fentanyl, a synthentic opioid, which is often added to heroin and has been responsible for the majority of overdose deaths in the county for the last several years.
But now, she said, fentanyl is being found in other drugs that aren't normally injected, including cocaine, marijuana, methamphetamine (meth) and benzodiazepines (benzos).
"We know there is fentanyl in everything," she said.
The overdoses are taking place throughout the community and in public places – from motel rooms to supermarket bathrooms.
She asked any businesses or organizations that are still open and being visited by the public – hotels, motels, grocery stores, pharmacies and food pantries – to consider installing a Narcan box that is easily accessible to the public. They can be obtained by calling 716-858-7695.
"We can put a Narcan box on your wall anywhere," she said.
In Chautauqua County, a spike in drug overdoses in the past month may be a sign that a strong batch of heroin is in the area, according to Chautauqua's Department of Health and Human Services.
Two fatal overdoses and three non-fatal overdoses were reported from Sunday to Tuesday, officials said. A large cluster of drug overdose deaths has also been reported in Erie County, they added, suggesting the spike is due primarily to street drugs, especially heroin laced with fentanyl.
"From March 1 to March 31, there were 45 overdoses in Chautauqua County that are aware of and, sadly, two of those were fatal," said Christine Schuyler, director of health and human services for Chautauqua County.
Schuyler added that, although the current focus is the Covid-19 pandemic, substance abuse and the overdose crisis have not relented. She said current evidence suggests that it has become dangerous to use drugs from the street, as the amount of fentanyl in street drugs is rising and it can be found in heroin, methamphetamine, cocaine and marijuana.