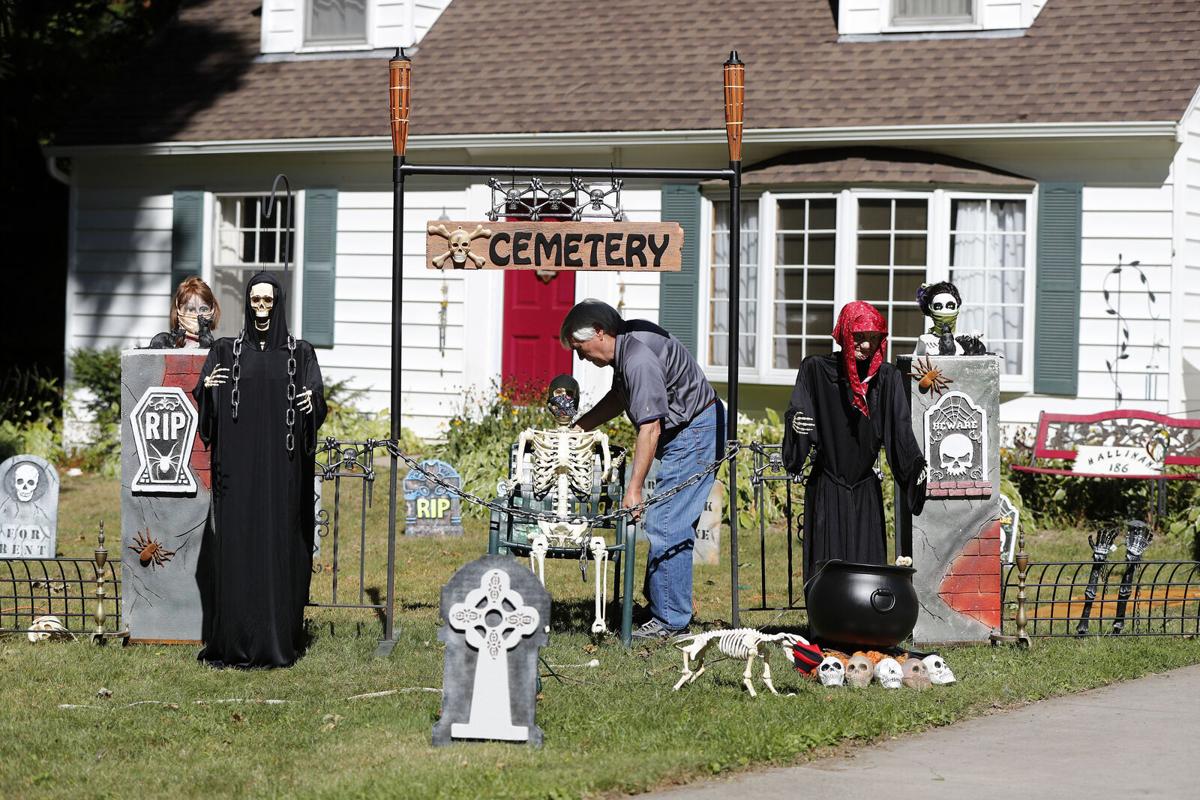 Candy chutes. Drive-thru trick-or-treating. Grab-and-go bags. As Halloween approaches, people are talking about ways to keep the spirit of the holiday alive during the Covid-19 pandemic.
Candy chutes? Welcome to Halloween 2020. In September, an Ohio man's handmade 6-foot chute for delivering candy to trick-or-treaters from a distance went viral.
His decorated cardboard shipping tube attaches to an outdoor handrail so that candy can be sent down and delivered directly into the bags of kids waiting at the bottom. His chute creation is not the only one people have dreamed up. (Just Google it; trust us.)
Drive-thru trick-or-treating? Some communities, including the Town of Tonawanda and Cheektowaga, have scheduled them, either on or before Halloween. Families should keep an eye on their own community's websites and social media posts regarding Halloween-related events, as well as any trick-or-treating updates in the coming weeks.
How it works: Individually wrapped goodie bags (preprepared by those following proper hand hygiene, of course) are lined up for families to grab and go while continuing to social distance (such as at the end of a driveway or at the edge of a yard). This was included in the CDC's guidance on Halloween released in September, which categorizes activities by lower, moderate and higher risk.
Among the higher-risk activities, as compared to others ways listed to celebrate Halloween: Crowded indoor costume parties and traditional trick-or-treating, where treats are handed to children who go door to door. Trunk-or-treat events, where treats are handed out from trunks of cars lined up in large parking lots, are among the other higher-risk activities, according to the CDC.
Among the lower: Participating in virtual costume contests; decorating your house; carving or decorating pumpkins with members of your household and displaying them; and Halloween movie nights with people with whom you live.
You can find the CDC's complete list here, which also stresses that those who may have Covid-19 or may have been exposed to someone with Covid-19 should not participate in in-person Halloween festivities and should not give out candy to trick-or-treaters.
In a recent news release, two pediatric infectious disease specialists at the University at Buffalo also offered their tips for safe trick-or-treating.
While there is still plenty of time for people to make and finalize Halloween plans, while weighing the risks, some are already thinking about it.
Samantha Muscato plans to switch her annual Halloween indoor house party at the City of Tonawanda home she shares with her 13-year-old daughter, Kira Meadows, to a smaller outdoor gathering.
"I'm going to utilize the outside, put up a couple tents and do more decorating in the backyard than I usually do," said Muscato, a real estate salesperson at Keller Williams Realty.
The party will be invitation-only, she said. In past years, friends have asked to bring along additional guests to check out her extensive Halloween decor, which includes a 7-foot animated laughing clown.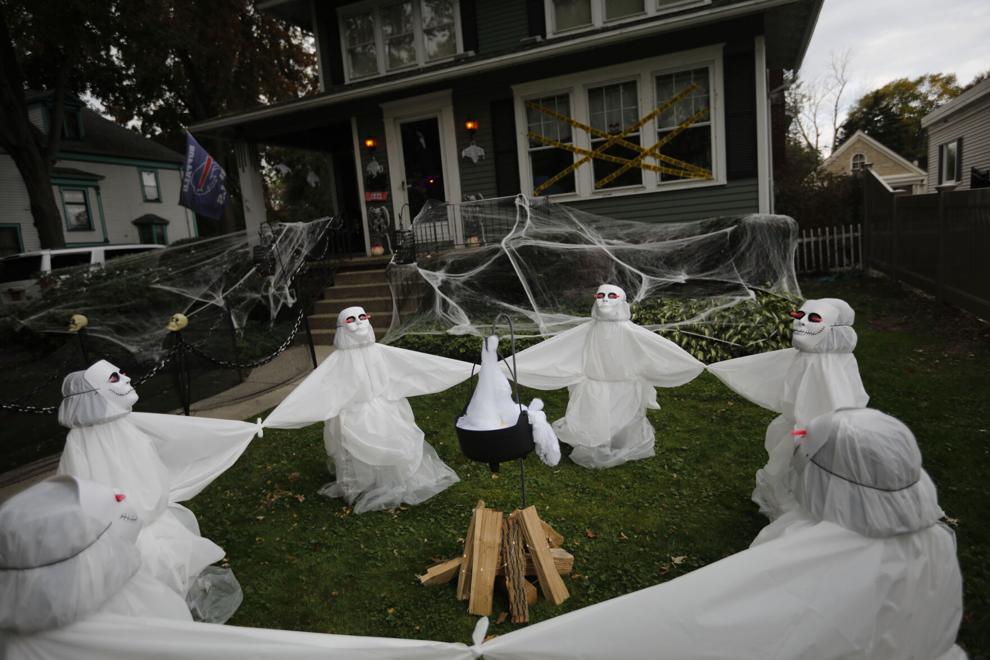 Former Amherst Town Supervisor Susan Grelick said plans are in the works for a Halloween-themed dinner party for just a couple of guests on the patio. "We just ordered electric heaters and are exploring putting a fire pit on the patio to extend the patio season," she said.
Kenmore resident Joelle Nicosia, mom to 6-year-old Avery, has teamed up with her longtime best friend to plan a backyard scavenger hunt on Halloween for their children. It will be at the home of her friend, Gabrielle Pagano, and her husband, Matt, who have two children – Levi, 5, and Madeline, 2.
"My best friend lives in Hamburg. She has a decent size backyard. So we bought glow-in-the dark, almost-like Easter eggs and we'll put candy in all of those and then we're creating a scavenger hunt for our little ones. We'll have a treasure map and have little clues for them. I think it will be great and fun. We're going to do it right on Halloween so they won't feel like they are missing out," Nicosia said.
"We're hesitant to trick-or-treat. I feel like no matter how you spin it, people are going to be anxious; people are going to be nervous. No matter how you hand out candy or distribute it, somebody's going to be at risk. I have an autoimmune disease. So we made our own little plan," said Nicosia, manager of BeautyQuest Medispa & Skin Care in Williamsville.
Most importantly, the kids are excited.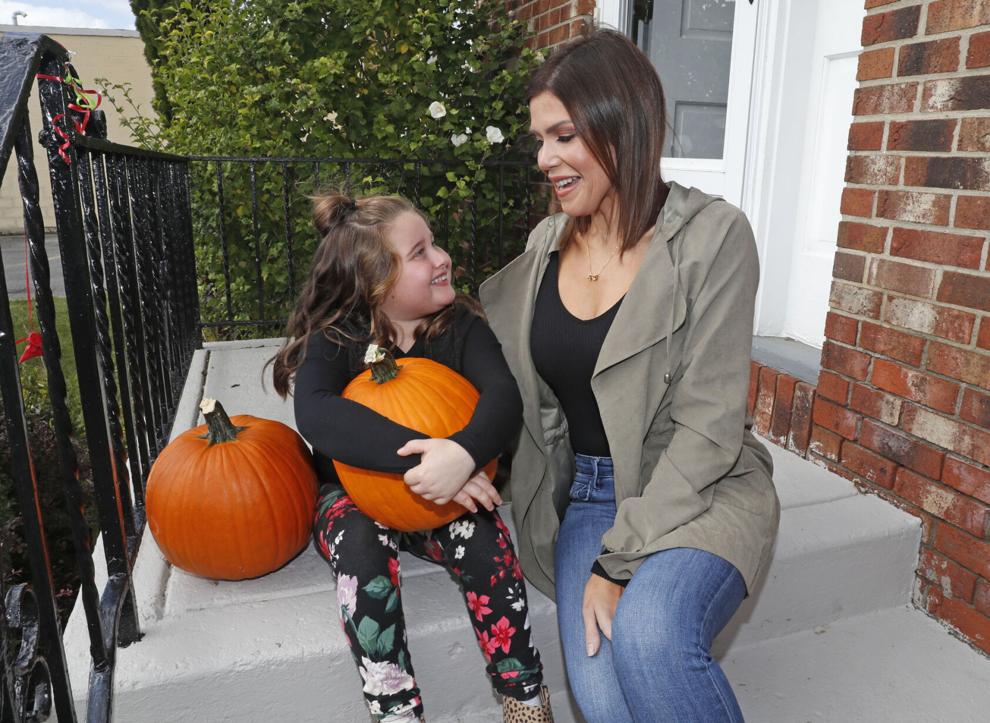 "We are making this the best we can for these kids because they deserve it. These kids have been through so much since March. I want to do whatever I can to make something to look forward to. So that's what we're going to do," said Nicosia, adding that she has gone all out decorating her own home for Halloween this year, inside and out.
Why wait until Oct. 31 to celebrate the spookiest day of the year?
• Trick-or-treat for Unicef has gone virtual this year. You can sign up as an individual, or as a family, classroom or group. Read the details here.
• Looking for some Halloween projects to help your little monsters get creative? Good Housekeeping offers 40 crafts the whole family can do together.
• To keep up with what's happening around town – including some Halloween events and activities to get you outdoors – keep an eye on The Buffalo News' event calendar.