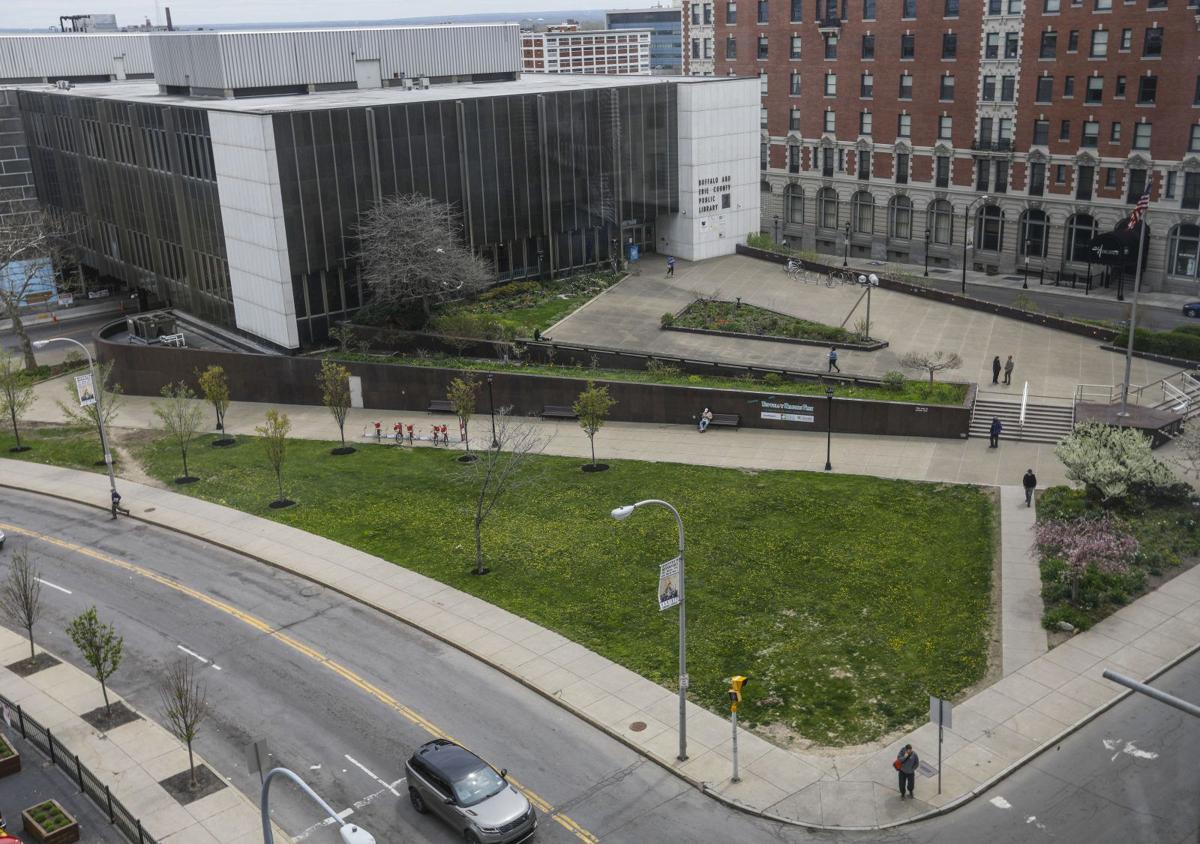 Downtown Buffalo is getting a new reading spot — and there's no risk of running out of books.
The Reading Park is expected to open this summer on a pizza slice-shaped parcel next to the Central Library.
The Buffalo & Erie County Public Library came up with the idea of the small park as a way to bring the library outside through landscaping, seating areas and a stage for events and performances.
The concept includes a plaza as well as green space for reading. Planners designed the park to involve the sloped entrance that leads from Washington Street to the library's front door.
"The Reading Park is going to be, first and foremost, a centralized gathering place for people to come and relax, and find a space where they can comfortably read," said Library Director Mary Jean Jabukowski.
"Our goal is to make this as viable and beautiful and attractive a space as possible," she said.
The green space behind Lafayette Square will be an important feature for downtown, said Laurie Dean Torrell, executive director of Just Buffalo Literary Center.
"Buffalo is really an extraordinary literary city," Torrell said. "We are a city of great readers and writers, and it's extremely exciting to take what is currently a desolate strip of worn-out ground and create a beautiful new reading park in the heart of downtown Buffalo."
The park will measure 120 feet at its widest and 290 feet at its longest point.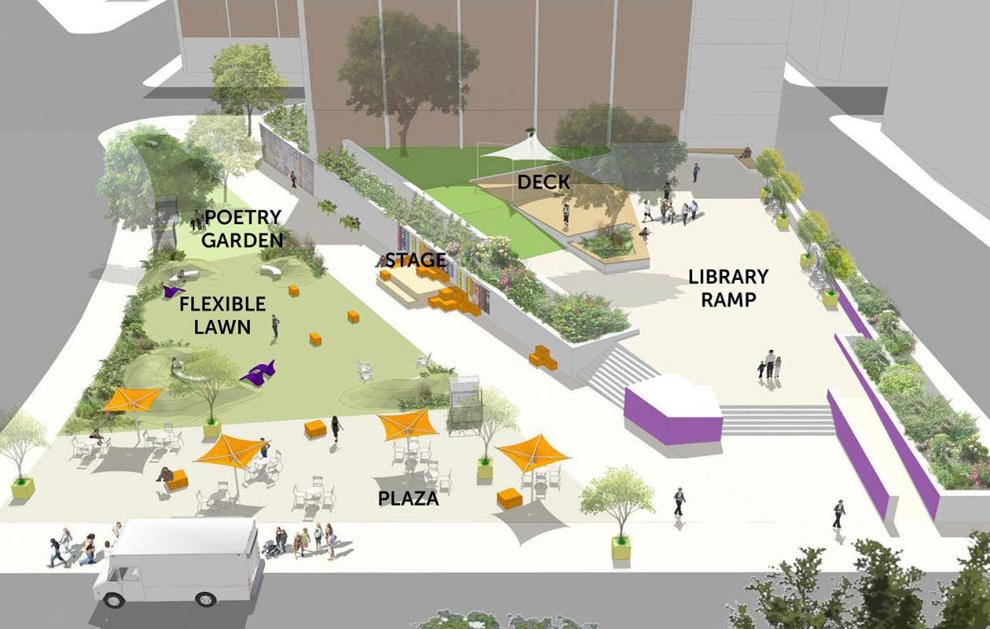 The new city park and library will anchor the southern end of LIT CITY, the literary corridor featuring banners along Washington Street that pay homage to prominent writers connected with Buffalo and Western New York.
A sculpture that honors acclaimed poet Lucille Clifton, a City Honors School graduate, will eventually be added to the park.
Chairs, tables with umbrellas and modular furniture will be part of the park. So will a small stage and poetry garden.
A $170,000 grant from Southwest Airlines made the project possible on the former Broadway right-of-way. The grant was one of three the company awarded nationwide in 2017.
"We spoke to the city and said we were thinking of going out for a placemaking grant, and they jumped on board and said, 'Lets do something with that space,' " Jakubowski said.
The grant came with the involvement of Project for Public Spaces. The organization played an instrumental role several years ago in helping to reimagine Canalside as a more user-friendly place after the withdrawal of Bass Pro.
The organization came to Buffalo a half dozen times and participated in planning sessions involving the library's primary partners, including Just Buffalo Literary Center, Western New York Book Arts Center and Visit Buffalo Niagara.
Designing the park didn't have to take into account the Turkish fountain that was put in the space several years ago as a gift from Bursa, Turkey, Buffalo's sister city. Last October crews removed the fountain which had steadily disintegrated due to weather.
There is no firm opening date, but Jakubowki expects the new park to be ready in June. Future uses include children's activities, arts classes presented by the Albright-Knox Art Gallery, and programs by the library, Just Buffalo and the WNY Book Arts Center.
"We look forward to bringing the library outdoors," Jakubowski said.
She also hopes the park will stimulate reading and library use, including online offerings beyond the brick-and-mortar locations.
"Our goal is to have everyone believe that having a library card is the most important card in your wallet," Jakubowski said.