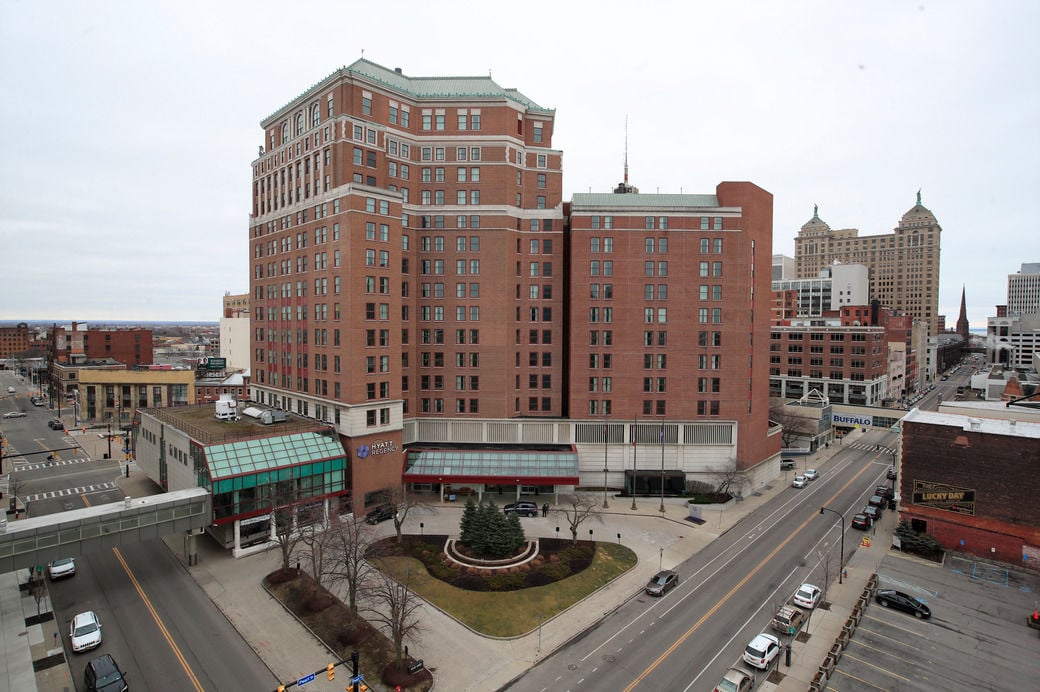 Douglas Jemal, the Washington developer who is steadily putting his imprint on downtown Buffalo, is staking his claim to yet another troubled property – the closed and foreclosed Hyatt Regency Buffalo.
Jemal confirmed Wednesday morning that he has agreed to buy the $20.7 million mortgage on the city's flagship convention hotel from the special loan servicer that has effectively controlled the Fountain Plaza property since filing papers to seize it in mid-June.
He did not say how much he would pay in the deal, which is slated to close within 30 days.
But the move puts Jemal on the inside track to gain control of the Hyatt, either by reaching a deal with current owner Snyder Corp., or by completing a lengthy foreclosure process.
He has already initiated discussions with Snyder, the Buffalo-based hospitality company that built and still legally owns the landmark hotel, about accepting a "deed-in-lieu of foreclosure" for the property.
That would enable him to gain ownership of the upscale 396-room hotel almost immediately, rather than waiting until the foreclosure process plays out in court, which could take months.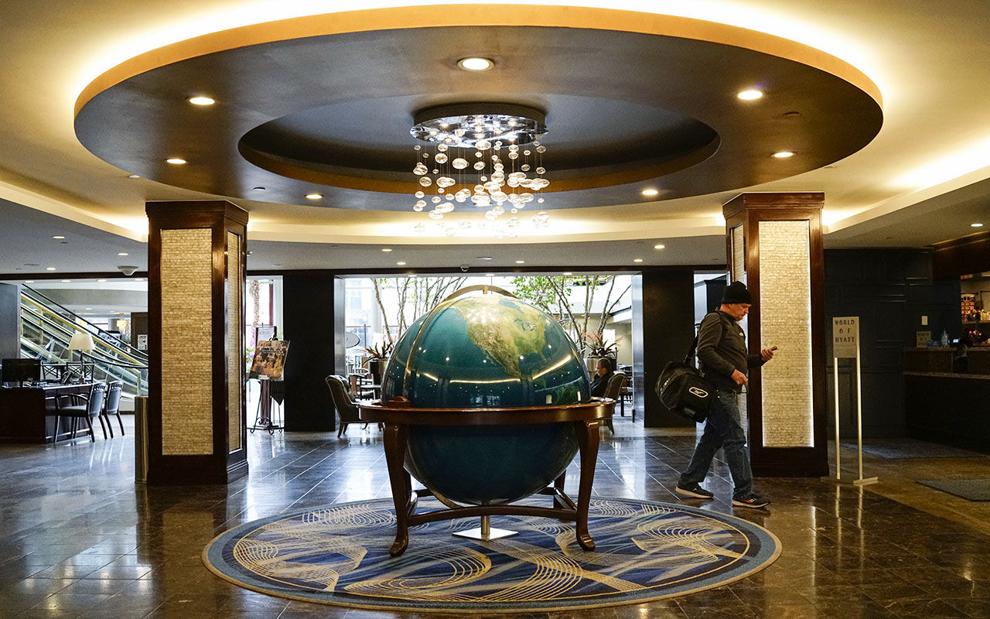 "We did have a meeting with them yesterday," Jemal said Wednesday. "They're thinking about it. It's in discussions."
Until then, he can't do anything with the building, which is being operated and managed by a court-appointed receiver, attorney Raymond Walter.
In the meantime, Buffalo's second-largest hotel – long the dominant player among downtown meeting, event and entertainment venues – remains closed because of the Covid-19 pandemic and resulting precipitous decline in both business and leisure travel. The timing of any reopening is uncertain.
"Candidly, I'll do what's best. I don't want to keep the hotel closed," he said. But "it's going to be driven by the demand when it opens up, and at this point, I don't think any of us know when it's going to open up. That's pertaining to Covid."
Buffalo's Hyatt Regency Hotel is under the control of a receiver, but might keep its flagship brand if the parties to a pair of lawsuits fulfill their goals to maintain operations of the downtown hotel.
Its future – even within the Hyatt portfolio – also remains clouded, after the international hotel company canceled its management agreement in the spring.
"I'd hire someone that specializes in reservations and events and things like that," Jemal said. "It's a very specialized business."
The public offering on the mortgage by the special servicer, Miami-based LNR Partners, noted that both the loan and hotel were being marketed without restrictions on either the brand or management.
"It's an open brand. It could be anybody," Jemal said. "It's not locked in to a flag."
Developed from the historic Genesee Building that dates to 1922, the 16-story hotel opened in 1984 on 1.8 acres, and was renovated in 2008-2009. It includes more than 27,000 square feet of function space with 10 meeting rooms, three dining options, a fitness center and spa and an indoor swimming pool.
This is the latest major redevelopment step by Jemal in what has become his adopted city, where he is dedicating increasing time and significant investment dollars to reviving troubled or challenging properties.
He is spending more than $150 million on the overhaul of Seneca One Tower, Buffalo's tallest building, and bought the historic Statler City complex earlier this year from the estate of Mark Croce after the former owner died in a helicopter crash in January.
If successful, it would give him control of both the Hyatt and the Statler, as well as Seneca One and the former Buffalo Police headquarters building, giving him a cluster of major landmarks to help him achieve what he calls a "master plan" to strengthen Buffalo as a destination. He also owns the Boulevard Mall in Amherst.
"The connectivity between the Statler, convention center and the Hyatt would make Buffalo a world-class convention city that does not exist in many cities. It's extremely unique," Jemal said. "It's all controlled by one person that can make a decision, and not just argue back and forth about what we're going to do."
He said he felt compelled to step up after LNR put the loan up for sale a month ago, saying the risk was too great not to take action.
Snyder Corp. may be dealing with a new lender on its flagship Hyatt Regency Hotel in downtow…
"I couldn't afford not to. I'm so committed. I could see this falling into out-of-town hands," said Jemal, who now sees himself as part of the Buffalo community and the city's revival despite his own out-of-town roots. "If it gets fragmented into different pieces, with people not looking at the bigger picture, to me that's a lot of damage to the city."
Jemal said he's already spoken to Buffalo Mayor Byron W. Brown and reached out to Deputy Erie County Executive Maria Whyte to alert them of his involvement..
"We've proven what we're going to do. It's just not talk," Jemal said. "To me, that's the most important thing. Buffalo had enough of that – talk, talk, talk, and nothing happening. Now things are happening, and we're very excited to be a part of it. We love Buffalo."
Brown praised Jemal's continued "strategic investment" in the city.
"With his vast experience nationally in real estate development, Douglas Jemal is executing purchases based on Buffalo's potential for retaining and attracting this country's future workforce," Brown said in an emailed statement. "Adding the Hyatt gives Douglas Development more opportunity to grow the vibrancy and quality of life that is a must for residents, businesses and visitors."
Long-term, Jemal says he wants to redo and "open up" what he terms the grand entrance to Niagara Square, calling it "the Statue of Liberty of Buffalo."
"I didn't just come here to do a half-assed job of urban revitalization," Jemal said. "You see what's going on at the police station, at the Statler. Stuff's happening. And in the height of Covid, when the city is closed, I'm marching forward."
For now, though, Jemal said he doesn't know when he can reopen the hotel.
"We have hotels in Washington, and they're basically closed," he said. "There's no tourists in town. Canada is closed. The games are limited on capacity. The office buildings are closed."
But he remains as bullish as ever on the future.
"I think at the end of the day, we're going to see what we saw in the 1920s. I'm looking forward to the Roaring 21s," he said. "Once this all opens up, you're going to see festivity. We've been locked down for nine months, and still counting."
The Hyatt Regency Buffalo will stay a Hyatt – at least for a little while longer. A State Supreme Court judge late Friday blocked Hyatt Hotels Corp. from withdrawing its affiliation and operation of the Hyatt Regency Buffalo, handing hotel owner Snyder Corp. at least a temporary victory in its battle to save its anchor business. The order by
The Hyatt Regency has been under a cloud since May, when simmering tensions between Snyder and Hyatt Hotels Corp. bubbled to the surface. That's when the Chicago-based corporation suddenly announced that it was withdrawing from the management agreement that has been in place since the hotel opened.
Under that unique relationship, Hyatt had managed all operations of the Buffalo hotel, even though Snyder owned it. That's a rare structure today in a world of hotel franchisees that just license the brand names, and Hyatt had long wanted out.
When the coronavirus pandemic hit, Hyatt and Snyder fought over funding the resulting losses, with Hyatt demanding that Snyder cough up $2 million in working capital in April, plus additional infusions as needed, while Snyder said it wasn't obligated to do so under the agreement, especially since the hotel was closed.
So Hyatt pulled the plug in May, announcing that it would terminate the agreement and affiliation, and lay off the hotel's staff. Snyder sued, and obtained first a temporary restraining order and then a preliminary injunction to block Hyatt's move.
But the court also agreed that the burden wasn't all Hyatt's, and required Snyder to deposit $1 million into the hotel's operating account and post an $843,000 bond for future costs. When Snyder failed to do so, the injunction was lifted, letting Hyatt pull out.
Meanwhile, Snyder had defaulted on its $21 million mortgage, leading LNR to foreclose. Walter was appointed on June 29, and hired Aimbridge Receiver Services to manage the hotel.