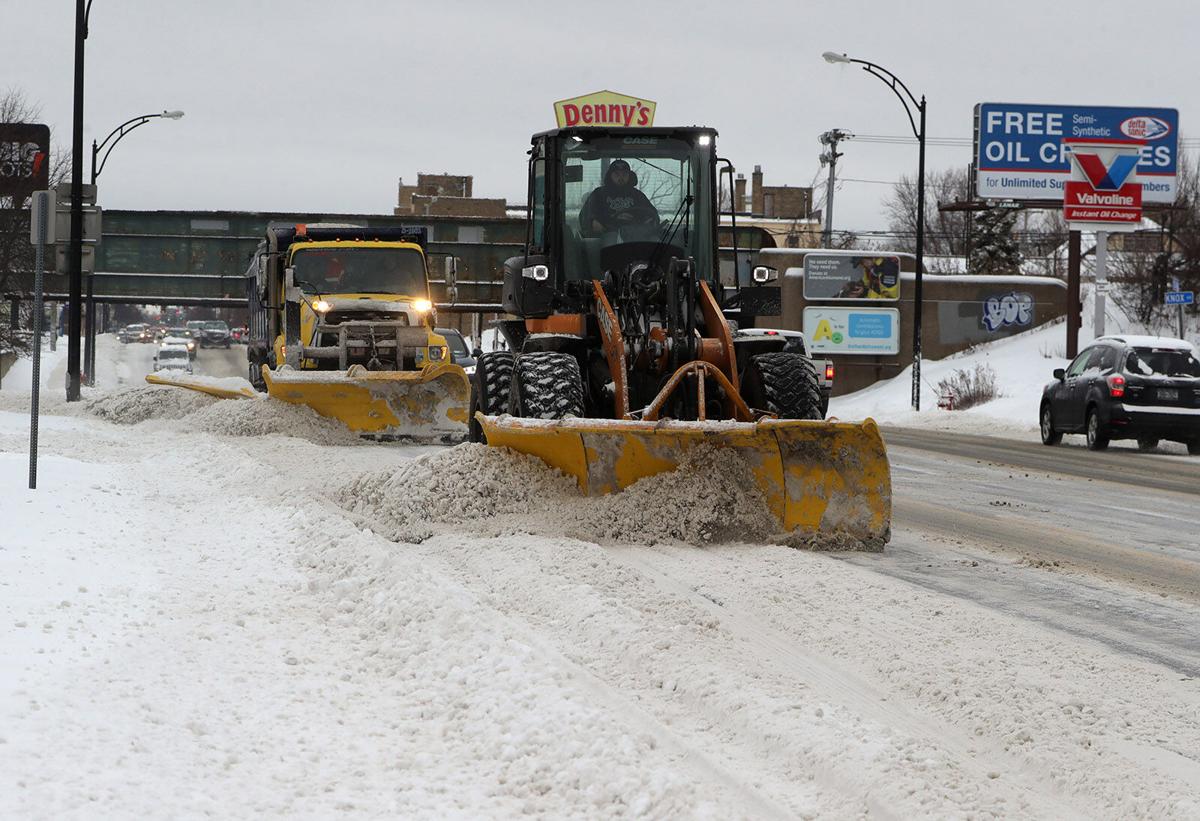 We suffered no weather disasters here in Western New York this month. But it would be difficult to be unaware of what befell Texas and many other parts of the south and mid-Atlantic. With the help of NASA, I am going to attempt to make palatable the esoteric relationship between what is called a sudden stratospheric warming (SSW) and the drastic, persistent cold and ice that reached south all the way to the Gulf Coast.
There are occasions, usually in the cold weather season, when the stratospheric atmosphere about 10 miles above the high Arctic warms suddenly. This warming can be as much as 80-100 degrees in a single day. This is what the SSW-related split of the polar vortex (PV) looks like.
The evidence continues to grow of a frequent strong correlation between such SSWs and weather down here on the ground for a period that can persist for several weeks. Such SSWs cannot be predicted more than a few weeks in advance, which is why I was emphatic in several past Buffalo News articles that I loathed making a winter outlook in mid-autumn. There is simply no methodology in late October or early November to forecast an SSW in February that can, as this one has, drastically alter what otherwise would be a mild winter when numbers are smoothed in the spring. Even in Buffalo, our December and January temperatures ran significantly warmer than average, but are running 5 degrees below average so far in February. All I could do in past articles in autumn was speculate that there might be a temporary disruption in the mild winter for a few weeks during midwinter, with high uncertainty.
As cold air deepens on Friday, scattered snow showers will begin to organize into a band of lake-effect snow by late in the day and the southwest flow will steer the lake snow into or near the metro area into Friday night.
The most recent SSW began showing up in models early last month. Many of us began to mention that a potential sharp pattern change could follow in February, with greater certainty showing up in late January. As I wrote in a Buffalo News article on February 3, when the impact of an SSW had clarity, "Blocking high pressure over Greenland and near the Pacific Coast will be enabling a disrupted piece of the polar vortex to drop down closer to our region well into at least the middle of the month, as depicted in the ensembles around Feb. 18."
The polar vortex in its most common state is an area of high altitude winds rotating in a counterclockwise circulation, centered just about over the North Pole. An SSW often disrupts this circulation, weakening the vortex and splitting it into separate vortices that can drift south. In this winter's case, the vortex split in two. The SSW doesn't always produce changes in tropospheric weather (which is where we live), but it often does. The warming aloft can have a surface reflection of a polar air mass dropping south beneath the warming, with a disruption that typically lasts for several weeks. On Valentine's Day, the piece of the vortex had dropped south from the polar region to just north of Minnesota.
At the surface, this upper PV allowed an enormous polar high pressure ridge to center over North Dakota, with its flow depicted by isobar contours extending all the way to Brownsville, Texas.
The resulting surface flow brought arctic cold all the way to the Gulf Coast, with the red numbers representing temperatures.
The cold has had a major impact on Great Lakes ice cover, now estimated at more than 27% compared to 2.4% on Jan. 21. 
When combined with snow where the cold air was deep and freezing rain where it was shallow, the ensuing catastrophic impacts have followed, for days. Texas has been hit hardest, being under the southern end of the polar ridge, with Gulf moisture streaming in from areas of low pressure, resulting in heavy icing, downed powerlines and the cold resulting in an impossible drain on Texas' non-weatherized power grid (with major administrative failures on the part of the state).
Now, this disrupted polar vortex is retreating north, and this will afford some relief to the still vast stretches of stricken cities, towns and communities. Here is the projected upper level flow for Tuesday, when you'll note the PV is well into its trek north, no longer anywhere near Minnesota.
As for SSWs and our warming climate, there is not much evidence that climate change has a direct relationship with this phenomena. Weather balloons began detecting then-poorly understood SSWs in the 1950s, well ahead of the ongoing accelerating warming. For a more in-depth technical explanation of SSWs and their impacts, this article from the American Geophysical Union may prove helpful.
Apart from strong SSWs such as the one we've just undergone, there is the more common kind of PV disruption that occurs without an SSW. Because the Arctic region has been warming so much faster than the rest of the globe, there is often less temperature contrast between the high latitudes and the mid-latitudes. The Arctic warming is, of course, directly related to our human activity-caused warming climate and was well-predicted, even by the earliest climate models.
When the temperature contrast lessens from north to south, the polar jet stream tends to weaken, slow down, and becomes more prone to buckling south with a piece of a slower, weaker polar vortex dropping south as well. So, it is possible and even likely that we are experiencing more such weakened episodes of a polar vortex for several weeks, even in the midst of an otherwise milder winter. This catastrophic episode, however, has been directly tied to the SSW that began showing up nicely in models earlier in the winter. The problem with knowing an SSW is coming, however, is that we don't know if it will result in the surface weather changes we've described until the SSW begins to materialize.