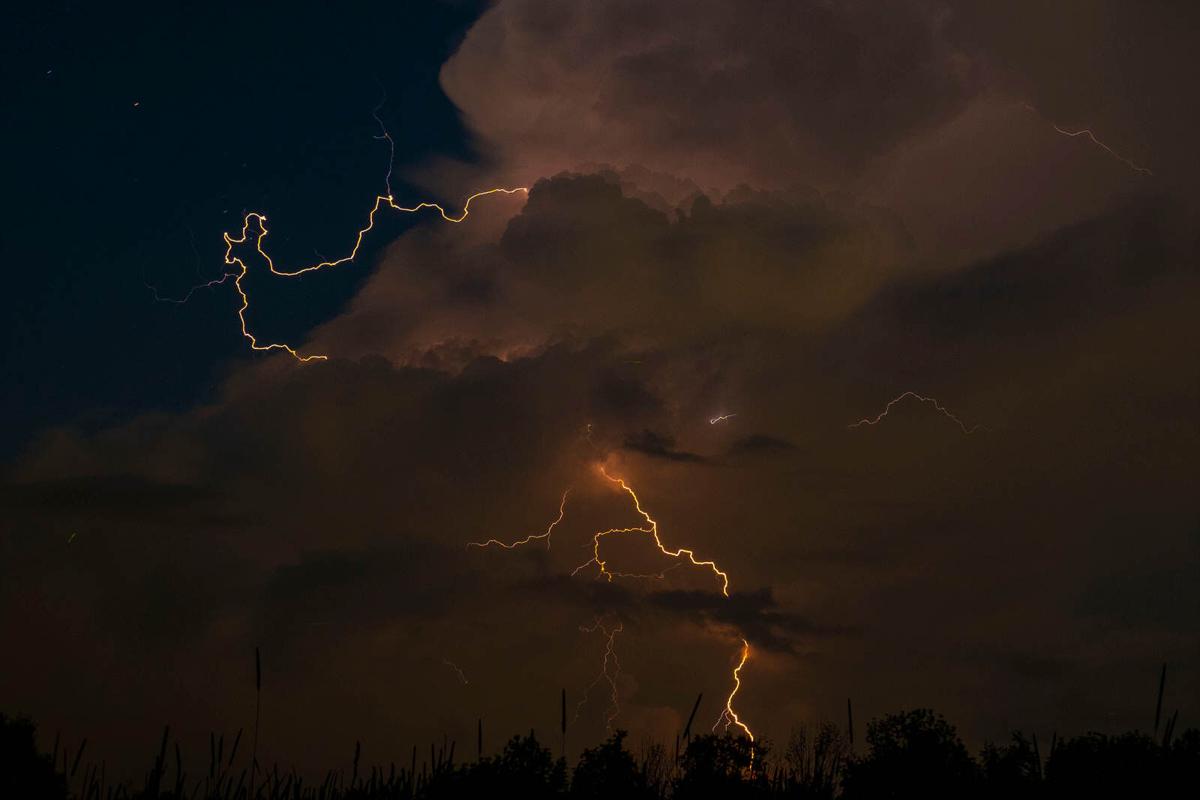 The next week will be rather stress free for local meteorologists, which is nice news for all of us, including meteorologists, who have been craving a stretch like this one for quite a while. Dry, mild high pressure will dominate in our region, with daytime highs gradually moving from average/seasonable to above average as we move through the weekend into next week. Coolest readings will be at the lakeshores and on hilltops, with highs from near 70 inland to the low 60s at the shoreline. A sample forecast of high temperatures early next week shows the modest warming.
The only notable atmospheric feature showing up during the seven-day period will be what appears to be a dry cool front later next week.
Behind this front, readings will drop from the low to mid-70s back to the upper 60s. Having mentioned the word dry, the seven-day rainfall totals from the Weather Prediction Center tell the story.
If we're splitting hairs, newer Friday guidance does suggest a weak disturbance will mix clouds with Sunday's sunshine, and possibly produce a few isolated showers, with most locales remaining dry. If that verifies, Saturday's mostly sunny sky will produce a higher UV index will than during Sunday, when sunshine will be limited. If you've forgotten, mid-May UV is very potent. I should also add there will be some clouds with a chance for an isolated late Saturday shower in Allegany County, in the far southeast corner of Western New York.
Sunshine will be abundant each day on the Niagara Frontier, with a few more clouds mixing in over the Southern Tier.
At this time of the year, eventually we will have to deal with more thunderstorms over land and water. Lightning hazards will become more common. That threat has already been realized in May with severe weather and convective outbreaks in the Southeast. GOES satellite imagery now detects lightning, as can be seen in this example, over south Texas.
Lightning can occur cloud to cloud, ground to cloud and, most dangerously, cloud to ground. The actual stroke can heat the air around it to 50,000 degrees, or five times hotter than the surface of the sun. NOAA estimates that there are about 25 million lightning strikes on average annually in the U.S. Lightning is a discharge that equalizes electrical imbalances between clouds and between clouds and ground targets. Although cloud to cloud strokes are the most common, about 100 cloud to ground strikes occur each second around the world. Each bolt can contain as much as 1 billion volts of electricity. The most common pathway for ground strikes is for a stepped negative charge "leader" to come down from the cumulonimbus cloud base at 200,000 mph and meet with a ground positive ground "streamer" around 100-150 feet streaming up from a positively charged tree, tower, building or even a person.
The basic explanation from the National Severe Storms Laboratory: "In the most common type of cloud-to-ground lightning (CG), a channel of negative charge, called a stepped leader, will zigzag downward in roughly 50-yard segments in a forked pattern. This stepped leader is invisible to the human eye, and shoots to the ground in less time than it takes to blink. As it nears the ground, the negatively charged stepped leader causes streamer channels of positive charge to reach upward, normally from taller objects in the area, such as a tree, house or telephone pole. When the oppositely-charged leader and streamer connect, a powerful electrical current begins flowing. This return stroke current of bright luminosity travels about 60,000 miles per second back towards the cloud. A negative CG flash consists of one or perhaps as many as 20 return strokes. We see lightning flicker when the process rapidly repeats itself several times along the same path. The actual diameter of the lightning channel current is one to two inches, surrounded by a region of charged particles."
The expression "bolt from the blue" refers to horizontal discharges from the cloud that strike downward, miles outside of the cloud, sometimes in bright sunshine. These are the strikes that can kill golfers, baseball players and hikers who hear thunder in the distance but think they are safe. These bolts commonly can extend 5-6 miles outside of the thunderstorm and, sometimes, as much as 10-15 miles distant. Bolts from the blue are the reason for NOAA's slogan, "When thunder roars, head indoors." The bolts can extend in any direction from a thunderstorm, which mean it is just as dangerous after a storm has passed as when it is approaching. Although sometimes inflicted with severe burns and injuries, nine out of 10 lightning strike victims survive. The average American has a one in 5,000 chance of being struck in a lifetime, according to federal statistics.
"What's the normal high temperature for this time of year?"
That commonly asked question is usually rephrased by meteorologists and climate scientists to "what's the average high temperature?" writes Don Paul.
Here is a somewhat perky refresher on lightning and a detailed explainer on the safety precautions you should take for lightning protection, prepared by the Missoula MT National Weather Service office. Perky, yes, but it is well done.
A YouTube site called Atmospheric Phenomena has produced a beautiful video of lighting strikes captured by cameras on board the International Space Station.
One final note I always throw in on every lightning article I've ever written: There is no such thing as "heat lightning." All lightning produces thunder, and all lightning originates from either thunderstorms or convective volcanic plumes. What some think is heat lightning is silent merely because the viewer is too far from the lightning for the sound to reach the viewer.