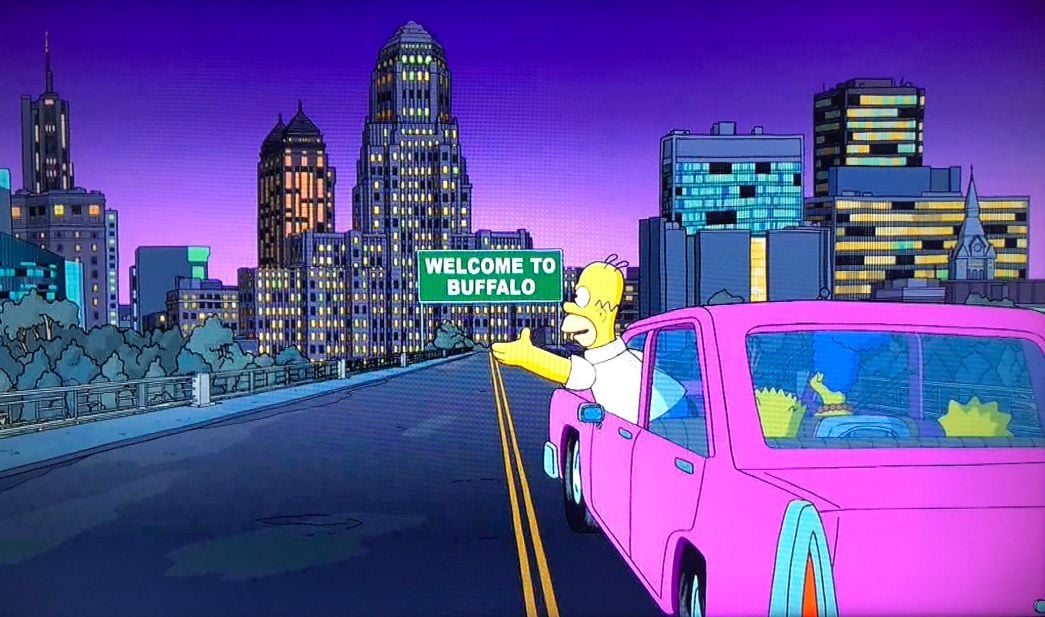 Buffalo is on the rise, on a big-time rebound with development all over the place. We're back, baby.
Umm, did you see "The Simpsons" Sunday night?
Homer sings a mocking ode to upstate New York, to the tune of "New York, New York," in which Buffalo is prominently featured.
Check it out, thanks to a tweet from 97 Rock's Rich "Bull" Gaenzler.
To review, Buffalo made the show via the Anchor Bar, New Era Field and a closing shot of downtown that looks really nice ... until snow plops down and buries the city. The lampooning of upstate New York was a relatively small part of the episode, in which the Simpsons travel to Canada.
And now, fact-checking the Buffalo references on the Simpsons.
* The exterior of the Anchor Bar is quite accurately and handsomely depicted as Homer sings, "They're fond of their booze; Hot wing sauce is great ... I'm gonna clog my heart in it – upstate New York."
We don't think anything can be refuted there.
-- Homer waves a Buffalo Bills pennant in a mostly empty upper section of New Era Field. For most games, this is not accurate. The only way this would be an accurate representation is if it were a December game after halftime, and Homer's fellow fan several rows up is not wearing gloves.
D'oh! This part is not accurate.
-- The view of downtown, like the Anchor Bar's exterior, appears to be accurate. City Hall looks so good you expect an animated group of architecture buffs to be riding by on a bus tour. Other buildings come off well in the downtown scene, including the Liberty Building.
For a moment, Buffalonians might think, "Wow, we look great!"
But then, an instant lake-effect snowstorm covers everything.
Which, of course, is not untrue.
The rest of upstate New York went through the wringer in the episode, including an ugly inclusion of an "opioid" drug in a mascot kickline.
The upstate mascot kickline also included Syracuse University's Otto the Orange, a leg-kicking Lotto ticket and the Lake Placid Olympics' Roni the Racoon. Utica takes a big shot as its downtown features a population meter that is rapidly declining. The song closes with "Can't make it anywhere, but I can make it there, I love you so, upstate New York."
The news of the episode was perhaps less-than-democratically chronicled by the hometown newspaper of the lampooned Kodak factory (which imploded while people took selfies with digital cameras) with the headline, "The Simpsons sang a song about Upstate New York last night. It wasn't pretty."
Rich Azzopardi, a spokesman for Cuomo, told Gannett – and then tweeted – the jokes were a bunch of "dumb cheap shots."
"There always remains work to be done but — dumb cheap shots aside — facts are facts: jobs are up, unemployment is down, millennials are coming back and it's clear that Poochie was an uncredited writer on that episode. However, I still want a Fighting Hellfish tattoo." https://t.co/1d8CYPJrzV

— Rich Azzopardi (@RichAzzopardi) April 29, 2019
There were some social media sidebars in which some people were somehow taking offense for some reason over the fact that Buffalo is being considered part of upstate New York, when Buffalo is absolutely, unquestionably in ... up ... state ... New ... York. Fact-check: Look at a map.
Here's a sampling of other reaction via Twitter, including from Buffalo and other areas that are most definitely a part of upstate New York:
Simpson's did an episode and made some jokes about Buffalo and local folks are HEATED.

— bryan von (@miscellanymag) April 29, 2019
The Simpsons got Buffalo's City Hall right in their episode tonight. ♥️ (Also showed Homer at the Anchor Bar.)

— shelby 🌈 (@vanekatthedisc0) April 29, 2019
The Simpsons was really good last night. Lisa goes to Buffalo and ends up going over the falls and is rescued in Canada, haha. They really had our number with that episode. @TheSimpsons Canada sucks tho 😂🇨🇦

— Fangy Athletics (@pumafanzola) April 29, 2019
The Simpsons still rules
They go to Niagara Falls and Canada and poke at:
Upstate New York
Buffalo Bills
Ottawa Senators
Quebec Nordiques
Donald Trump
Alec Baldwin
Justin Trudeau-SNC Lavalin
The Beachcombers
Newfies
and Bill Shatner being a jerk@marcfell @DrewMikePodcast

— Bip25 (@Bip25) April 29, 2019