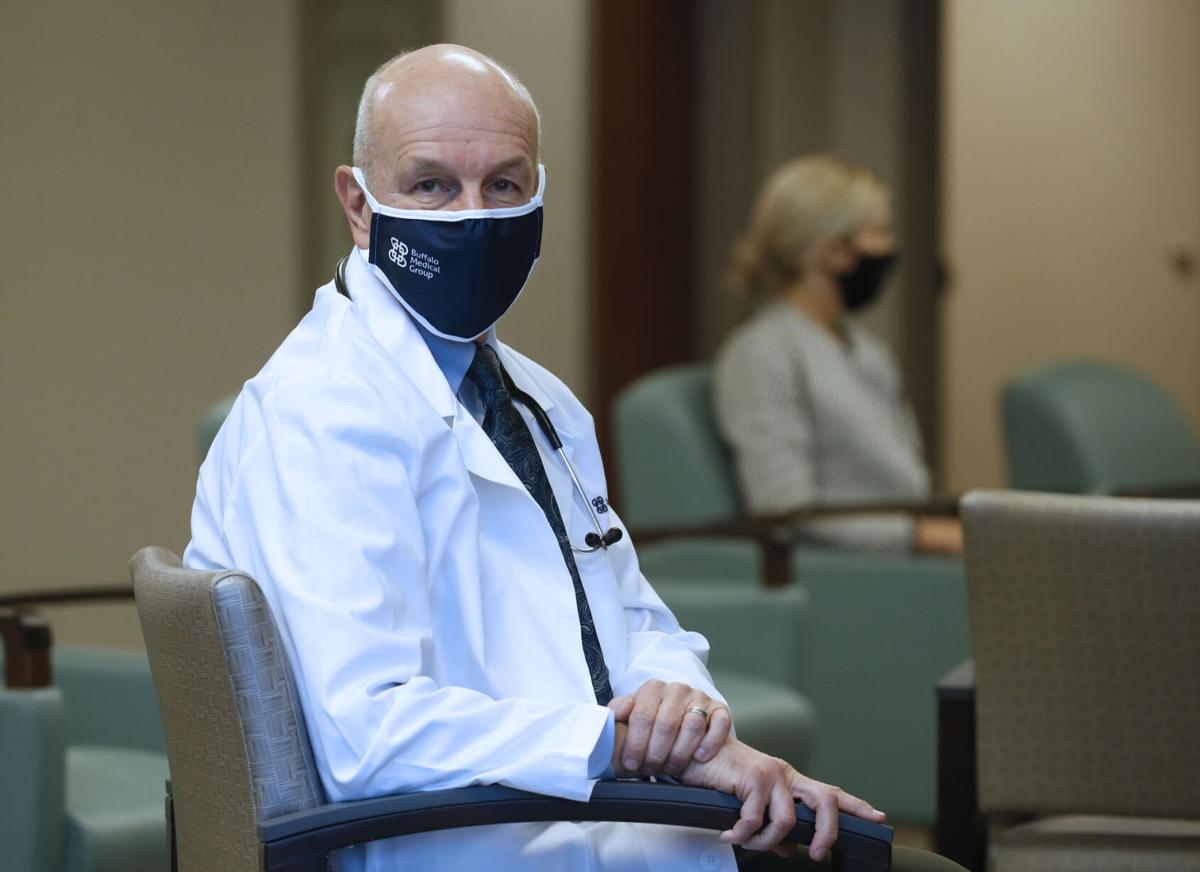 Gov. Andrew M. Cuomo has said repeatedly that more people must be vaccinated against Covid-19.
But he's worried about "vaccine equity," as figures show more vaccine appointments are going to people who are white than minorities, and that computer-savvy people are more easily navigating the appointment system than those who aren't conversant with the online world. He is also concerned about "vaccine hesitancy" – the reluctance or refusal of many eligible people to obtain a shot, even among health care workers.
According to several Western New York doctors, there's an easy way to solve all three problems at once: ship vaccine to their offices for them to use on their patients.
But so far, the state has not done so and it is unclear when such a distribution would happen.
"In our region, we have right now 199 practices that have signed up to receive vaccine to give to their patients. Not one of them has gotten any," said Dr. Nancy Nielsen, senior associate dean of the Jacobs School of Medicine and Biomedical Sciences at the University at Buffalo. She's also a former president of the American Medical Association.
"Everything has been funneled to a hospital or to the county," said Dr. Robert Zielinski, associate medical director of Buffalo Medical Group, one of the region's largest physician groups.
"In our primary care population alone, we have something on the order of 20,000 Medicare-age patients," Zielinski said.
He said Buffalo Medical Group helped vaccinate local health care workers when they were among the only ones eligible for the vaccine.
"We were finally able to convince Erie County to let us try and we distributed 1,000 doses in phase 1A in a weekend to local health care providers, including the rest of our staff that had not yet been vaccinated," Zielinski said. A weekend flu shot clinic the group held produced a similar number of vaccinations, he said.
"We're a large group that has demonstrated repeatedly the ability to efficiently and quickly distribute vaccines," Zielinski said.
It's not that state and local governments don't agree with that position. Kara Kane, spokeswoman for the Erie County Health Department, said it has more to do with the limited vaccine supply.
But more vaccine, such as President Biden's pledge of 600 million doses within a few months, would change the situation.
"Now that the supply is increasing, it's really imperative that doctors' offices receive the vaccine," Nielsen said.
Daniel J. Stapleton, Niagara County's public health director, said he agrees with the concept of getting more vaccine to doctors' offices once the supplies increase. But he said local health departments are better equipped to do mass vaccinations that, in Niagara's case, can inoculate more than 2,000 people in a day.
Nielsen, who praised the efficiency of Niagara County's vaccination clinics, agreed with Stapleton – for now.
"The idea of 'we need to use the distribution channels that can do this the fastest' made sense when vaccine was scarce. Now that spigot is opening," Nielsen said. "Now we're worried not just about efficiency, but we're also worried about getting it to the right people, and the right people may not be the ones that are able to sign up on the state-run mass vaccination site or the county Health Department site."
"Especially our older population, they want the primary care providers to be taking care of (shots), because they know their patients," said Nola Goodrich-Kresse, public health educator for the Orleans and Genesee county health departments. "They know whether or not they can handle the vaccine. They can encourage them in getting it. They can follow up with them."
"For all these people with underlying conditions, let them go to their physician," Nielsen said. "Docs know how to vaccinate. They do it all the time. They also know who in their practice needs it the most. They just need vaccine."
The state and county health departments had plans prepared for mass vaccinations, dating back 20 years, to the fears of a biological attack from terrorists after 9/11. But when the plans were needed, they were not used, as The New York Times reported Feb. 1 when it also revealed that nine top officials of the state Health Department have quit in recent weeks in reaction to Cuomo's decision-making.
"Getting back to using the original infrastructure would be one of the important things for us to do to expand vaccination as quickly as possible once the supply comes up to a reasonable level that we can distribute it," said Dr. Thomas Madejski, former president of the New York State Medical Society and an AMA board member who practices in Orleans County. He's a member of Buffalo-based General Physicians, another large group.
Mass clinics simply aren't the best possible place for the infirm elderly, Goodrich-Kresse said.
"They have to be physically able to get into a building and then stay there for a period of time so that we can observe them after the vaccine, so it really is better that they get (shots) through their health care providers," Goodrich-Kresse said.
"I don't think there's been any discussion at all about involving the home health agencies, which would be one of the other ways to expand access and get vaccine to patients who can't get access to a vaccination center," Madejski said, "or to the pharmacy, because they never get to the pharmacy anyway because they're immobile."
But Zielinski of Buffalo Medical Group criticized the notion of using pharmacies in a mass vaccination effort.
"Some of these pharmacies have tiny little footprints. They're literally your corner mom-and-pop. How many can they possibly do in a day?" he asked.
Although there have been success stories for pharmacies vaccinating senior citizens, Nielsen said her neighborhood pharmacy has a waiting list of 1,500 people over age 65.
"When vaccine becomes more plentiful, I say, open up the pharmacy distribution chain and absolutely open up the distribution chain to doctors' offices," Nielsen said.
But even if there were more vaccine available, persuading some people to take it remains a problem.
"Vaccine hesitancy is one of the other reasons that we need to give vaccine to physicians' offices," Madejski said, "because the best person to have a robust discussion with a patient who's concerned about being vaccinated is their personal physician who knows their health history, can really put the risk and benefit of the vaccine versus the disease in the context of that particular patient."
"Doctors know their patients, they're trusted by their patients and they know who is in the highest category of need," Nielsen said.