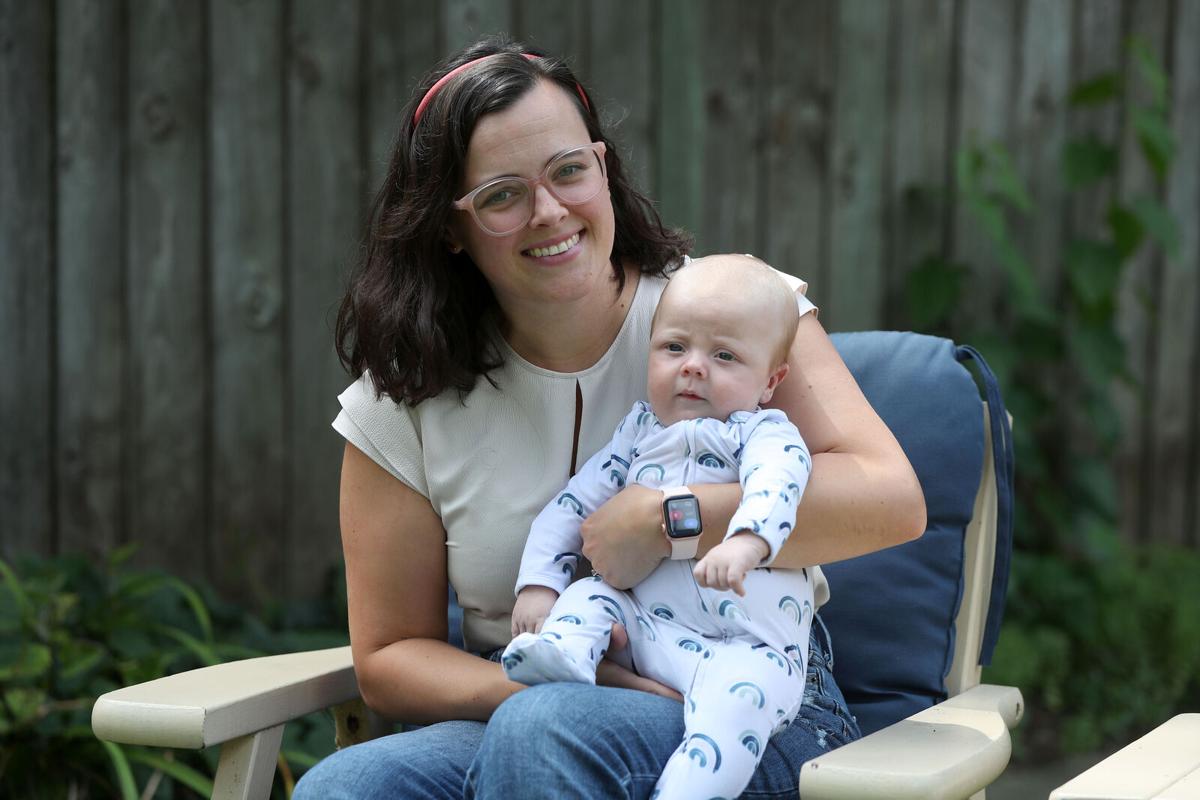 Chemistry professor Kacie Liwosz had a daunting decision to make last winter, as the British coronavirus variant circulated in force around the world.
She was pregnant at the time and had to weigh the risks and rewards of getting the new Covid-19 vaccine.
"I didn't take the decision very lightly," she said. "I'm not a vaccine-hesitant person but when you're pregnant, and you're growing this little baby in your belly, it makes you think twice."
Liwosz also had the lives of two small children, a husband, parents and other loved ones to consider – so she turned to her pediatrician, obstetrics practice and other trusted health resources. She also checked the ingredient list for the Pfizer and Moderna mRNA vaccines, which she found "beautifully simple."
She decided to get vaccinated.
The latest findings about pregnancy and newborn health underline the wisdom of that calculated decision, regional and national health experts said last week. Large studies now show that the risks of Covid-19 to fertility and pregnancy are dwarfed by the benefits of becoming immunized against the disease.
This is especially true at a time when the far more transmissible Delta variant has become the dominant virus strain as children across the U.S. have been returning to school.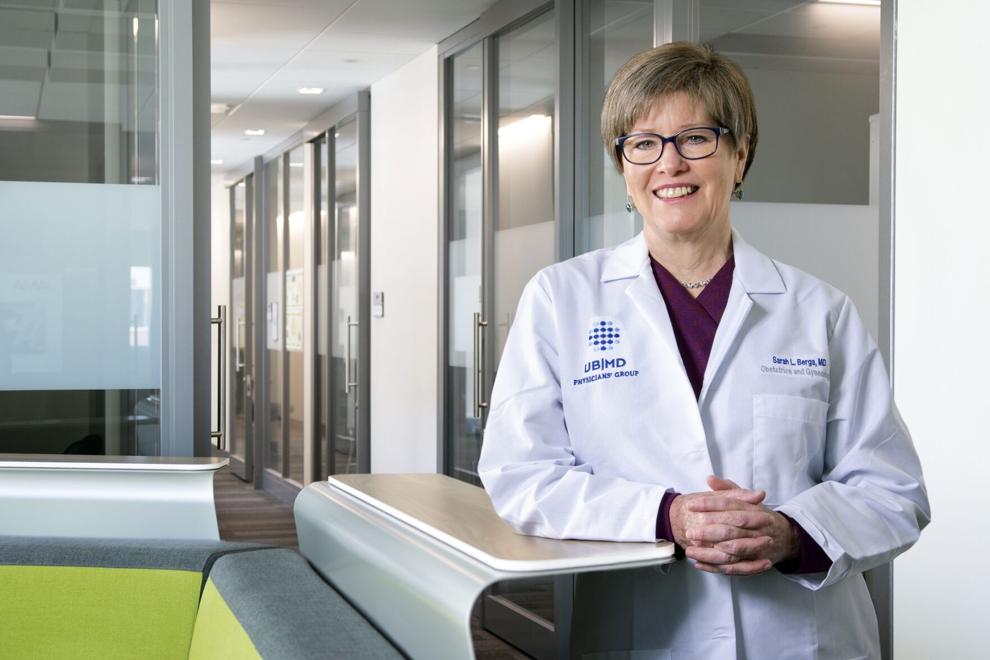 "The alarm bells first sounded when we found out that only 16% of pregnant women in the United States, as of May 2021, had been vaccinated with one dose or more of the Covid-19 vaccination. Then we got a louder alarm when we realized how bad things are if you get Covid-19 during pregnancy," said Dr. Sarah Berga, president of UBMD Obstetrics & Gynecology and chair of obstetrics and gynecology in the University at Buffalo Jacobs School of Medicine and Biomedical Sciences.
Those who contracted the virus are 50% less likely to carry their child to term, raising the risk of health challenges that can come with premature delivery, Berga said last week during an online back-to-school seminar hosted by UBMD Physicians' Group.
In a large-scale study of more than 870,000 women in the U.S. who became pregnant during the pandemic, researchers with the University of California Irvine Medical Center and Centers for Advanced Analytics in Chicago reported last month that percentages of more immediate complications remained small in both pregnant women who were vaccinated and unvaccinated.
Still, they found that those who contracted the virus were six times more likely to be admitted to intensive care during pregnancy; 14 times more likely to suffer respiratory failure and need mechanical ventilation; and 15 times more likely to die, according to a study first reported in JAMA Open Network.
Other research also emerged that showed "very reassuring" results that men and women who seek to conceive, and those undergoing infertility care, also should get vaccinated, Berga said.
That research concluded a case of Covid-19 can lower egg and sperm production, and resulted in a medical recommendation that men who contract the virus wait at least three months before trying to conceive.
The research was conducted before the far more transmissible Delta variant created the current peak in Covid-related illnesses and deaths across much of the U.S.
"We think of pregnancy as a happy time," Berga said, "and it's not happy if you get a Covid-19 infection."
So far, almost 139,000 pregnant women have been vaccinated nationwide, Berga said. Evidence has shown that vaccine particles did not become part of human DNA or transfer to unborn children, she said, but does show that mothers have been able to pass protective antibodies to their children while both inside the womb and breastfeeding.
"This virus can cause havoc," she said. "This vaccination does not."
The research is affirming for Liwosz, 34, an associate professor of chemistry at D'Youville College. She and her husband, Tim, a chemistry instructor at UB, live in the Buffalo Parkside neighborhood with their daughter, Ryan, 5, and sons Clark, 3, and Henry, born June 6 and weighing 8 pounds, 6 ounces.
All three children were delivered naturally, full-term and healthy.
Liwosz spent a few weeks deciding whether to get the Covid-19 vaccine after she learned in late February she would soon become eligible. During that time, news emerged that thousands of pregnant health care workers who got vaccinated earlier had promising results, as did stories about women with Covid-19 ending up hospitalized and losing babies.  
"Mothers are meant to protect their babies," she said. "There were two fears: Is the vaccine going to cause some sort of negative side effect in the immediate term or is there something about the antibodies that would cause some long-term effect?"
Her pediatrician, Dr. Erin Watson of Town and Village Pediatrics in Williamsville, validated her vaccination concerns and pointed her to scientific data she had seen. Providers in her obstetrics group, Suburban Women's Healthcare in Amherst, did the same.
She got vaccinated with the first dose of the Pfizer vaccine March 13, about 26 weeks into her pregnancy, and the second dose three weeks later.
"After the vaccine, I felt Henry kicking all the time, so he was giving me a little confidence boost that he was OK in there," she said.
Her husband started his course of the vaccine a week after she did. He had mild flu symptoms after the second dose, but Liwosz is pretty sure she had no side effects.
"Who would know," she said, "if you're fatigued when you're 29 weeks pregnant and have two other children, right?"
The latest study data should give expectant moms considering the vaccine greater confidence to go ahead, Liwosz said.
She and her husband have returned to teaching on their college campuses. Their daughter starts kindergarten Wednesday in the Buffalo Public Schools.
Both parents are confident their Covid-19 vaccinations provide added family protection along with other steps they have taken to address a pandemic that has exacted a toll in Western New York and far beyond.
"I'm so thankful that Henry has some protection as well," Liwosz said. "I'm glad I trusted my pediatrician and those who were saying, 'Be confident in this.' Every piece of data that comes out makes me more confident about it."