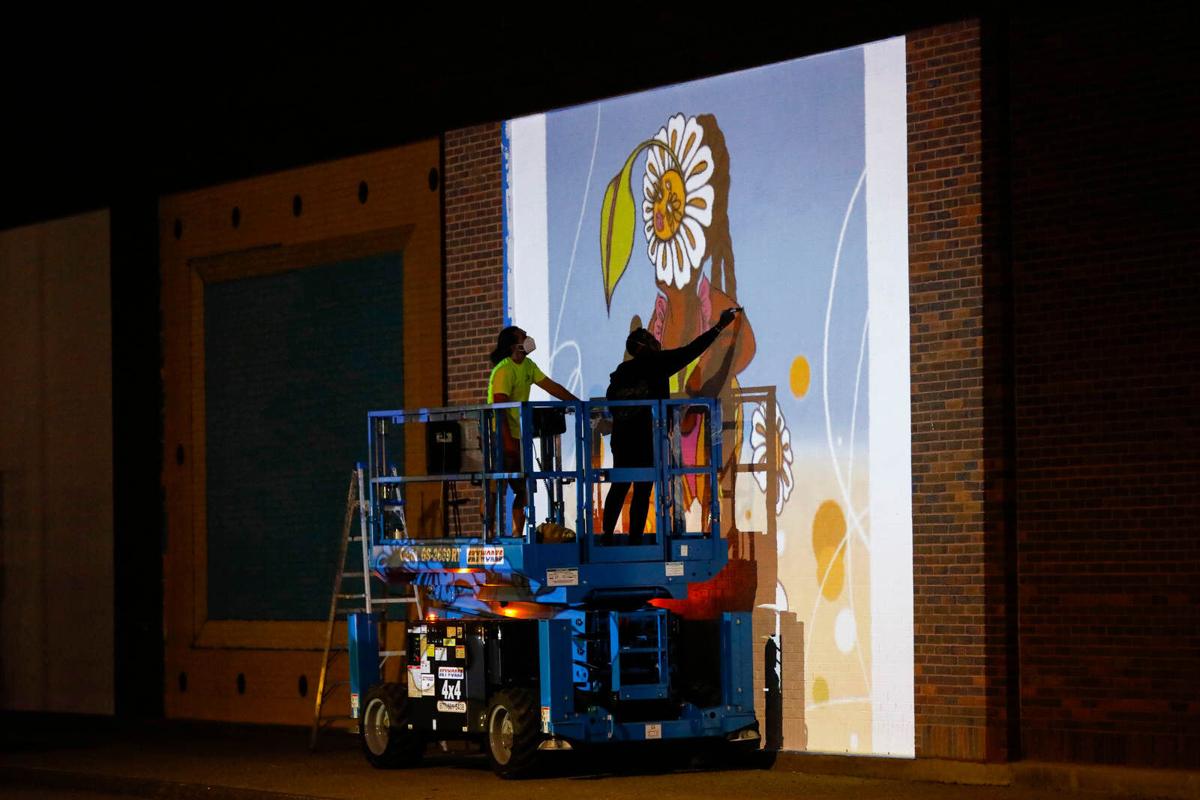 For a neighborhood that's supposed to represent a renaissance, Buffalo's Cobblestone District could probably stand a splash or two of color against those drab brick storefronts.
And that's exactly the plan for the waterfront district central to the city's hopes, soon to be infused with an anything-but-drab public art project. In the coming days, six artists from around the area and the nation will transmit their latest creations to the walls of the venerable Delaware, Lackawanna and Western Railroad Terminal, which is slated for renovation into a major public gathering place.
When the artists complete their work in a few weeks, bright murals ranging from historic to abstract will line the terminal's exterior walls along South Park Avenue. It all stems from a cooperative effort between the Niagara Frontier Transportation Authority, the terminal's owner, and the Albright-Knox Art Gallery that not only hints at the resurrection of the 103-year-old DL&W, but provides a showcase for several budding artists as well.
"Most people don't ever get a chance to see how art is made. With this project they can see it happen," said Aaron Ott, curator of public art for the Albright-Knox. "It's magical, and it will get people connected."
The NFTA recently selected the Savarino Cos. to develop the more than 130,000 square feet of DL&W interior space in a $46 million project financed mostly by New York State. Planning continues for a marketplace, business incubator and community meeting place that will also feature a Metro Rail station.
But for now, the NFTA is again reaching out to the Albright-Knox, just as it has for previous public art projects at the Allen-Medical Campus subway station and the "Freedom Wall" at its Cold Spring bus garage. Director of Public Transportation Thomas George recently told NFTA commissioners that the two-year project will eventually feature 12 panels set into indentations on the DL&W walls to enhance the entire block.
"To say that downtown area is not very warming is an understatement. It's very isolating," he said. "This will eliminate barriers for a lot of people – it's 'out in public' as much as anything.
"Our experience with Albright-Knox has been very positive. I get a certain comfort level when dealing with the professionals there."
New murals to highlight artists at DL&W Terminal
Tracing the light
Vision realized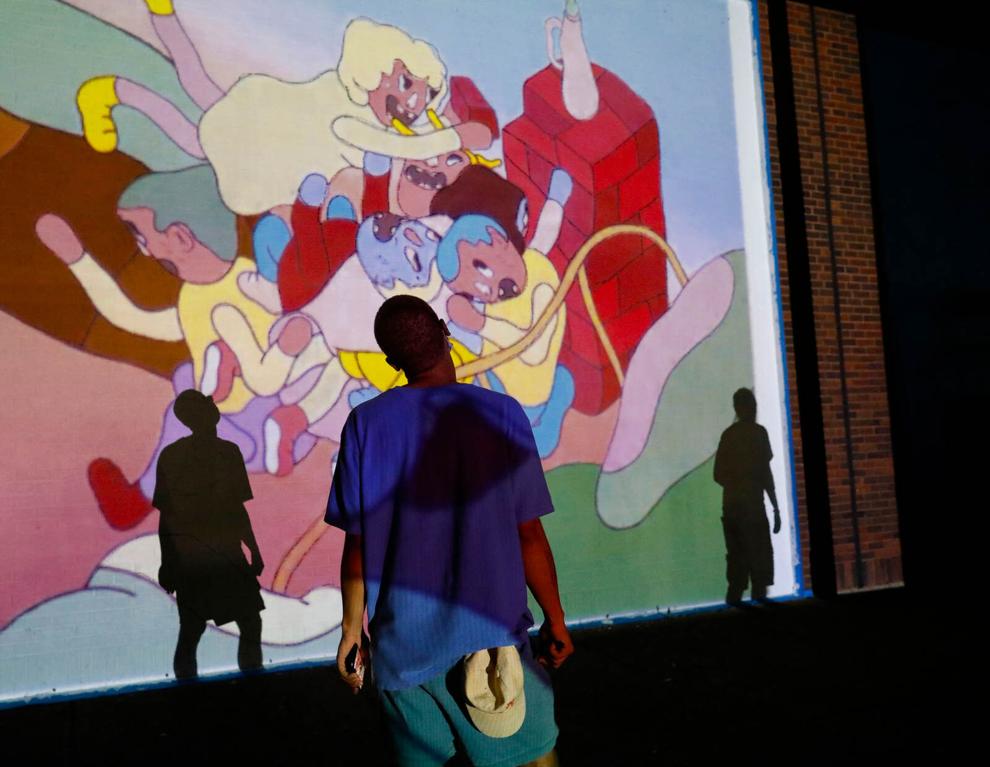 Sketching in the spotlight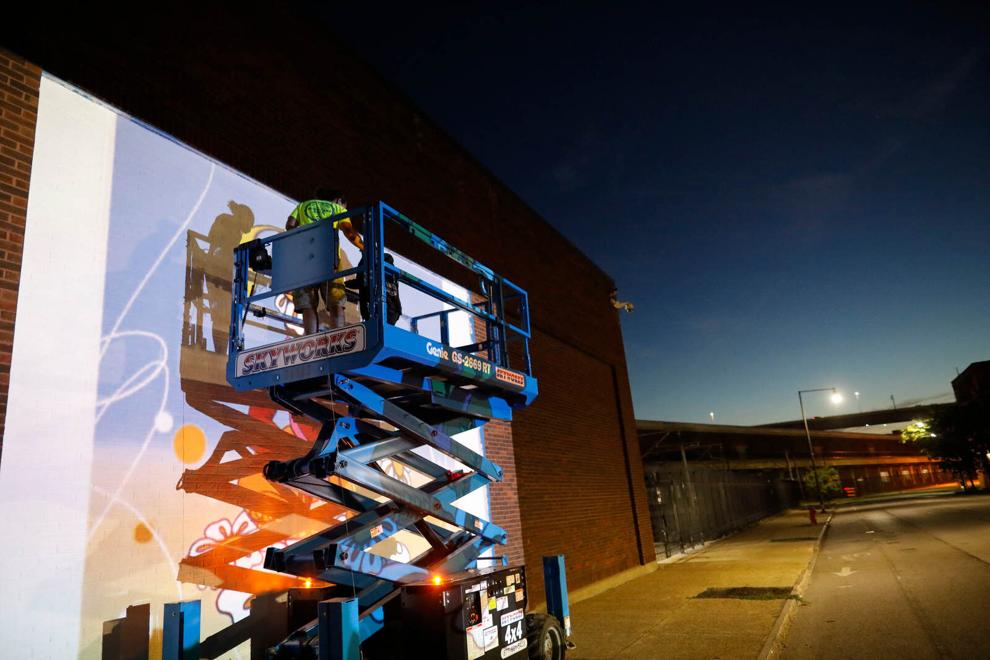 Fine tuning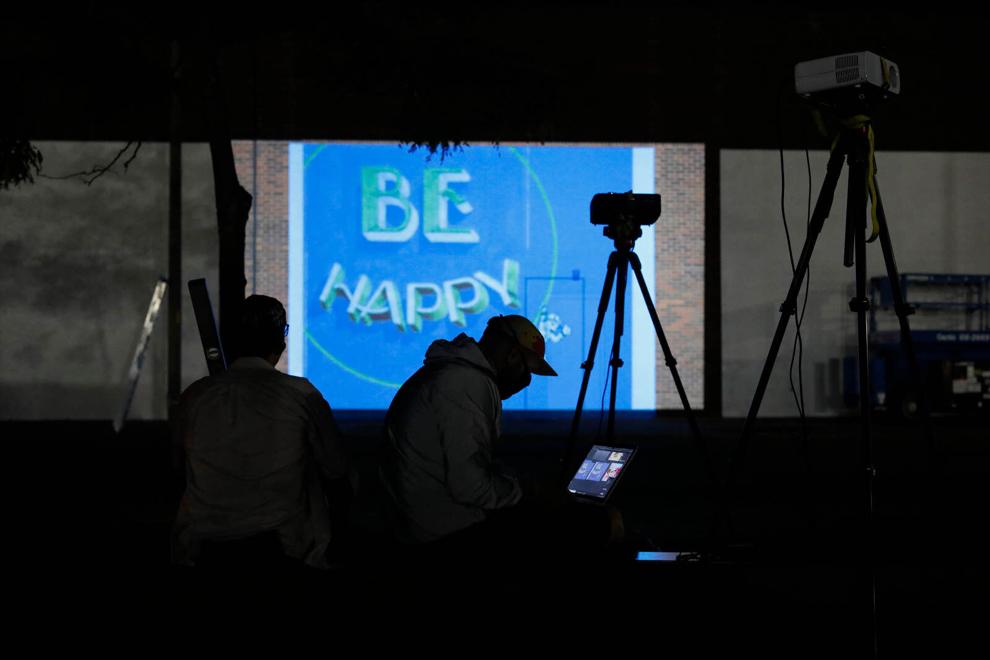 Following the light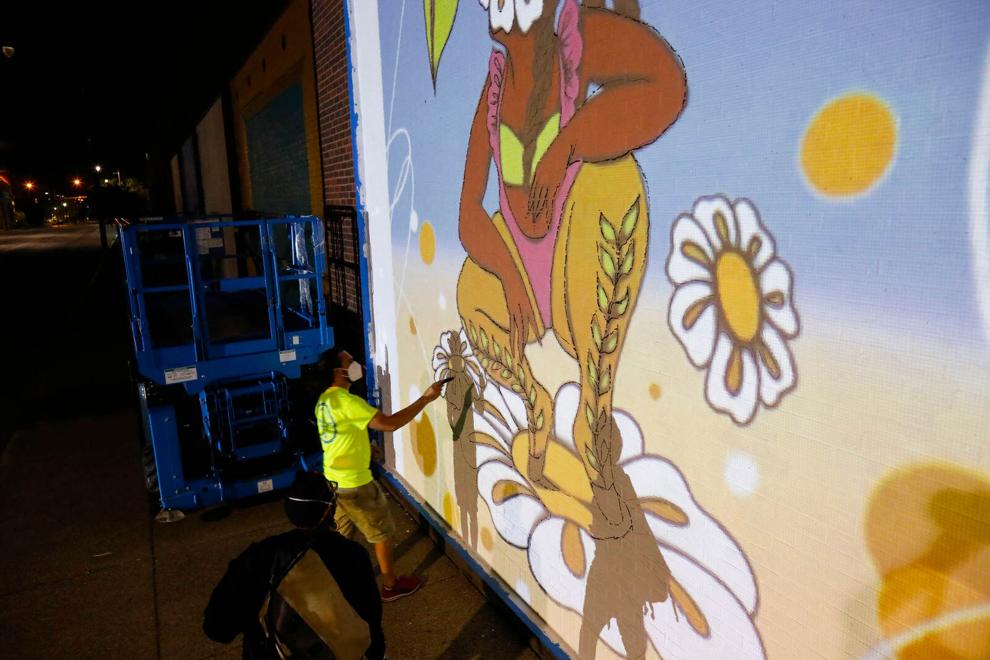 When the projector turns off, a sketch emerges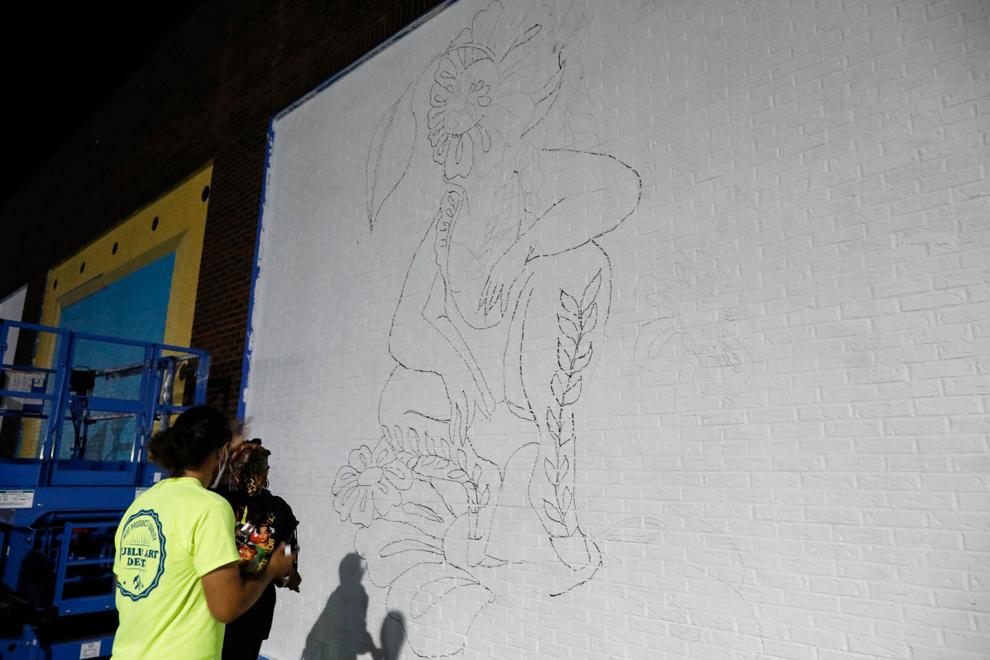 A dream comes to life
Soaking in the light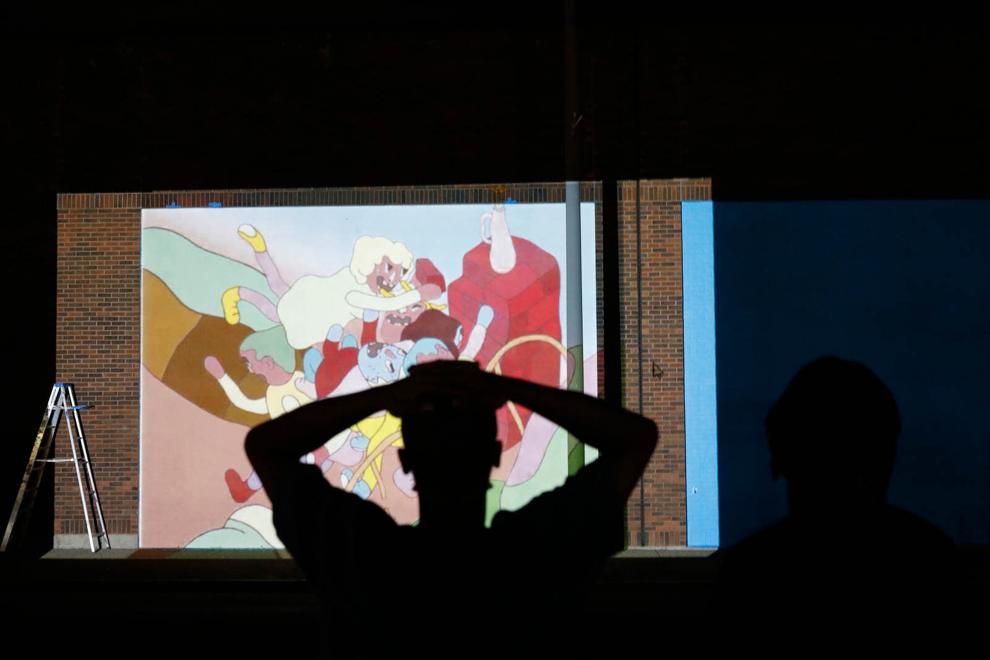 Under the lights on a quiet night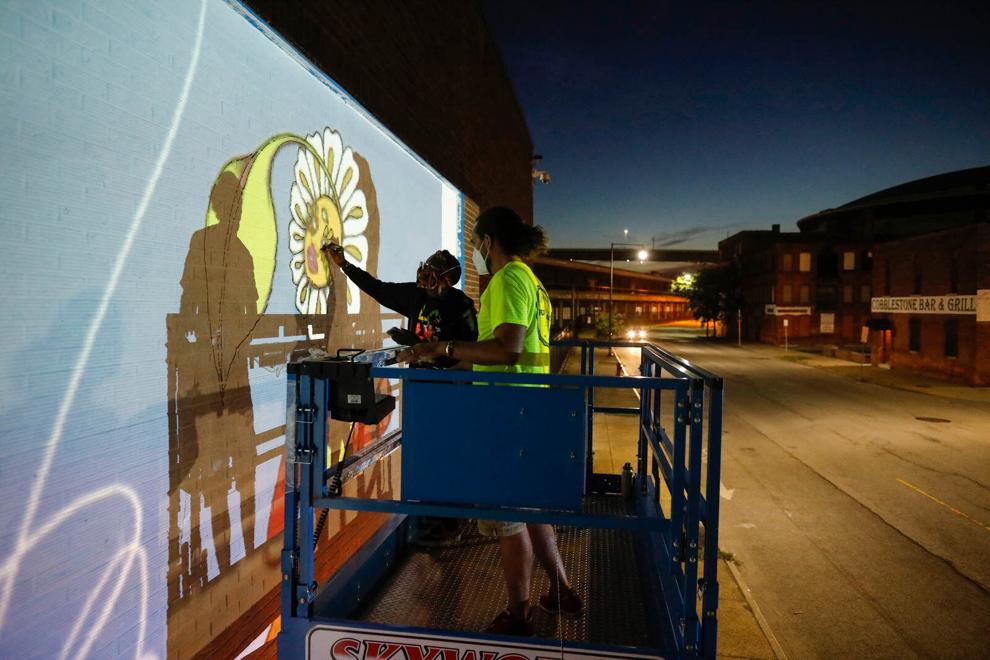 Staying in the lines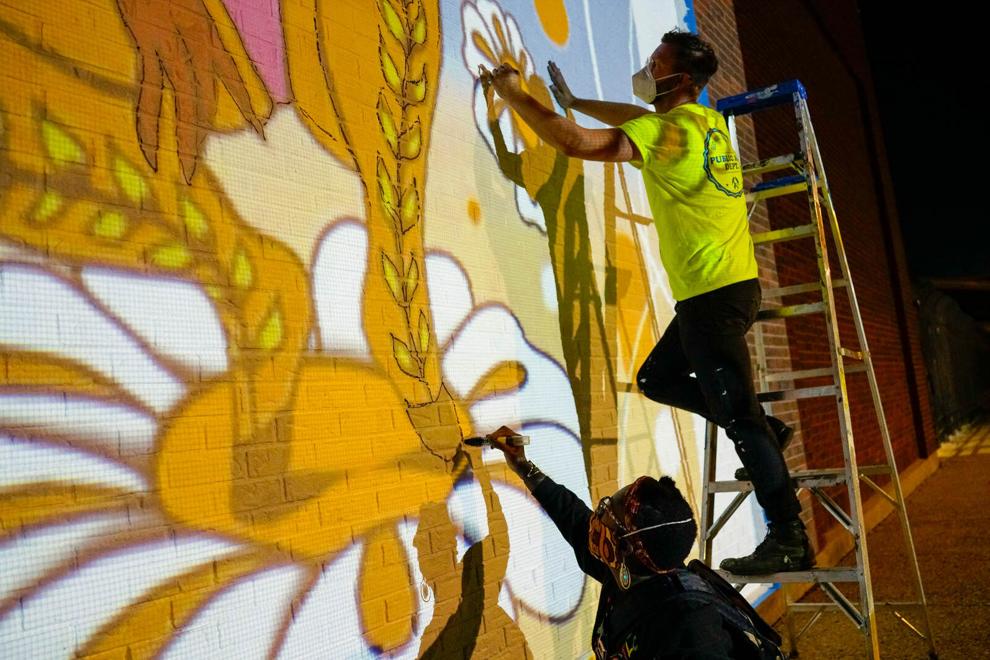 Lighting up the night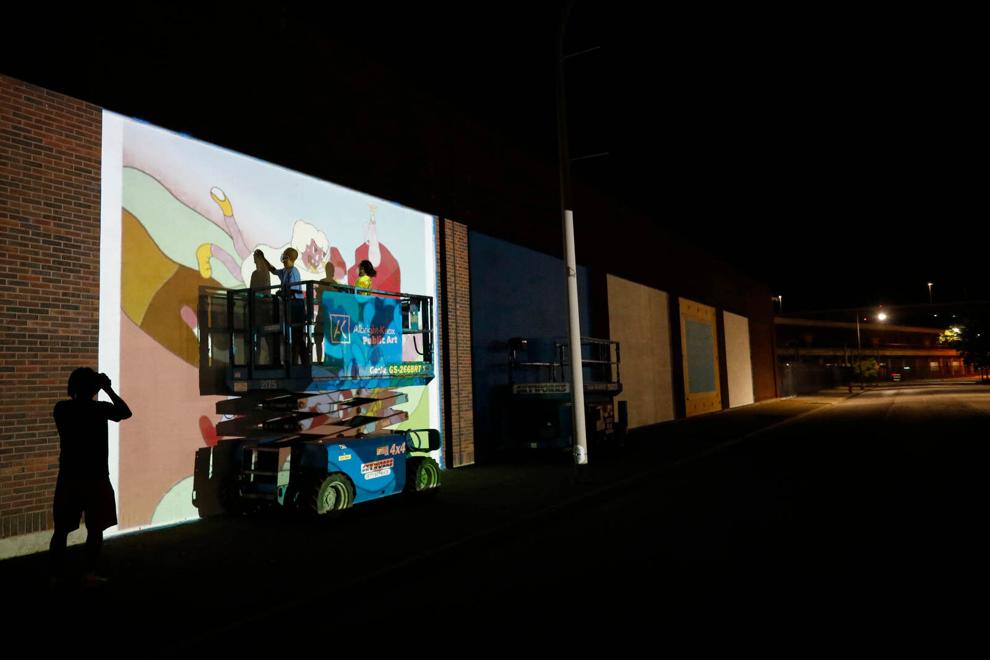 Bringing a mural to life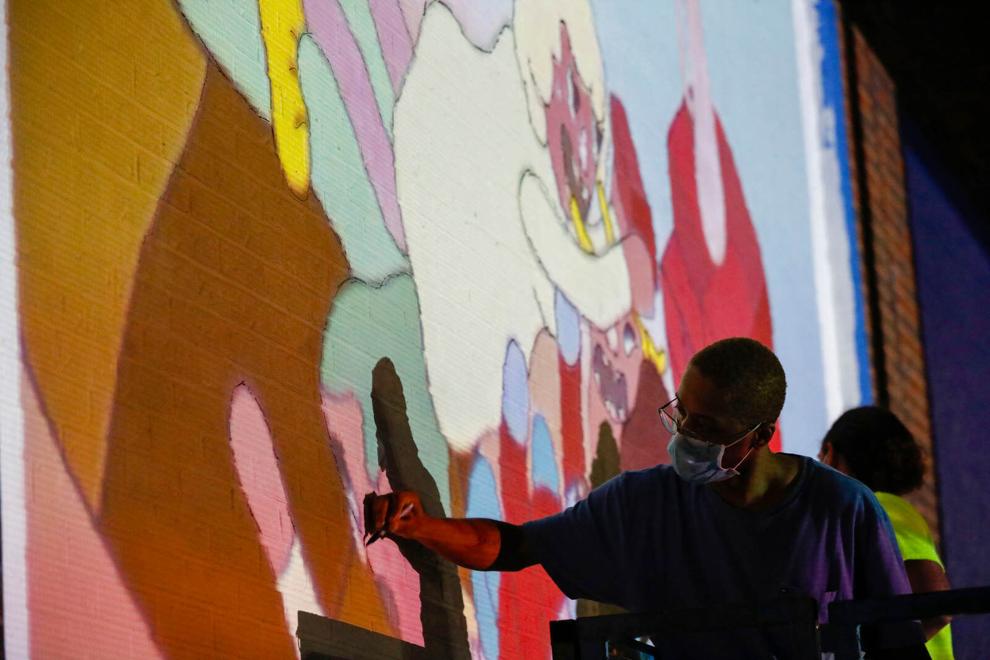 Chasing the light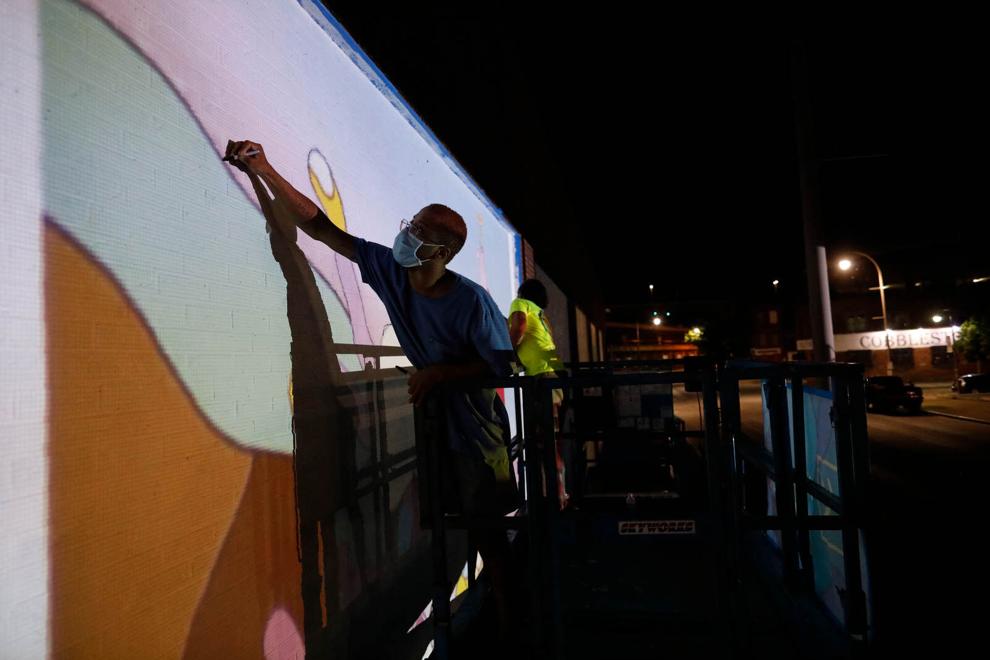 Call it a night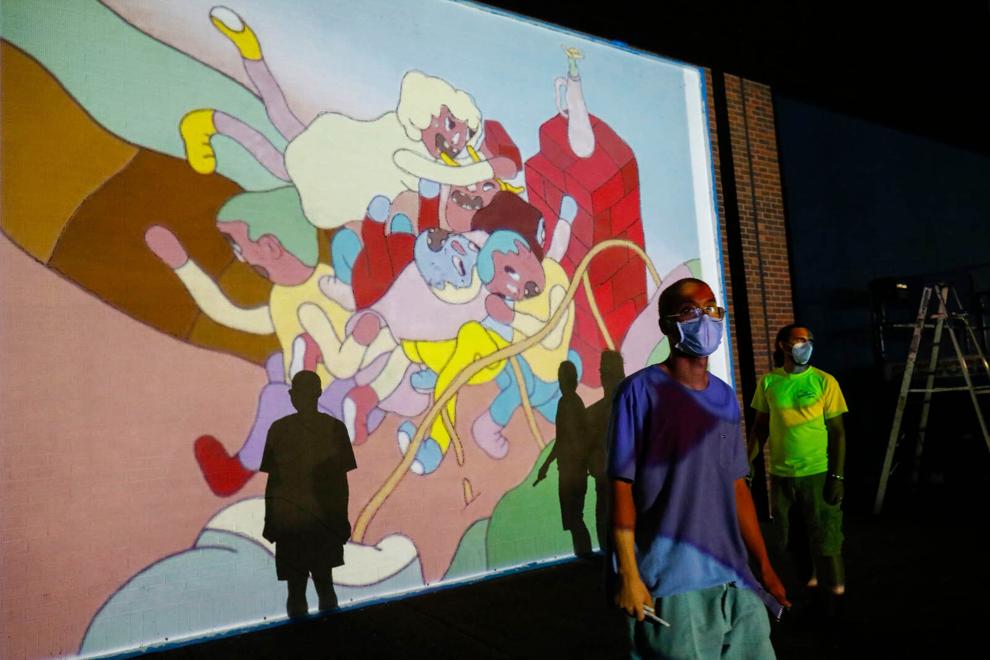 Digital camera obscura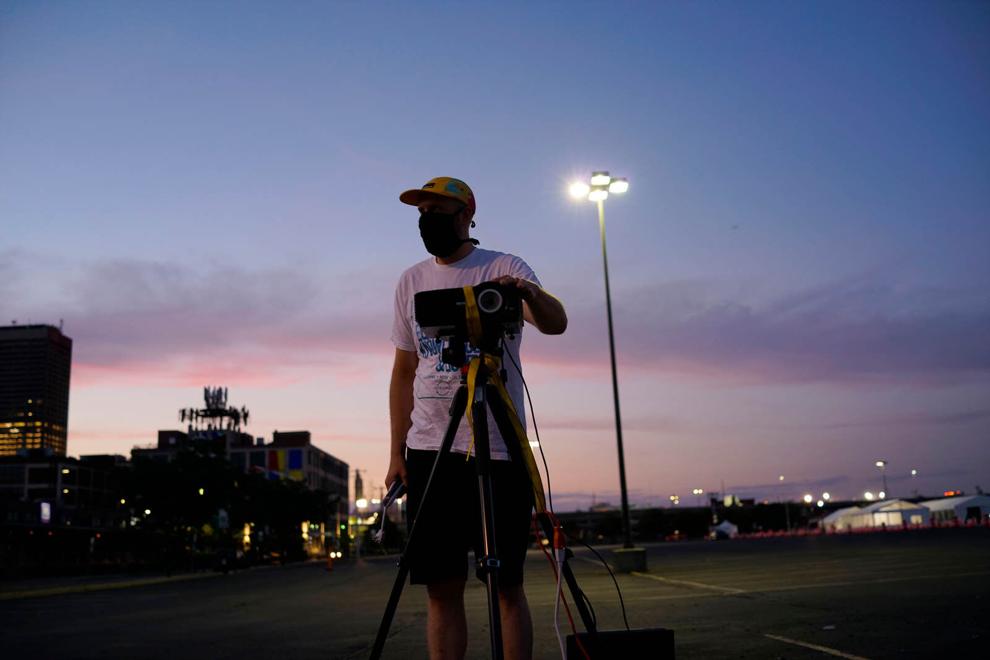 A flower blooms in the night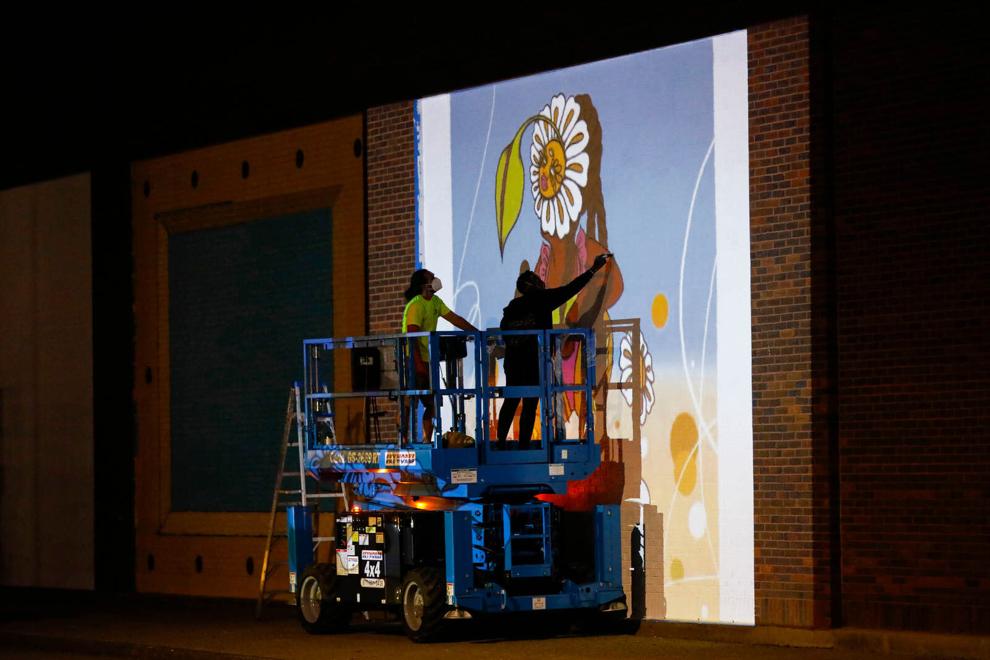 Painting by moonlight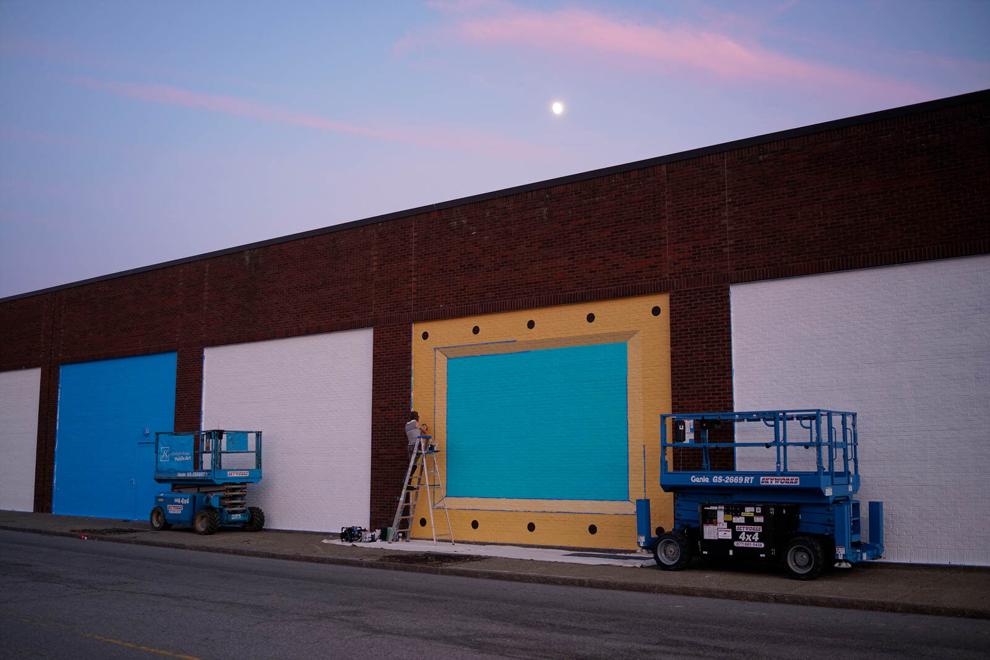 Reclining figure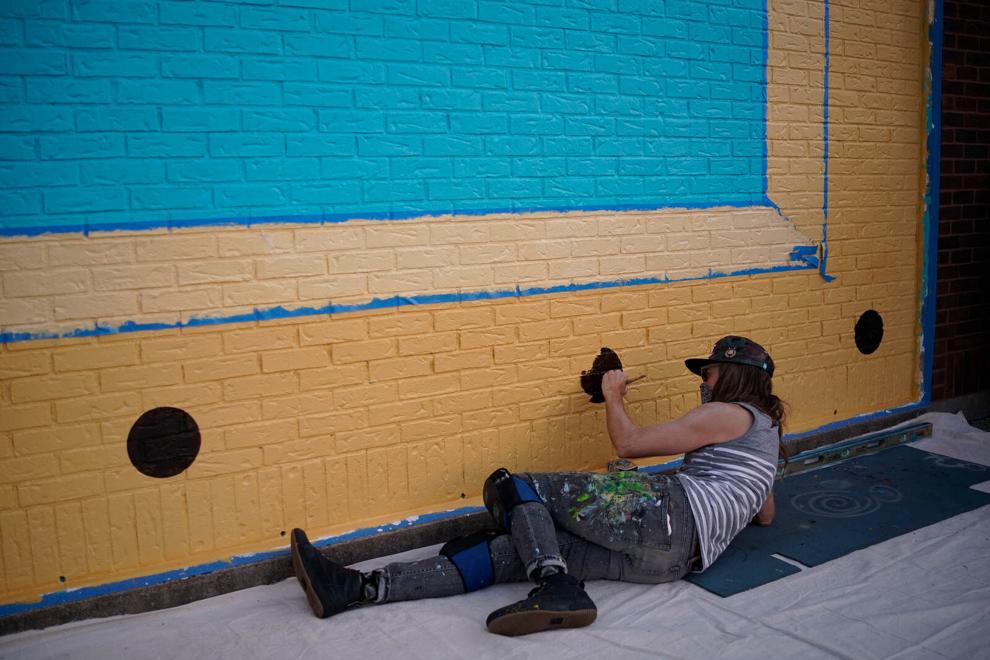 When the light turns off, the real job begins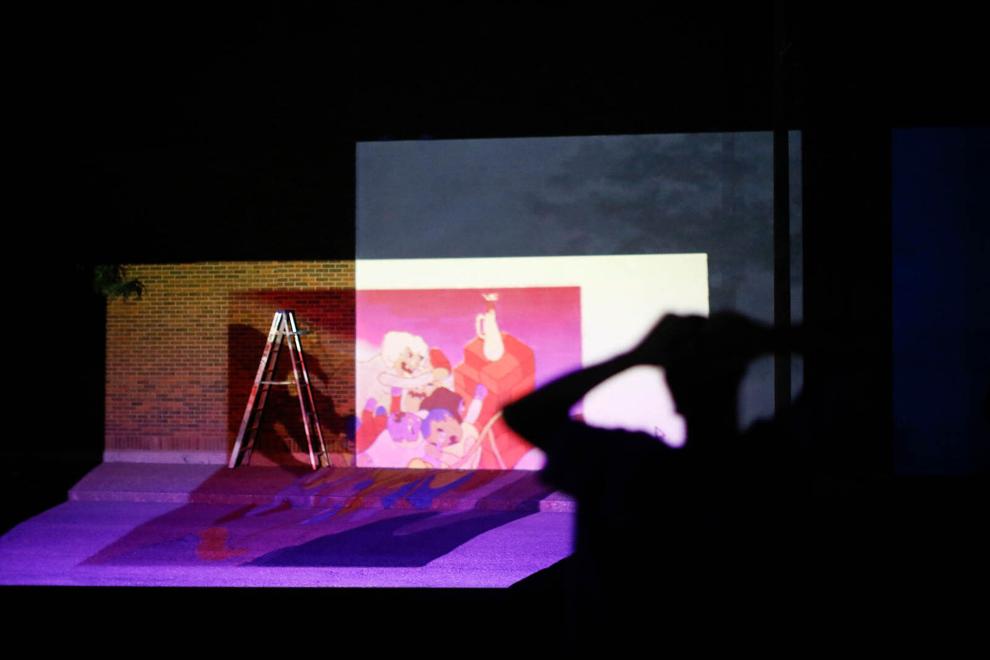 Indeed, Ott said the gallery is again pleased to fulfill its public art mission with the transit agency.
"It allows people to see something beautiful and exciting while in the midst of a pandemic," he said. "That's what public art can do right now. I'm thrilled about it."
Ott said two of the artists selected for the project hail from Buffalo, and one each from Rochester, Cleveland, Detroit and Chicago. They represent not only diversity as people, he said, but in their art planned for the terminal. He labeled one "watery," as it appears to look through the terminal to the Buffalo River beyond. He calls another "cartoony," and others abstract.
The artists will project their murals onto 17.5-by-21-foot panels set into the building's architecture, to be viewed by thousands of people congregating in the area or attending Buffalo Sabres games at KeyBank Center when Covid-19 eases.
"It's a wide variety of artists who have their own synergy, but who come together here," he said. "Each brings their own flavor to it."
Buffalo artist Obsidian Bellis, 27, is adding her first major piece of public art to the project. She researched the history and future plans for Cobblestone and also recognized the need for some life on those old brick walls.
"So I thought entertainment, I thought bright and I thought colorful," she said.
Bellis concentrates on the "ethereal," frequently employing fairies or mermaids to highlight her paintings. So she submitted "Daisy Chain," featuring a figure she calls "an acrobat or a gymnast perched on a mass of daisies."
"It's massive, but it still feels small," she said.
Bellis has worked on public art projects at Metro Rail's Utica Station and on the Albright-Knox's recent "Works from Home" program, but jumped at the chance for such a major and visible display.
"I don't get opportunities like this often. It's difficult when you're Black, so you have to work harder and way outside the box before you get there," she said. "It allows you to grow as a person. I'm just soaking up the excitement."
Other artists participating in the project include Jason Bramer of Chicago, 46, whose "view" of the river appears to "pierce the wall," Ott said. Detroiter Ellen Rutt, 31, meanwhile, specializes in abstract art.
Lauren McKenzie, 32, from Cleveland, is known as "Lady Noel," and is the first Black woman to paint a public mural there. She also worked on the "Freedom Wall" at the Cold Spring garage in 2016.
Another Buffalonian is James Moffitt, 33, whom Ott called a talented sign painter who embraced public art. And Bradd Young of Rochester, 26, who goes by the street name of "Salut," also is participating.
Ott said the NFTA proves an ideal partner because of its connection to so many people each day. The authority has demonstrated a commitment to public art dating to 1985 and its displays in what were then the new Metro Rail subway stations.
"Public art is part of what we do and it's important to have partners that remain committed to this," he said.
While Covid-19 concerns have nixed plans for the Cobblestone Live festival and events for this year, the murals should prove a major attraction when crowds hopefully gather again in 2021.
Ott could not provide a price tag for the project, but noted that neighboring companies Pegula Sports and Entertainment, Labatt USA and Savarino all contributed. He expects it to be completed by mid-August, with six more panels to be filled by new artists next year.