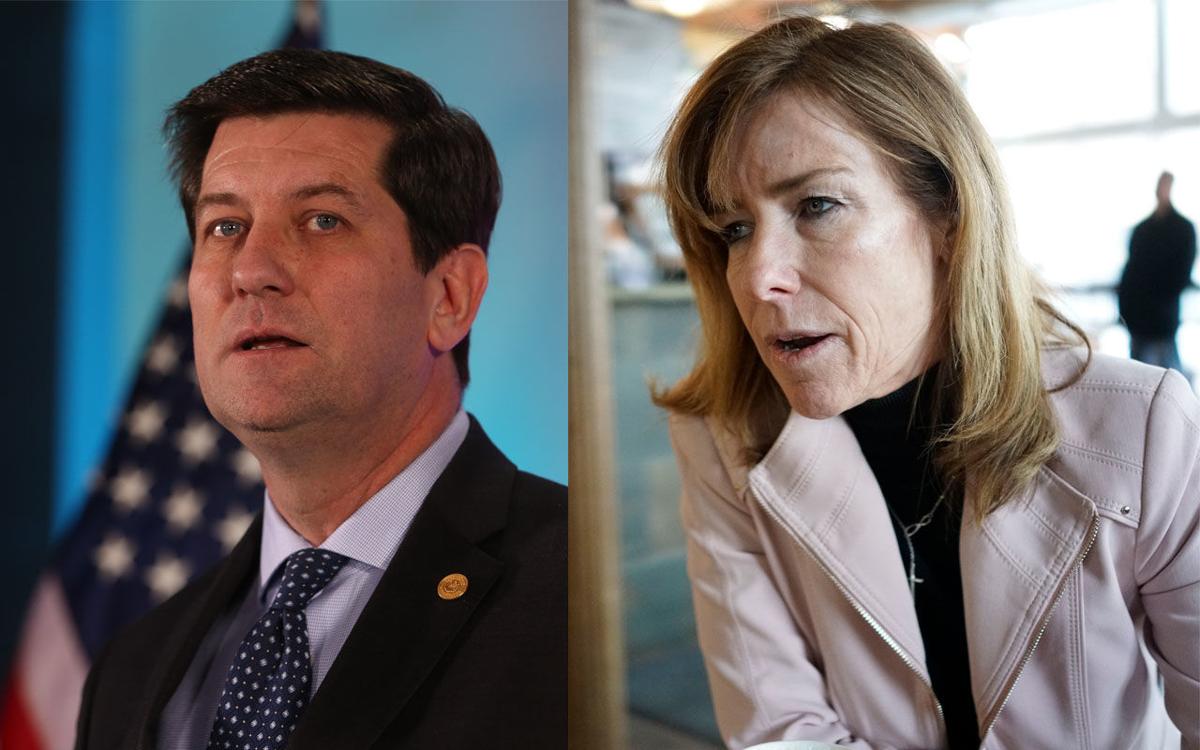 Lynne M. Dixon's campaign for county executive is touting its own poll showing her statistically tied in her race against Mark C. Poloncarz, calling it a sign the Republican-Independence candidate poses a genuine challenge to the Democratic incumbent.
The survey of 1,325 likely voters conducted June 11-12 has a margin for error of plus or minus 3.5%, and should be viewed in the context of its sponsorship by the Dixon campaign. Nevertheless, it shows Poloncarz with 42% of the vote compared to 40% for Dixon, and 18% undecided.
The campaign claims the close results indicate Dixon is mounting a competitive race even though a healthy 44% of respondents view Poloncarz favorably and 35% unfavorably. It also reports that 44% believe the county is headed in the right direction while 37% believe it is on the wrong track.
"This race is a statistical dead heat," said Ryan Munce, president of the Co/Efficient polling firm of Kansas City who directed the survey.
Dixon said Friday the poll, with a margin for error of plus or minus 3.5%, reflects what she hears on the campaign trail.
"People are looking for change and think we can do better," she said.
The Poloncarz camp, however, dismissed the survey as manipulative, dishonest and designed to produce the outcome they want.
"They want a poll to make the Republican candidate look good and the county executive look bad," said Peter Anderson, a campaign spokesman for Poloncarz.
For example, Anderson said, the poll failed to capture a large segment of the population between 18 and 34.
"It samples a very small number of people and the predominate number are older who would tend to be more conservative and Republican," Anderson said.
"It's automated. It's cheap. It's not accurate and it's dishonest. It's not the basis for any accurate poll," Anderson said. "The whole poll is designed to create a race that does not exist."
Conducted in an automated response format, the poll is now expected to loom as a selling point for Dixon as she seeks the significant campaign funds needed to overcome an entrenched incumbent in a solid Democratic county. Her political consultant, Christopher M. Grant, said the poll shows that even at this early point in the race, voters are paying attention.
He believes the numbers follow a successful campaign rollout as well as a solid stream of early contributions.
"This is clearly a much more competitive race than the Poloncarz campaign or conventional wisdom thought three months ago," Grant said.
"It's still a Democratic county, Mark is still the incumbent, and we have a long campaign ahead," he added, "but here we are in June and this shows there is a viable alternative to Mark Poloncarz."
Grant centers his optimism in results from four major suburbs often viewed as key "swing towns" – Cheektowaga, West Seneca, Lancaster and Hamburg. The subset of those towns shows Dixon leading 46% to 34%. He also points to Democratic Amherst, where she leads 43% to 40%.
Previous successful county executive candidates like Dennis T. Gorski, Chris Collins and Poloncarz have always racked up big numbers in the swing towns, Grant said. He also acknowledged that Dixon must win impressively there to compensate for Poloncarz's big advantage in the City of Buffalo, where he leads 60% to 23%.
But with no significant city-based races to draw Buffalo's overwhelmingly Democratic voters to the polls in November, the campaign believes Dixon can successfully compete by appealing to suburban voters "willing to give her a look."
"He has no coalition beyond his hard core Democratic base," Grant said of the incumbent.
Anderson, again, questioned the veracity of the poll but pointed out that despite all of its flaws "the county executive is still ahead."
The survey also measured voters on issues. While Poloncarz has emphasized creation of thousands of new jobs in Erie County on his watch, Grant finds it significant that taxes and spending lead the list of local concerns at 23%, followed by roads and infrastructure at 21%, corruption and reform at 14%.
"People think their taxes are too high and the government money spent is not put into the things government should do," he said.
Jobs and economy are down the list of hot topics at 14%.
"It's the result of a good job market. It's a workers' market right now," Anderson said. "It may not be as big an issue as when the county executive first took office, but until everyone who wants a job gets a job the county executive is not going to stop working to make that happen."
Perhaps not coincidentally, Dixon in recent weeks has also been emphasizing county infrastructure.
"It has not been addressed in the manner it needs to be," she said Friday. "Often times we seem to be playing catch up and reacting rather have having a solid plan."
Dixon faces some challenge of name recognition, according to the poll, which shows the former radio and TV reporter viewed favorably by 41% and unfavorably by 20%, Significantly, however, 38% had no opinion, meaning many may not yet know her.
The poll also measured Erie County's attitudes toward President Trump and Gov. Andrew M. Cuomo. Trump is viewed unfavorably by 50% of respondents and favorably by 44%, while Cuomo is viewed unfavorably by 53% and favorably by 36%.
Grant said he believes Poloncarz to be distancing himself from the governor in recent months, but thinks the county executive is still linked to Cuomo and liberal policies.
"The 800 lb. yoke around Poloncarz's neck is Andrew Cuomo," he said. "Conservative Democrats, in general, are unhappy with Cuomo and that hurts Poloncarz."
Dixon also claims that many Erie County voters disapprove of Poloncarz's politics, and says she will continue with the same message.
"I hear that on the campaign trail and the numbers reflect that," she said, pointing to the governor's soft numbers and her support in the more conservative swing suburbs.
Grant said the poll would be filed with the Erie County Board of Elections for public viewing.
-Staff Reporter Jay Rey contributed to this article.