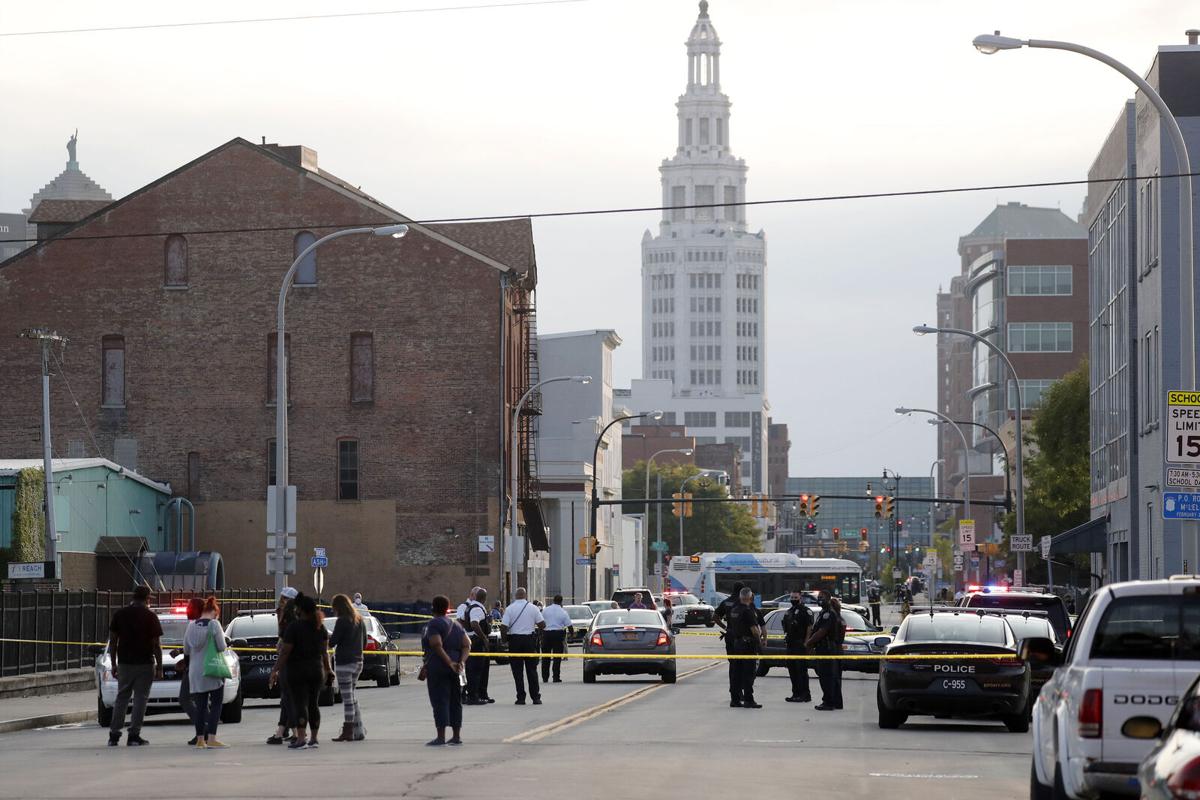 Just before 3 p.m. on Sept. 12, a call came into 911 from someone at or near the Lafayette Hotel on Washington Street about a man having a mental health crisis.
Fifteen minutes later, a Buffalo police officer shot a 60-year-old homeless man nearly a mile away as, according to police, he tried to hit another police officer with an aluminum bat. The officers are under investigation. The man is recovering at the hospital and has been charged with assault.
The shooting of Willie N. Henley, which came after months of nationwide protests against racism and police brutality and the release earlier this month of video showing the death of Daniel Prude in Rochester, has sparked new protests in Buffalo and demands to reduce interaction between police and people having mental health emergencies.
Entries into the police "Computer-Assisted Dispatch" system of the incident, an account by the officer's attorney and another account by a witness who recorded part of the incident on a cell phone show what happened:
Henley had been in an agitated state for hours before police were called to the scene, according to dispatch records.
Multiple police officers followed Henley for five blocks – about 3/10ths of a mile – as several witnesses followed in the moments leading up to the shooting, according to a witness.
An police officer who was on her third day out of the academy tried to hit Henley with an extended metal baton and was hit by Henley three times before her field training officer fired two shots at him, according to the field training officer's attorney.
The initial information that went out to Buffalo Police through the "Computer-Assisted Dispatch" system at 2:55 p.m. stated: "OLDER BLACK MAN/ STRIPED SHIRT/ BEEN SHOUTING FOR ABOUT 3 HRS"
It's what police officers see on their laptops inside their vehicles. The entries show the police what a call is about and any details, as well as who is being dispatched and to where. The Buffalo News obtained a log of the dispatch entries regarding the Sept. 12 incident.
The call was categorized a minute after being first logged in as a "mental health crisis." The first location sent to police officers was Ellicott at Genesee streets.
Four patrol vehicles were dispatched in the next three minutes.
A location was then given at 3 p.m. "oak twds gene." Oak Street toward Genesee.
A minute later, the dispatch system shows these entries: "has a bat in his hand" then, "highly irrational male screaming."
Locations entered into the system show the police movements as they followed Henley: Genesee at Elm Street at 3:02 p.m. Then Michigan at Genesee at 3:03 p.m.
Another patrol vehicle was dispatched to the scene.
At 3:04 p.m. the location given to police is Genesee at Ash Street. That would be the eventual location for where the shooting was reported.
Next, police were told that an ambulance and Buffalo fire are "stepping it up."
A 911 lieutenant was notified, the computer system showed. Next, a lieutenant with B district, also known as the Central District, where the call originated, was also notified. The system showed that cars from C district were also en route.
At 3:07 p.m. there is an entry noting that tape has been put up at Genesee and Ash. A minute later, another B district car was dispatched.
At 3:09 p.m. a misspelled entry reads "perso shot gene@ash." Person shot Genesee at Ash.
On Sept. 12, Buffalo Police Officer Karl Schultz was riding with Officer Alyssa Peron, who was on her third day on the job as a Buffalo cop. Rookie officers are routinely paired with more seasoned officers who are designated as their field training officer.
Their patrol vehicle was among the first dispatched to Genesee Street regarding Henley that afternoon, according to attorney Thomas H. Burton, who is representing both officers.
While at Genesee and Ash streets after following Henley from Ellicott Street, Peron "made a move to use an expandable metal baton to strike (Henley) in the abdomen and then take him down," Burton said.
Henley, who was carrying a bat, allegedly hit Peron three times, once knocking her radio mic from her shoulder, once hitting her in the hand and once in the forearm, according to Burton.
Henley "was winding up to hit her, like in a baseball stance, and that's when Karl (Schultz) fired two shots," Burton said.
One bullet hit Henley in the abdomen. He remains at Erie County Medical Center where he was arraigned virtually Tuesday on assault and weapons charges. Henley's supporters blasted Erie County District Attorney John Flynn for filing charges against Henley and have called for Flynn, Mayor Byron Brown and Police Commissioner Byron Lockwood to resign.
Schultz and Peron were put on administrative leave, which is standard protocol by the department following such an incident.
Burton noted that none of the police officers at the scene had Taser stun guns, which could have provided an alternative to shooting.
"The absence of a Taser does not change whether Officer Schultz's use of deadly force was justified," Burton said. "But in this instance it would have been a good option. ... Even blocks before, it would have been a good option."
Edwin Warnes, a photographer from Blasdell, was downtown that afternoon looking for an art installation that was underway when he got lost and ended up on Genesee Street, he told The News in a phone interview.
That's when he noticed a police car in the middle of the street.
Then he said he saw someone roll onto the ground. He said he couldn't tell if it was a police officer or Henley.
He parked his car and started following a group of police officers as they followed Henley, recording the incident on video. He later posted it to Facebook.
"There were sirens everywhere and police coming from all sides," he said.
Warnes said he could see Henley had a bat but he never saw him swinging it.
"I could see in his eyes he was in distress. He looked at me. ... You can see the cops have their guns drawn on him. They were saying 'put the bat down.' "
Warnes followed the police and Henley along Genesee Street for several blocks from a distance. He can be heard talking to a woman as they questioned why there were so many officers following him and why they don't just grab him. 
"I'm sorry. 10 cops for one guy?" Warnes said in a later interview. "There was so many viable options other than shooting ... " There were several areas of grass that they could have just tackled this man." 
The video does not capture the shooting, but two shots can be heard on the video.