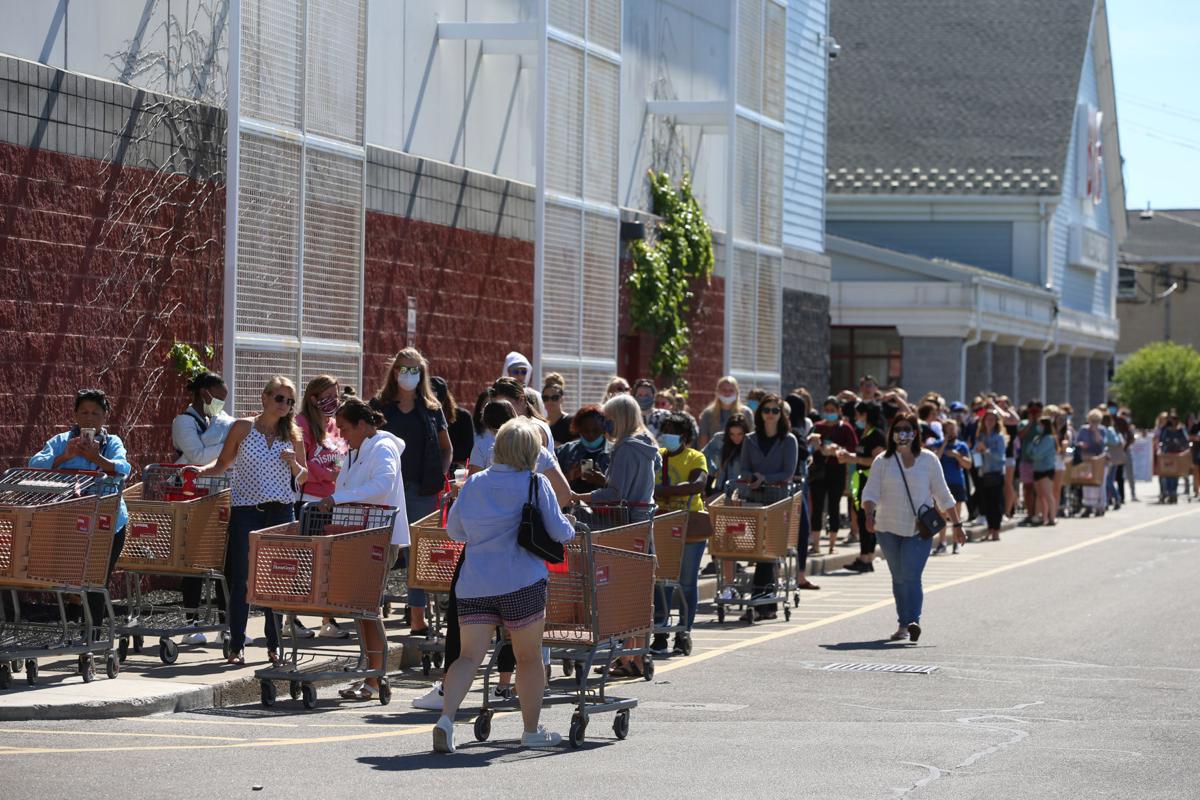 Western New Yorkers have been pining over Costco and Ikea for years. So far, they've said we just don't have what they're looking for.
But when it comes to West Virginia-based off-price chain Gabe's, the Buffalo Niagara market couldn't be a better match. It may not be Costco or Ikea, but it is sure to be the new favorite store many area shoppers didn't even know they wanted.
Buffalonians' love for bargains – the same penchant for low-prices that has fueled high sales at stores like TJ Maxx, HomeGoods and Burlington – has lured the Gabe's chain to Erie County. It will bring its first two New York stores to the former Hobby Lobby at Dick Road and George Urban Boulevard in Cheektowaga and the former Kmart on South Park Avenue in Hamburg this summer.
They will have a built-in customer base among shoppers who have discovered Gabe's elsewhere in the country. More than one reader has told me they always make time for a trip to Gabe's when traveling through Erie, Pa.
Over the last decade, off-price stores such as Gabe's have emerged as the most successful retailers, according to Eric Recoon, vice president of development and leasing at Benderson Development, which will lease properties to the two planned stores. TJX Cos. stores TJ Maxx, Marshalls and HomeGoods – which Gabe's has been compared to – have been particularly successful.
Gabe's, a West Virginia-based off-price chain, will open its first two New York stores in Hamburg and Cheektowaga. 
It's that heady mix of discount pricing, quick merchandise turnover and packed-to-the-gills variety that is like catnip for Buffalo Niagara shoppers.
Gabe's uses the same recipe for success and has been compared to all three stores. Trucks arrive at Gabe's with new deliveries at least twice a week, and new merchandise is put on shelves every day. It's why Benderson has fought so hard to bring the chain to the local market.
"Shoppers love the 'treasure hunt' associated with the ever-changing product mix from store to store," Recoon said.
https://buffalonews.com/business/local/this-is-therapy-hundreds-crowd-line-at-tj-maxx-homegoods-reopening/article_3e3b2e24-3aae-5fc7-85ee-fa7fbfee02ac.html
Here are some ways to stay toasty this winter for less.
That type of store has done even better during the pandemic.
Anecdotal evidence bears out the stores' popularity. Hundreds of people lined up at the combination TJ Maxx and HomeGoods store on Sheridan Drive in Amherst when it reopened in June. For months afterward – and even now during the busiest hours – shoppers continued to wait in lines to get in, even in the rain.
Sales at TJ Maxx and Marshalls were down just 5% in the last quarter, while other retailers have seen dramatic losses or gone bust. Like TJ Maxx and Marshalls, Gabe's features name brand clothing at cut-rate prices. Recent shoppers have landed such deals as a $10 Calvin Klein denim jacket and a $2 pair of Lauren Conrad pants.
At home furnishings store HomeGoods, things were even more impressive: Sales were up 15%. That doesn't include online sales, which have buoyed other retailers, because HomeGoods doesn't sell online. (Another bonus for retailers and landlords: stores that require a treasure hunt drive foot traffic).
Higher prices at the supermarket have us all on the hunt for savings. Here are a few things to try.
Consumers have fewer choices among home stores – especially ones such as HomeGoods that sell a broad variety of unique housewares at deep discounts. That's where Gabe's comes in. While its furniture offering is less extensive than the selection at HomeGoods, you will find end tables, ottomans, bedding, carpets and lamps; along with cookware, utensils and a big selection of home decor, such as mirrors, wall art and table decorations. There are also lawn and garden finds, floral and bath goods such as towels, shower curtains and bath mats.
Gabe's also sells deeply discounted footwear, electronics, pet supplies, beauty and wellness products and snacks.
But perhaps the most exciting thing for Western New Yorkers, who love their Kohl's Cash and J.C. Penney Rewards, is Gabe's reward program. Shoppers accumulate one point per dollar and receive $5 off every $50 spent.
Gabe's couldn't have picked a more amenable market than Buffalo Niagara.