A Rochester developer plans to buy the former Lowry Middle School in North Tonawanda and convert it into 87 apartments for low-income senior citizens.
The $20 million project could start next year, and construction could take about 18 months, said Ryan Brandt, project manager for Rochester's Cornerstone Group
The plan drew positive reviews from aldermen at a Common Council workshop Tuesday.
However, the question of a payment in lieu of taxes, or PILOT, for the Payne Avenue edifice is the main sticking point.
Council President Robert E. Pecoraro named 2nd Ward Alderman Frank DiBernardo and City Attorney Luke A. Brown as the city's PILOT negotiating team.
"I want this property developed," DiBernardo said at the meeting, "but we've got to look at what's in it for the City of North Tonawanda."
Cornerstone's initial proposal was to make a 30-year deal with an annual PILOT payment of 3% of its gross rent for the building. But that would work out to $4,000 less per year than the total taxes paid on the building now, Pecoraro said Thursday.
The company's team gave the Council an estimate of $970,000 in rents for the building at full occupancy, minus its utility costs.
The current owners, a limited liability company from Long Island, pay a total of about $30,000 a year in city, county and school taxes, DiBernardo said.
"Right now you're throwing 3% at it, and that might not be good enough for a guy like me," DiBernardo told Brandt.
Developers have been converting former schools into apartment buildings in Western New York for years.
The 113,000-square-foot, three-story Lowry building was originally constructed in 1925 as North Tonawanda High School.
After the current high school opened on Meadow Drive in the 1960s, the building became Payne Junior High School and later Lowry Middle School.
It closed 17 years ago, and in 2005 city voters approved the school district's $700,000 sale of the building to 621 Payne Avenue LLC, owned by Long Island educator Kevin Gersh. The deal closed in February 2007 after litigation to force Gersh to come up with the money.
"It's brought nothing to the city but being an eyesore," Pecoraro said.
Savarino Development suggested a senior housing project in the building in 2017.
Brandt said Cornerstone has worked on the project for about 18 months. It signed up Savarino Construction Co., Silvestri Architects and Preservation Studios to work on the project.
The exterior of the building wouldn't change much, which Brandt said is the primary concern of the State Historic Preservation Office.
Inside, there is much to do, starting with pumping water out of the basement, Brandt said. The school's old swimming pool would be filled in and the parking lot would need to be expanded, he added.
Low-income housing and historic preservation tax credits would be major parts of the project's financing, Brandt said.
He told the Council that the company wants the PILOT ironed out as quickly as possible, in hopes of moving ahead of other projects in the line for state incentives.
"We owe it to the residents and ourselves – and we're all residents – to make sure the deal is right," DiBernardo said.
"We want to give seniors an option on rehabilitating that building, and also a place where they can have some affordable housing in North Tonawanda," 3rd Ward Alderman Eric M. Zadzilka said.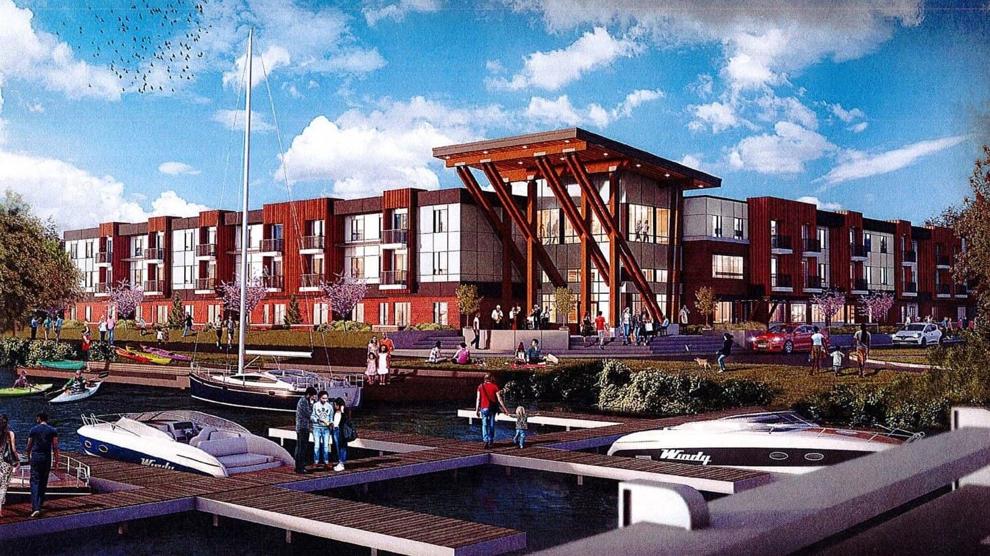 North Tonawanda has another major PILOT in the works. On Aug. 3, the Council approved the concept of making such an agreement with Pennrose LLC of Philadelphia, the city's designated developer for the former firefighters' training tower site on Tonawanda Island.
The 3.1-acre project, to be called Timber Shore, will include 70 apartments and some retail space.
Pennrose proposed a PILOT of $14,000 a year, or $200 per apartment, with the payments increasing by 2% each year. The terms of the PILOT have not yet been worked out and would be subject to a future Council vote, Pecoraro said.