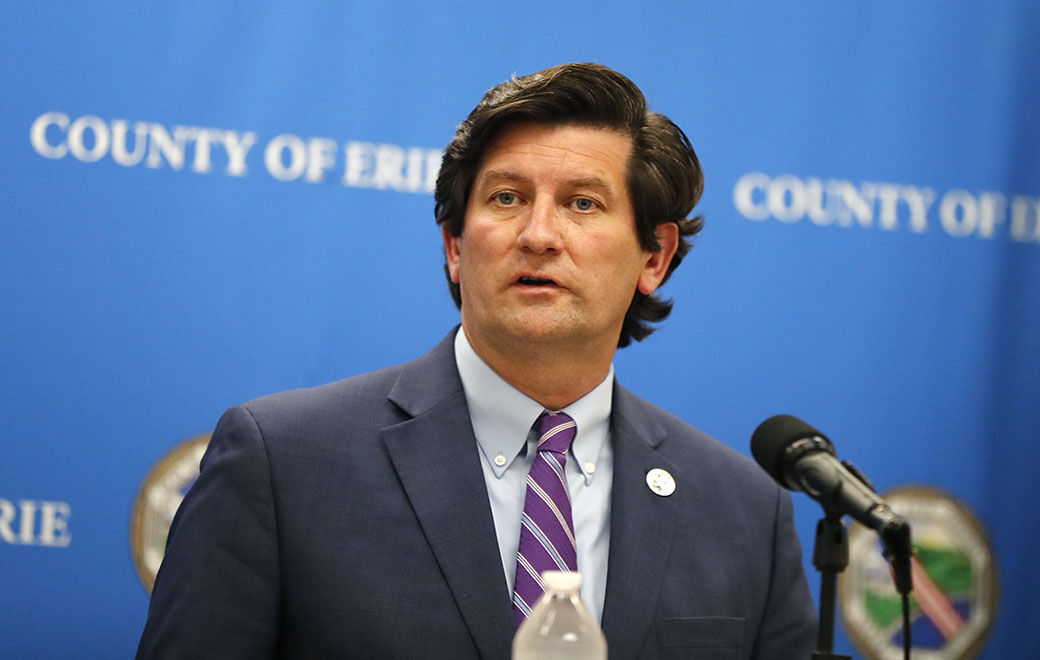 The dreaded shutdown of Western New York doesn't appear imminent. But if not now, then when?
With hospitalization numbers still climbing – but not at the same vertical trajectory – area leaders and data crunchers can only offer some educated speculation as to what will go into the state's magic formula for deciding a region might reach 90% hospital capacity within three weeks and move into the red zone.
"You could trend it out, but that assumes patients are coming into the hospital and leaving at the same rate," said Dr. Peter Winkelstein, executive director of the University at Buffalo's Institute for Healthcare Informatics, who has been working with his team to try and forecast the impact of higher cases on hospital admissions. "Things could slow down and throw things off."
The percentage of hospital beds being used in the Western New York region, on a seven-day average, is 73% as of Wednesday, according to the state. Erie County Executive Mark Poloncarz said Erie County's snapshot hospital bed capacity as of Tuesday was 84%. That's six percentage points higher than it had been the previous Wednesday.
"We are getting to a point now where we're very concerned," Poloncarz said.
The 436 patients hospitalized in Erie County as of Tuesday represent the highest number of patients hospitalized for Covid-19 since the start of the year. The number hospitalized for the five-county Western New York region totaled 537 as of Wednesday, also another daily record.
But things aren't moving entirely in a straight line.
Before the pandemic, some hospitals found it difficult to recruit new nurses and aides. Now, the current surge will put even more pressure on workers.
If they were, and the last week of data could be projected three weeks forward, Buffalo News data show the Western New York region could be in danger of surpassing 90%, forcing a shutdown of all non-essential businesses.
But Erie County hospitalization numbers have fluctuated in recent days, and a few signs exist that the rate of hospitalization growth is starting to taper.
There could be several reasons for this.
First, health experts have long anticipated that the viral spread over the Thanksgiving holiday would likely yield a delayed surge in hospitalization numbers. We are only now starting to reach the later part of that cycle, after which it's possible hospitalization rates could flatten out a bit more.
Gov. Andrew Cuomo had expressed a desire to wait a couple of weeks to assess the impact of that surge on the state and Western New York region.
Second, the restrictions imposed by the orange zone may also have a quelling affect on the hospitalization numbers. Health Commissioner Dr. Gale Burstein highlighted charts produced by Winkelstein's team that show a slight, downward bend in the hospitalization numbers, assuming little else changes.
"It looks like there was some effect from the orange zone," she said Thursday. "You can see that from the curve, although it's still increasing. It seems like it's flattening out a bit."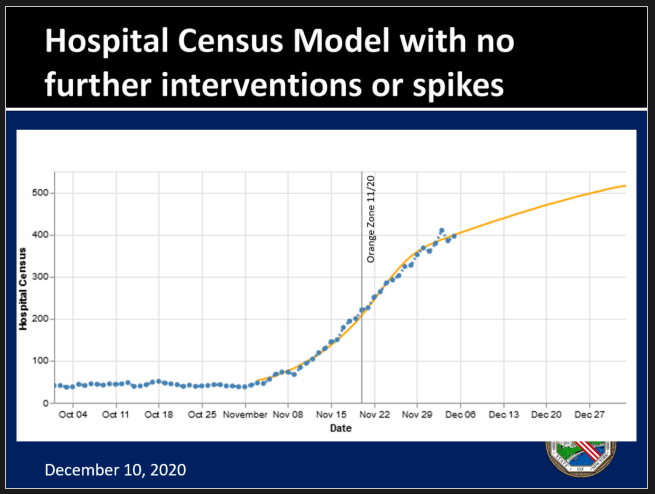 If the community takes further action to help stem the spread of the virus in light of the avalanche of warnings in recent weeks, that trendline could fall even further, said both she and Winkelstein. Few experts, however, have a rosy outlook on the winter months ahead.
"Our models say we can expect to see an increase in hospitalizations for a while," Winkelstein said.
Winkelstein said the Erie County hospitalization percentage has gone down to 70% occasionally, but hasn't surpassed 80%, as a seven-day average.
"From a trend standpoint, we've been pretty steady for the month of November," he said. "We're sitting at 75% capacity and kind of staying there."
"This treatment isn't for everybody," said the chief of Niagara Falls Memorial Medical Center's infectious diseases division.
Cuomo has given no indication to Poloncarz within the last two days of any shutdown announcement coming this week. If anything, the opposite is true.
Cuomo has been hinting this past week about easing up some restrictions on businesses. He has publicly indicated, based on information that has been gathered by contact tracers across the state, businesses such as salons and gyms appear to have made modifications that reduce the likelihood that these businesses are major spreaders of Covid-19.
Poloncarz supported that assessment Thursday.
"It just doesn't seem to be a driving factor, and that information has been shared with the state," Poloncarz said. "It's possible the governor will make changes effective tomorrow. I know a lot of people would be very happy if he did. That doesn't mean we need to let our guard down."
He pointed to data Thursday that indicates Covid-19 infections now appear to be spreading faster in smaller, less populated rural communities than in the city.
Nothing erases the fact that people are being admitted to local hospitals faster than they are being discharged. 
This includes sick patients being admitted for a variety of reasons, not just Covid-19. The onset of fall and winter typically yields more ill patients for a variety of reasons, according to infectious disease specialists. Individuals being admitted for Covid-19 simply add another layer.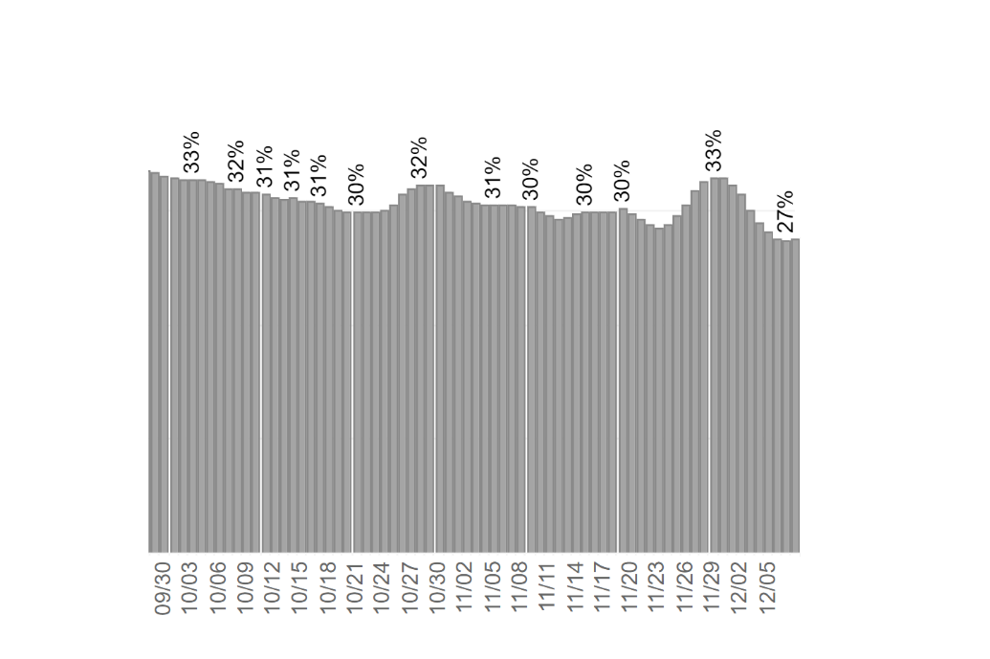 While hospitals have gotten better about treating and discharging infected coronavirus patients, it is not happening fast enough, hospital leaders say. And some of the reason that hospitalization beds are opening up is that sick patients are dying.
In the past two weeks, Poloncarz has been announcing Covid-19-related deaths by the dozens, though not all those deaths came from hospitals.
On Thursday, he announced another 23 Covid-19-related deaths since his last fatality report on Monday. Those figures did not include more deaths Poloncarz was aware of for Wednesday. Total Erie County deaths stand at 925.
"It just isn't about hospital capacity," Winkelstein said. "If you have more patients in hospitals, it means, unfortunately, that more people are going to die. The fatality rate is about 10 percent, which is better than the spring. But at 10 percent, we're going to see a lot of deaths.
"If we save lives now ... a life saved now is a life saved, because we have the vaccine coming."