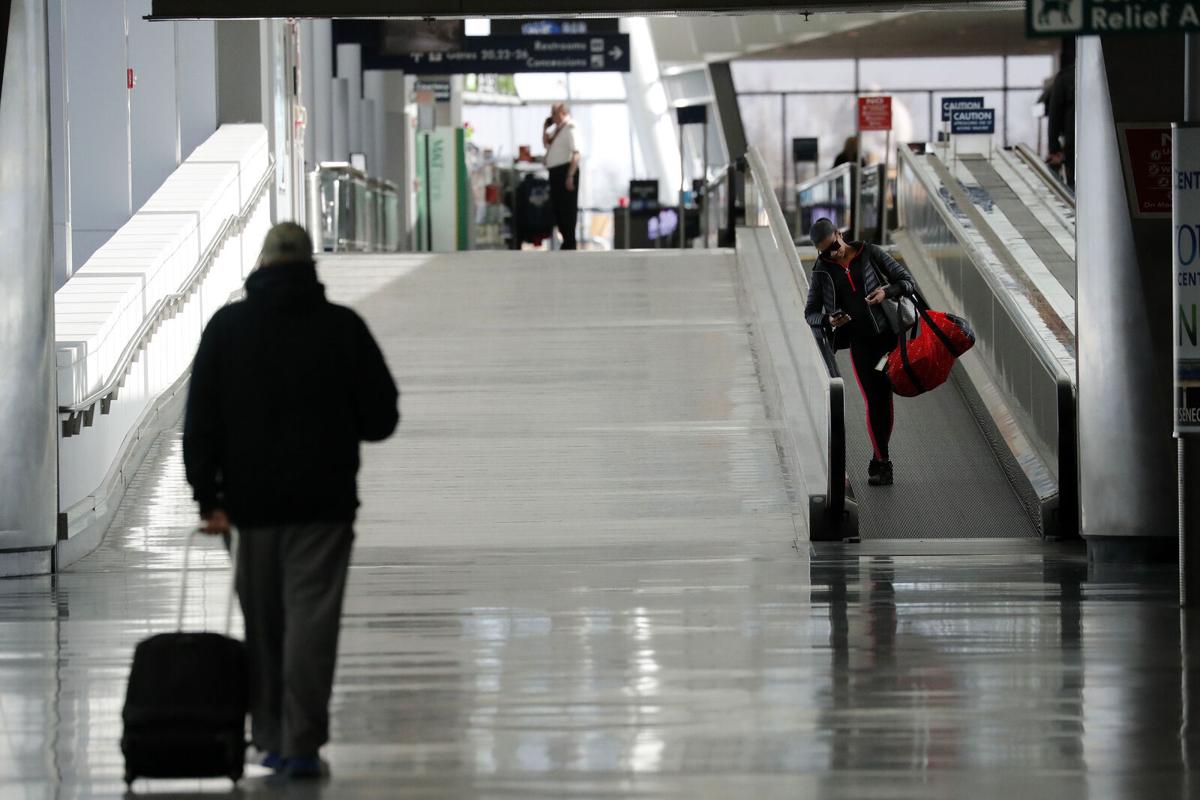 Even as a hint of normal passenger levels returned to Buffalo Niagara International Airport over Easter weekend, officials there can only shake their heads at "what might have been" with an open border to Southern Ontario.
For sure, airport managers were thrilled last Thursday when around 4,000 people passed through the Buffalo terminal, far above the 788 from just a year ago when Covid-19 fears all but grounded air traffic. And across the country, air travel has witnessed a slow uptick as new vaccines ease fears of flying. Indeed, Transportation Security Administration officials say the agency screened 1,580,785 people at airport checkpoints nationwide on Friday, the highest checkpoint totals since March 12, 2020.
But the national mini-surge was only partly felt in Buffalo, where there was nowhere near the 9,000 air passengers that might normally board flights on a peak day over the Easter weekend, according to Helen Tederous, spokeswoman for the Niagara Frontier Transportation Authority.
Buffalo missed out because of the lack of normal Canadian customers due to the border closure, with the prospects for reopening taking another hit Wednesday when Ontario Premier Doug Ford announced another state of emergency there, its third since the pandemic began. 
In pre-pandemic times, airport parking lots are jammed with cars sporting Ontario license plates. But since the border has been closed for more than a year to halt the spread of the coronavirus, even the holiday onslaught failed to get Buffalo airport totals anywhere near normal.
"We saw a pretty good bump," Tederous said. "It was promising, but there's still that 30% out there, and we're missing it a lot."
Airport officials have long marketed the Cheektowaga airfield to Ontario travelers as an alternative to crowded Pearson International in Toronto, citing its ease in parking and access. During some periods, more than 40% of license plates surveyed in Buffalo airport parking lots hail from Ontario.
But only commercial traffic has been allowed to cross the Niagara River into New York since March 25, 2020, and as a result, passenger traffic on the Peace Bridge alone (some of it bound for Buffalo airport) has plummeted by about 93%.
The continued slowdown at Buffalo airport represents only a fraction of the concerns expressed by members of Congress like Rep. Brian Higgins, D-Buffalo, who has been outspoken about the need to reopen the northern border's international crossings.
"The proximity to the border makes the Buffalo and Niagara Falls airports affordable and practical options for Canadian travelers," Higgins said Tuesday. "While travel is finally seeing an increase thanks to vaccine availability, airport operations in Western New York won't be made whole until the significant Canadian customer base returns.
"This is yet another example of our interconnected binational economy and reason why we need a plan to reopen the border," he added.
Prospects for the resumption of cross-border traffic anytime soon remain uncertain, however, especially in light of Ontario's highest Covid-19 positivity rate in three months reported by provincial officials on Tuesday – more than 3,000 new Covid-19 cases and eight deaths, according to a CP24 news report. Hospitalizations also have recently increased in Western New York.
Still, some signs of renewed activity are appearing as domestic air travelers begin trickling back to the Buffalo airport. Officials noted reinstitution of regular parking rates on April 1 after some lots were entirely closed because of the drastic reductions in airport customers.
But Tederous also noted on Tuesday that only two of the airport's six restaurant concessions – Queen City Kitchen and the Market on Elmwood – are open.