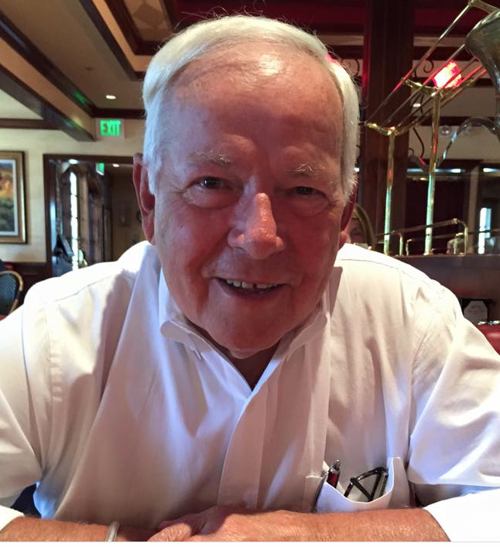 This is part of a series of stories on Western New Yorkers who have died from Covid-19. Read more at "Profiles of a Pandemic."
Richard L. Odien never forgot the 1954 fire that took the lives of 15 of his sixth grade classmates in Cleveland Hill Elementary School. In fact, he told their story to educate youngsters in the Depew school district, where he taught for 27 years.
He served on the planning committee for a memorial to the youngsters who lost their lives. At its dedication, he told a reporter, "When I was a teacher and my fifth graders went outside for a fire drill and were talking and laughing, I would bring them back in and tell them about this fire. Every year, I would tell them about this fire."
Odien, a beloved teacher, coach and stage manager for musicals, died Dec. 21, 2020, in Buffalo General Medical Center after being diagnosed with Covid-19 while being treated for an unrelated medical issue. The Clarence Center resident was 78.
Odien, known as "Dick," was born in Buffalo on Nov. 25, 1942, the first of two sons of Laverne W. and Lorraine Odien. A member of the class of 1960 of Cleveland Hill High School, he earned a master's degree in education from SUNY Buffalo State.
He served for four years in the Air Force, and was stationed at Elmendorf Air Force Base in Anchorage during the Great Alaskan Earthquake of 1964.
On April 20, 1968, he and Joyce S. Masi married in St. Joseph's Old Cathedral in Buffalo.
Odien started in the Depew school district in August of 1971. He worked there for 27 years before retiring in June 1998, teaching mostly fifth and sixth grades. He also coached girls swimming and diving at Depew High School, and was faculty stage manager for the annual high school musicals.
His family has received hundreds of tributes from students – some of whom didn't even have him as a teacher, but wished they had.
Over the years Odien kept in touch with many former students, said his son, Marc Odien, many of whom recalled his kindnesses and encouragement as being turning points in their lives.
Marc Odien's partner, Alison Burke, recalled that if Odien encountered a former student, as he often did, "he would remember very specific things about students; it was uncanny how he could remember a face, even a student he'd had years and years before. He had a very keen interest in keeping up with his students and learning of their successes in life. He was proud of his students."
Even after retirement, Odien enjoyed cheering on the Depew football and basketball teams and assisted with the school play. "He was very well-loved over there," Marc Odien said.
He was also supportive of his children's activities.
"Anything we did, he was right there," said his son. "He was my baseball coach, and he was the Town of Amherst hockey registrar when I played hockey."
An avid golfer who spent winters in Fort Myers, Fla., Odien loved "everything Disney," his son said. "He was a character, larger than life."
In 1999, Odien was named president of the board of trustees of Mount St. Mary Academy in the Town of Tonawanda, and helped prevent the school from closing.
Besides his son, Marc Odien, he is survived by a daughter, Jennifer Odien, and a brother, the Rev. Terry Odien.
A private service has been held and a Mass and memorial service will be held in the future.
The Buffalo News is publishing stories about people from Buffalo Niagara who have died due to Covid-19. Please contact The News at citydesk@buffnews.com if you know of someone whose story we should tell.