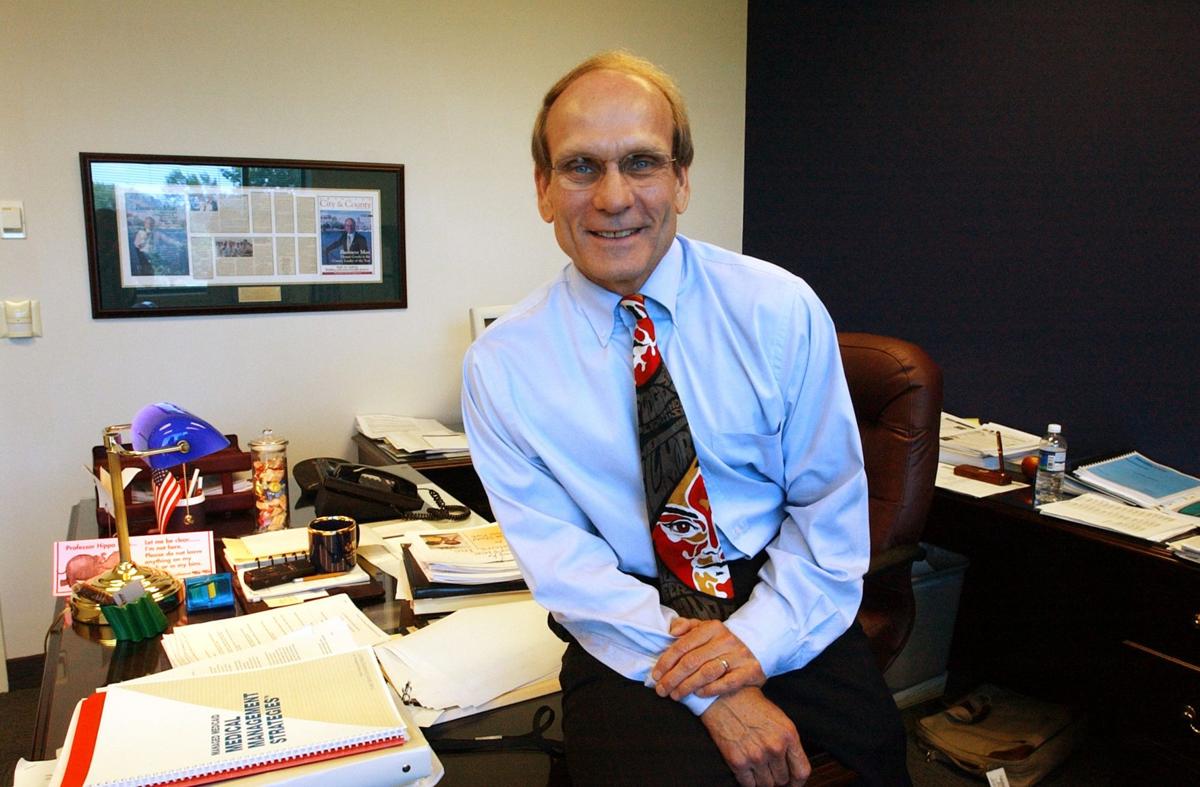 July 20, 1944 – July 4, 2021 
Dennis T. Gorski was a tenacious campaigner.
He knocked on an estimated 15,000 doors to win a seat in the New York State Assembly in 1974, and knocked on thousands more when he ran for a successful third term as Erie County executive in 1995.
In a political career that spanned three decades, that doggedness and a reputation for competent and efficient leadership also carried Mr. Gorski into the Erie County Legislature and, at the end of his life, onto the bench as town justice in Cheektowaga Town Court.
On Sunday, Mr. Gorski, the first Democrat to be elected county executive, died at his home in Cheektowaga from Parkinson's disease, which he developed from exposure to Agent Orange more than a half-century earlier during the Vietnam War, where he served as a captain in the Marine Corps. He was 76.
"He died on the Fourth of July – that's apropos for Dennis," former Mayor Anthony Masiello said. "He loved our country and to pass on America's day is a tribute to him."
Among Mr. Gorski's accomplishments were bringing the World University Games to Buffalo, which led to sports facilities being built at Erie Community College and the University at Buffalo, and helping the Buffalo Sabres finance the arena now known as KeyBank Center, which kept the team from moving.
"Dennis did his job, and he did it terrifically in terms of balancing budgets and being an excellent administrator," former Assembly Majority Leader Paul Tokasz said.
Tokasz was campaign manager during Mr. Gorski's second and third terms as county executive, and succeeded him in the Assembly. They were also lifelong friends and former neighbors.
"He was honest and truthful – just a very standup guy," Tokasz said.
Mr. Gorski grew up in Kaisertown and graduated from Bishop Timon High School, where he was the starting catcher on the baseball team. He came by politics honestly – his father, Chester C. Gorski, was a former Buffalo City Council member and served in the U.S. House of Representatives.
Mr. Gorski attended LeMoyne College in Syracuse and earned a bachelor's degree in English. After graduating, he enlisted in the Marines and attended Marine Officers Candidate School. He was commissioned as a second lieutenant before serving as a platoon commander and in an infantry role in Vietnam.
"Dennis fought for his country, for the taxpayers of Erie County, he fought for a better life for the people he represented and worked for," Masiello said. "I'll always remember Dennis for being passionate for public service, and even more passionate for his family and the legacy of his father and his brother."
Mr. Gorski first entered politics when he won a seat in the Erie County Legislature in 1972. He next was elected to the State Assembly, where he served until 1987.
A conservative Democrat, he regularly was cross-endorsed by the Conservative Party.
That was noted by County Comptroller Stefan Mychajliw, a Republican, in mourning Mr. Gorski's passing.
"Mr. Gorski was a conservative Democrat that regularly reached across the aisle to deliver results to taxpayers," he said. 
Mr. Gorski won his first term as Erie County executive by handily beating Republican Edward Rutkowski in 1987 after first securing the Democratic Party nomination in an upset over party favorite James P. Keane, a member of the Buffalo Common Council.
Four years later, Mr. Gorski easily beat the Republican nominee, Buffalo Mayor Jimmy Griffin, to win the Democratic primary and secure a second term. But an attempt to succeed Democrat Henry Nowak as a congressman led to a general election defeat to Republican Jack Quinn.
Mr. Gorski won reelection to a third term as county executive in 1995 by beating Republican Lucian J. Greco.
Sheila Kee, his budget director for 10 years, said he was someone special to work for.
"I was so proud to work for him," Kee said. "I was a young girl when I was appointed and he placed great faith and confidence in me. He was so candid and honest, and always a joy to work for."
Mr. Gorski had a reputation for seeming a bit wooden, but Michael Hughes, communications manager for his third term, said there was more to his personality than what the public saw.
"The Dennis I knew had a wicked sense of humor, a huge competitive side to him, was an incredible family man and just loved serving the public," Hughes said.  
"He wasn't flashy, but he was a great administrator," said Sam Hoyt, who served  in the Assembly when Mr. Gorski was county executive.
In 1998, Mr. Gorski was named county leader of the year by American City & County magazine, but lost a bid for a fourth term as county executive to Republican Joel Giambra.
In a statement, Erie County Democratic Chairman Jeremy Zellner noted: "I once called Dennis Gorski the 'gold standard' of public service ... (he) was devoted to ideals above ideology, and believed in government that was at once fiscally responsible and compassionate." 
Nevertheless, there were stumbles. Mr.  Gorski's vision for the county's waterfront led to the creation of the Horizons Waterfront Commission, a regional planning effort that came to a halt when Gov. George Pataki pulled the plug on it. Some Democrats also felt Mr. Gorski favored suburban and rural issues over urban concerns.
Mr. Gorski returned to elected office in 2014 when he won a four-year term as Cheektowaga town justice. He chose not to run for reelection in 2018. 
After his last term as county executive, he worked for nine years as a vice president for HealthNow, the parent company of Blue Cross Blue Shield of Western New York. He later was a senior adviser for McCullagh Coffee Co.
Attorney Robert Fine marveled at Mr. Gorski's preparation, whether in government or in the jobs he took afterward, when he read up on health insurance law or how coffee was made and processed.
"He was an understated man, and what a public servant should be," Fine said.
A lifelong Bills fan, Mr. Gorski attended the first Bills game at War Memorial Stadium and the 1964 AFL title game won by the Bills. He was both a season ticket holder and, as county executive, the landlord of the county-owned stadium.
Survivors include his wife of 46 years, the former Mary Jo Craven; a daughter, Elizabeth; four sons, Joseph, Thomas, Jonathan and Aaron; three grandchildren; and a brother, Jerome, a retired State Supreme Court justice.
"My dad lived a very accomplished life," Jonathan Gorski said. "I don't think many people have had the type of career he had, both public and private.
"He was a tireless worker and the words that come to my mind when I think of my father are 'honesty' and 'integrity.' That is how he lived his life," he said.