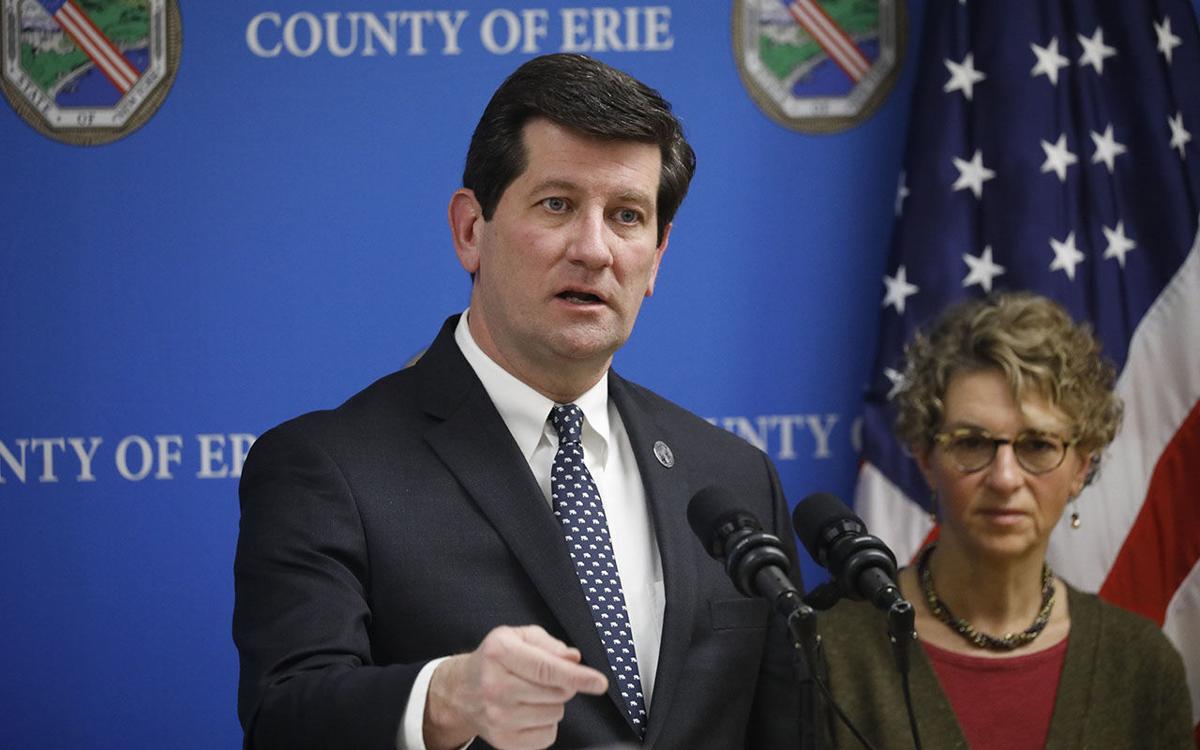 On a day when many questions focused on sports, Erie County Executive Mark Poloncarz on Monday reminded people that the Covid-19 public health crisis is more serious than football.
As of the end of last week, 183 Erie County residents had died in December, he said, already surpassing November as the third worst month for virus-related fatalities.
That total translates into roughly 10 Erie County residents dying of Covid-19 each day. More than half of all investigated deaths involved individuals who were living in nursing homes and other congregate settings. 
If this trend continues – and Poloncarz fears it will because of an anticipated surge associated with Christmas gatherings – Erie County is poised to exceed the highest monthly death totals from April and May.
"We would, in all likelihood, surpass the numbers we had earlier in the year," he said, "and that's very sad."
The explanation for the high death totals is simple, he added. More people are getting sick.
"We know that there's greater spread in our community today than there was earlier in the year," Poloncarz said. "And when you have more people that are catching it, you're going to have more deaths."
Overall mortality data since the start of the public health crisis in March shows that people who are white and live in suburban and rural communities are dying at a disproportionately higher rate, compared with their percentage of the county's population.
Whites constitute 83.3% of deaths, but 80.6% of Erie County's population. In addition, residents outside the City of Buffalo constitute 76.5% of fatalities, but make up only 72.1% of the county population.
He also said that although more than half of all deaths come from nursing homes and assisted living facilities, there is still a high percentage of people in the rest of the community who are contracting the virus while living in their own homes.
"Community spread is impacting individuals who are well enough to live in their own home, because we've had too many of those deaths recently, and they're not all in their 80s," he said. "We've had people in their 50s, who are living their best lives and unfortunately catch Covid and die." 
The ZIP codes with the highest numbers of cases still come primarily from first-ring suburbs, with the Amherst/Clarence ZIP code of 14221 leading. He also noted that Alden has an exceptionally high number of people testing positive given the size of its population – 106 new daily cases for every 100,000 residents. Poloncarz attributed that to an outbreak at the Wende Correctional Facility.
"The question is, what happens as you get close to Christmas?" Cuomo asked. "If we stay smart, a spike is not inevitable."
Poloncarz pointed out that Erie County now has the lowest positive test rate, as a seven-day average, of all urban upstate counties. Monroe, Albany and Onondaga counties have have higher positivity rates than Erie County.
Erie County saw the overall numbers of confirmed cases for last week decline 10% from the week before, marking the second straight week of declines in positive cases.
But Poloncarz is anticipating a reversal of that trend over the next week or two, not only because extended families and friends tend to get together and exchange gifts during Christmas, but because Christmas is a major religious holiday.
"We know that individuals who probably haven't seen a lot of other folks may see them during a church service for Christmas," he said.
County Health Commissioner Gale Burstein reminded residents that the vaccine will not be available to the general public for months. Gov. Andrew Cuomo said Monday that nursing home residents were starting to get vaccinated that same day.
Anyone with a medical background who is interested in volunteering to administer the vaccine to the general public is asked to apply at erie.gov/vaccinator.
Poloncarz: 'Let's get our priorities straight'
Aside from an update on Covid-19 data, much of Monday's briefing was focused on sports – specifically hockey and football.
Burstein devoted a PowerPoint slide to discuss recent Covid-19 outbreaks occurring among youth hockey athletes, coaches and families.
"We're having these huge outbreaks in our youth hockey sports, and so please, people have to be careful," she said.
Erie County shut down the Holiday Twin Rinks in Cheektowaga last week after health inspectors saw a practice scrimmage taking place Friday against state health mandates. The rink operator is working on a plan to reopen.
Poloncarz identified the Buffalo Regals Hockey Club – which operates out of Holiday Twin Rinks – and the Southtowns Stars and Clarence Mustangs as hockey clubs where outbreaks have occurred.
"It's concerning because you know that coaches sometimes coach multiple teams, or parents have multiple children on multiple teams," he said. "And there were multiple cases on multiple teams with the Buffalo Regals association."
The governor holds the keys to the stadium when it comes to allowing Bills fans to attend games in person, and so far the doors have remained locked.
Poloncarz on Monday also addressed speculation regarding the potential for fans to attend a playoff game at the Bills Stadium. If the state intends to allow fans in, he said, then the state would need to make a decision within the next week or so in order to give enough time for the team and the county to prepare for fans.
He also said the Bills plan for allowing fans in the stadium would prohibit both tailgating and buses.
But Poloncarz grew impatient during the press briefing Monday at repeated questions about the playoff scenarios, including whether fans could see a game if they got tested before and under which conditions fans might be able to attend.
"I'm not going to waste thousands of tests so that people can go to a football game," Poloncarz said. "Let's get our priorities straight everyone. We want our team to win. If we win the Super Bowl, and we don't attend any of the games, we won the Super Bowl."
People should focus on keeping the players healthy so that they aren't sidelined during the playoffs, he said.
Poloncarz  abruptly cut off a second round of questions from reporters.
"Our priority should be on reducing the number of cases and deaths in our communities," he said. "Sixty people, I announced, died, unfortunately, in the last few days, and most of the questions have been about the Bills. Get your priorities straight."