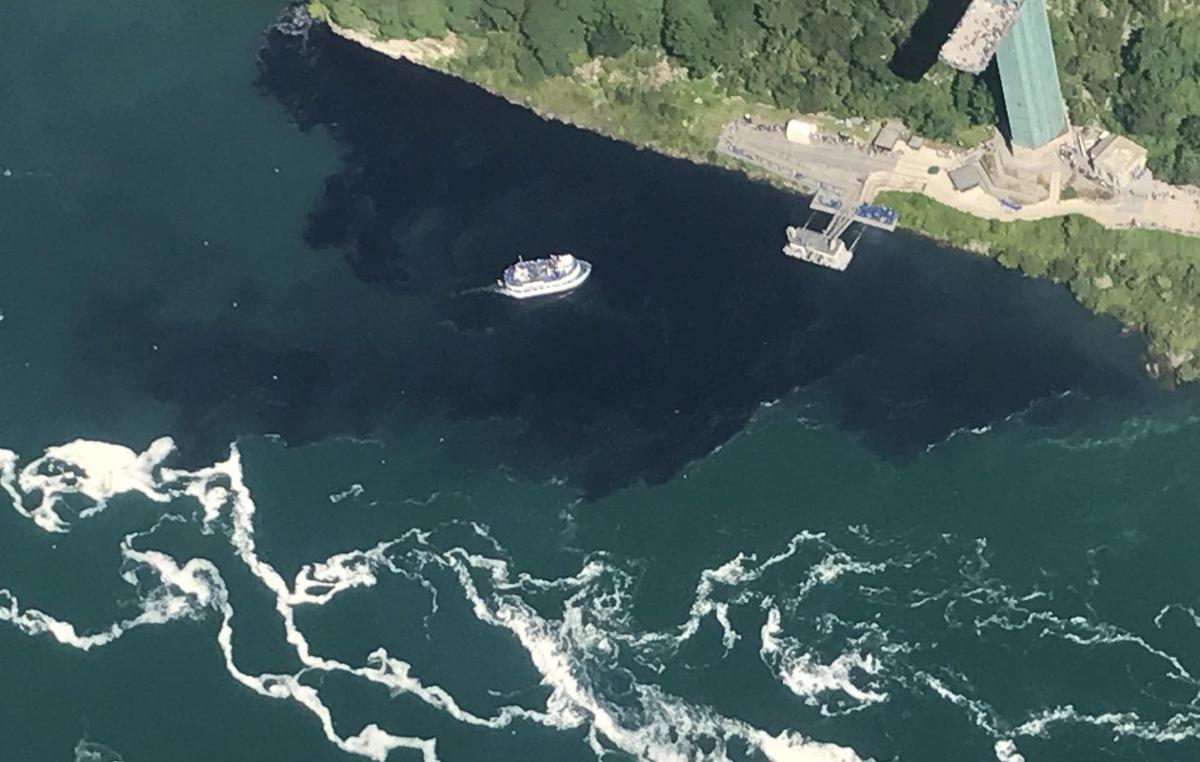 Did it happen again, and so soon?
The New York State Department of Environmental Conservation reported Tuesday that it was investigating a discharge – possible, not confirmed – into the Niagara River from the Niagara Falls Wastewater Treatment Plant.
A statement from the DEC on Tuesday evening said conservation officers and technical staff went to the main outfall from the treatment plant near the Maid of the Mist boat dock, after receiving a call about discolored water at around 3:40 p.m. Tuesday.
A heavy rainstorm in the area may have triggered a discharge, according to the DEC.
The DEC statement added that investigators also will see if there may be a link to the large discharge from the treatment plant on July 29 – which blackened water in the Niagara Gorge and caused a worldwide uproar.
In that earlier incident, thousands of Saturday afternoon visitors experienced a foul odor from the spill and one of the tourists shot a video of the spreading black stain, which went viral after it was posted on the internet.
The Niagara Falls Water Board, in a statement Tuesday night, confirmed that heavy rainstorm Tuesday afternoon caused an overflow.
"When this volume of water occurs," the statement said, "the waste water treatment plant is permitted to overflow the 100-foot weir, with the water then passing through the monitoring station.
"These sort of overflow events, which are different then the July 29th discharge incident, are formally reported on both the SPDES (State Pollution Discharge Elimination System) permit and the NY Alert System."
The Water Board announced Monday it has hired AECOM, a Los Angeles-based firm with offices around the world and an extensive background in sewage infrastructure work, to investigate the July 29 spill into the Niagara River. A DEC spokesman said the agency, at Gov. Andrew Cuomo's direction, ordered the Water Board to provide a comprehensive report on the incident by Sept. 1.
The announcement said AECOM's senior project manager, John Goeddertz, will review "overall wastewater operational readings, equipment readings, summary reports and facility water quality monitoring findings in and around the incident date. The firm is also prepared to propose follow-up testing or evaluation, if necessary."
Niagara Falls Mayor Paul A. Dyster was not immediately available for comment.
New York State granted a permit in 2013 allowing the treatment plant to release treated water into the river.
The facility has five different sediment filtration holding basins where water is treated.
The July 29 spill occurred when one of them was flushed in preparation for work on improvements, the Water Board has said.